Beautiful autumn days here in Maryland. Time well spent in Church and with great friends, too.
I have had an extraordinary amount of market thinking to do as Monday approaches because my portfolio is both heavily bearish and non-diversified. By no means do I recommend this. It's dangerous and not a necessary technique for making stock market profits, but here I find myself. I will work through it, and we can sleuth out this type of problem-solving throughout this post.
The first question I ask myself when the new week approaches is always the same: Am I trading AGAINST the direction of the market? The NASDAQ tumbled on Thursday after Google's (NASDAQ:GOOG) earnings report was mistakenly released with three hours left in the trading session, and lost another 67 points when things resumed on Friday. Clearly, my bearish portfolio is consistent with the short-term "mood" of the market.
It gets trickier, though. At what point has the index moved with such velocity and distance that the trend is in danger of ending, even reversing? When it does switch gears, you are obviously in danger of giving up your gains, so situational awareness is key. Technical analysis would have you believe that various tools can predict such a turn, but I believe that those calculations are of very limited value until an individual is experienced enough to use them in proper context (this is why I coach traders). I will attempt a more complete training on how technical analysis tools can be helpful, but that will have to wait for another day. Here and now, you'll just have to hear about how I feel things stand this weekend.
This first chart, which is a daily graph of trading activity of SPY, bears comment. SPY track movement in the S&P 500, an index of five hundred fairly large American companies. It shows that we have been grinding away between the red and green lines for several weeks now, and Friday's move down pushed us much closer to the red bar. If all follows plan, we'll reverse from around that point and turn higher.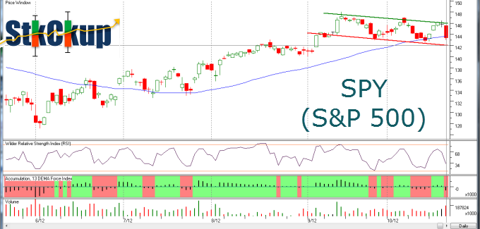 But, there's a chance we pierce that line and start a new leg down. Selling might then accelerate and support could be much lower. I think the odds favor support at the red line, but would not bet the farm on it. That being said, I think it makes sense to hold onto bearish positions until we get there. It seems too early to lean bullish just yet.
It is valuable to understand when market moves have become so extreme that the likelihood of a reversal becomes high enough to jump on. My favorite gauge of these overbought and oversold conditions is a study calculated by a beautiful program called EdgeRater.
The software drills down into the individual stocks that comprise the S&P 1500 to determine where each is in relation to its Bollinger Bands. That number ranges from -1 to +1, with those values equaling oversold and overbought, respectively. Frankly, at the individual stock level, very little predictive insight comes from the Bollinger Bands, but when 1500 stocks are categorized by where they stand along that scale, we can pinpoint extremes with ease, and buying into the imminent reversal is not difficult at all.
As you can see on the graphic below, more stocks are resting at oversold levels than not, but the skew is far from the extremes that I have watched it reach.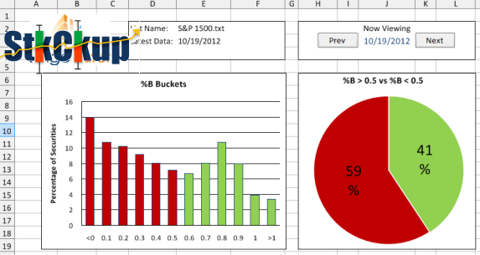 In summary, we are nearing levels from which a bounce will almost have to happen. But we are not at any point where the odds are overwhelming and, therefore, it seems most prudent to add bullish positions (longs) with patience. The corollary is that bearish positions (shorts) should be unwound slowly too, so that we let the last go when a very high number of stocks are badly beaten up. We will watch the action this week to see if the market takes us there.
Disclosure: I am short SPY.