My extended family has owned AT&T (NYSE:T) stock since my grandmother bought it in the 1930s. Over the years it has supplied a good dividend through strong market coverage. In the early 1980s the government busted it up into the Baby Bells which all performed well. Over the next 30 years these entities were consolidated back into two primary players, AT&T and Verizon (NYSE:VZ).
There has been much fundamental change in the telecommunications business recently with land lines going away and cell phones maturing into a fully saturated market. Content and digital entertainment have become the current market drivers and AT&T has led the trend toward internationalization and consolidation of delivery of content. Not only did they have exclusive right to carry the I phone when it first came out, but they have now purchased Direct TV to provide entertainment and communications to a large international footprint including Mexico and South America. WG Investment Research has a good article on recent progress in the merger with Direct TV and current earnings.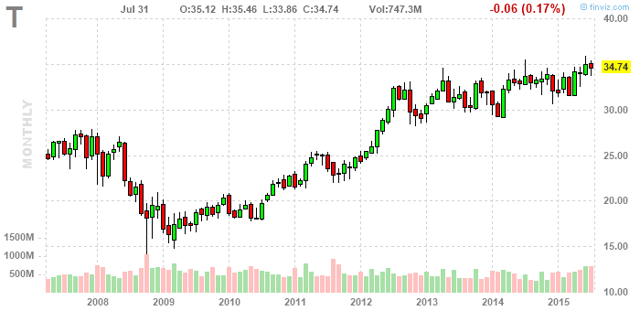 As can be seen from the chart, AT&T has been range bound between 15 and 35 since 2007. There was the Great Recession dip in 2008-2011 which showed the resilience of the stock in the face of global financial rout. For the last 31 years AT&T has been a Dividend Champion continuing to raise its dividend each year. In recent years the dividend increase (which usually occurs in the fall) has been on the order of 2% per year. However with the high yield 5.41% it has carried its investors through many rough times such as the present oil rout. As other high yield investments have cut their dividends, AT&T has raised theirs consistently. The market cap is $180.4 Billion. The forward P/E is 13.36 with a price to sales ratio of 1.36 and a Debt/Equity ratio of 1.31. The strong cash flow has allowed AT&T to continue to provide investors with solid dividend performance as detailed in this article by Casey Hoerth.
Finally, Stone Fox Capital compares AT&T with Verizon from a P/E ratio standpoint considering the slowdown in wireless subscriber growth. Although AT&T was removed from the Dow Jones Industrial average, I still believe it is a stronger stock than Verizon as shown by the higher P/E. In volatile times like these, security of the dividend is paramount. AT&T has served me and my family well for over 75 years.
Disclosure: I am/we are long T, VZ.