My mother received Comcast (NASDAQ:CMCSA) shares as a spin off from AT&T on November 15, 2002. These shares grew gradually as the broad band business grew. When she died in 2009, I inherited a small holding in CMCSA at a basis price of $17/share. Since that time, CMCSA has grown to a current price of $58.82, while I have dripped the stock. CMCSA is more a media conglomerate growth stock than a dividend growth stock, but I treat my ½ position as a dividend growth stock (dividend growth is a significant portion of total return).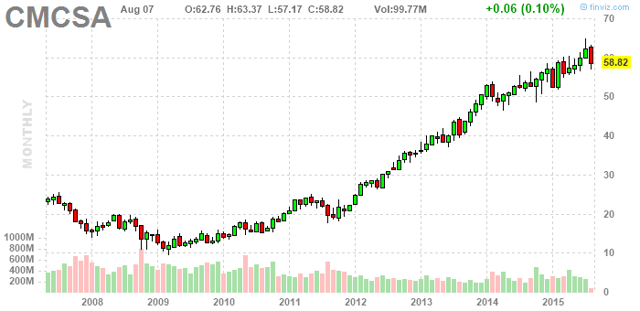 Price appreciation has provided a 3.46 multiple on my initial investment and dripping dividends + dollar cost averaging purchases have provided an overall total return of 11.48 x the original inherited lot. Price appreciation alone averages 23.15% per year.
The metrics on this stock are quite good (data from Finviz + David Fish CCC charts) Market Cap = $147.34B; Current P/E = 17.4; PEG = 1.29; Forward P/E = 12.31; dividend yield 1.7%; 5yr dividend growth rate =26.8%; Forward TweedFactor = +16.19; My fair value calculation is $66.67.
During the last month, the market has been quite volatile. High yield investments have taken it on the chin. Only a few growth stocks have maintained value and CMCSA was one of them until this past week. The rumor is that media stocks like Disney (NYSE:DIS) and CMCSA will fall victim to the new media trend started by Netflix (NASDAQ:NFLX).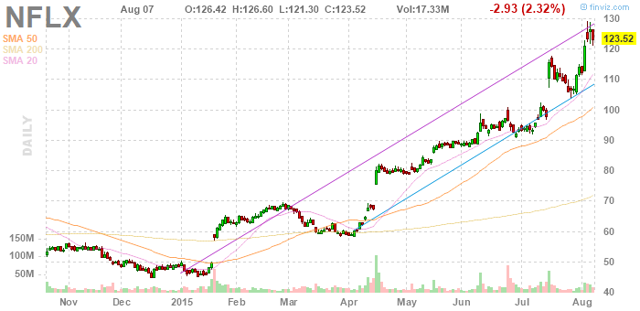 NFLX is a true growth stock with a forward P/E of 413.11 and a market cap of $52.42B. NFLX pays no dividend. I tend to be more conservative, believing that true earnings history is preferable to future visions. Two good Seeking Alpha articles on CMCSA are here by Alexander J. Poulos and here by Brian Nichols.
I consider the current pull back in CMCSA to be a buying opportunity and will dollar cost average into it, just as I have been doing when dividends come into my regular account. Safety of principal is paramount when you are in the RMD stage of life.
Disclosure: I am/we are long CMCSA.