I have watched Phillip Morris (NYSE:MO) since I first heard their ads on radio in the 1950s.

"Call for Phillip Morrisss" was an add showing sophistication in the smoker back then. For many decades the stock provided high dividends and price appreciation as well as jobs for many people. As a result, the stock price and dividend yield grew continuously, providing capital to purchase other companies including Kraft. In 2008, the company spun off its international business as Phillip Morris International (NYSE:PM) as well as Kraft. The remaining company had just the domestic cigarette sales + 27% of SAB Miller (OTCPK:OTCPK:SBMRY, OTCPK:OTCPK:SBMRF) . There is the possibility of the acquisition of SAB Miller by Anheuser-Busch Inbev (NYSE:BUD) which can be read about here in an article by Seeking Early Retirement.
A recent chart of MO over the last 8 years shows its continued price appreciation.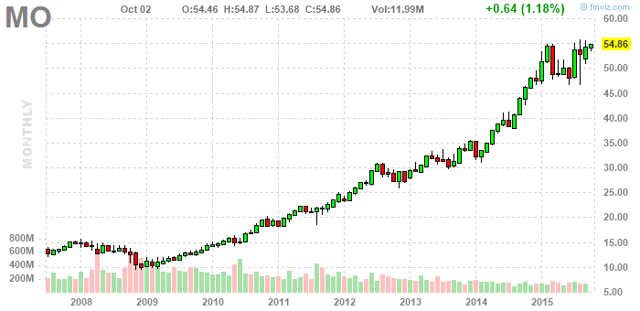 It still provides a high yield and continuous appreciation. This stock is a Dividend Champion having raised its dividend each year for the past 46 years. The current yield is 4.12% with a 5yr dividend growth rate of 8.6%. The P/E ratio is 21.6 which makes it expensive. It is also highly leveraged with a debt/equity ratio of 5.01. This year's earnings growth rate is projected to be 13.3% with the next 5 years growth rate of 8.47%. With an 80% payout ratio, it is clear that the dividend is important to the company. There has been quite a bit of anti smoking agitation of the last 20 years and much in the way of law suits for wrongful death of smokers. One must be realistic if purchasing a "sin stock".
However, if one feels that the strong returns override the negative factors, MO is still a great long-term buy providing solid returns.
Disclosure: I/we have no positions in any stocks mentioned, and no plans to initiate any positions within the next 72 hours.