Caterpillar (NYSE:CAT) is an international industrial machinery company which has been severely affected by the global downturn. The linked article by Cabot sheds some light on this situation. Mining and commodity businesses are bottoming globally as demand for commodities continues to fall to new lows. Much of this is due to the oil and gas demand cycle and strong pullback in oil and gas prices over the last year. Drilling and exploration are contracting as the glut of oil and gas continues. I believe this is the time to begin purchasing a position in CAT due to the great P/E ratio of 11.27 and forward P/E of 14.68. Since it is a leading cyclical company globally, when it turns back up-- so will the global economy. Earnings per share have grown 32.7% annually over the past 5 years while sales have grown at an annual rate of 11.2%. Earnings per share are projected to grow at 12.5% annually over the next 5 years. Due to this strong earnings growth the dividend has remained high and growing with a current yield of 4.69% with a payout ratio of 48.4%. The 5yr dividend growth rate is 9.1%. CAT is a Dividend Contender with 22 years of rising dividends. The TweedFactor is +2.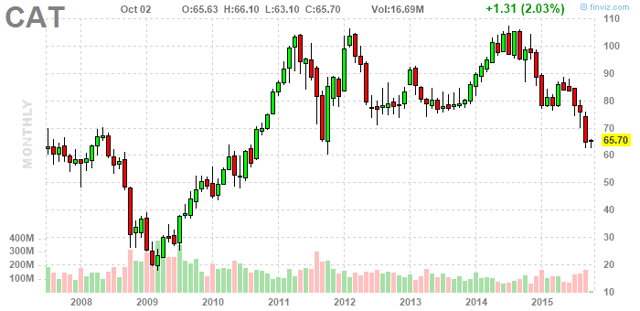 Caterpillar is taking advantage of the cyclical downturn in the global economy to restructure its business. This is a trying time for employees with announced layoffs of 10,000 job cuts. However, the time for restructuring is during global pullback.
I purchased CAT in 2012 at $90 and have watched it bob up and down around that level until today where it has hit $65.70. I consider it to be a strong buy at this level similar to the bottom of the last business cycle in 2009. My shares have grown 2% since my purchase, just reinvesting the dividends. Locking in a near 5% yield with a dividend growth rate of 9% seems like a great long-term investment to me.
Disclosure: I am/we are long CAT.