Cerrado Gold Is Targeting To Be A Low Cost, Mid-Tier, Gold Producer By 2025 From Their Two Core Assets Located In South America
Please Note: Blog posts are not selected, edited or screened by Seeking Alpha editors.
Summary
The Minera Don Nicolas ("MDN") gold-silver Mine in Argentina achieved record gold production of 10,168 ounces in Q3 at an AISC of $1,382/oz. The Mine is now operating cash flow.
The Monte do Carmo Gold Project recently released a positive PEA with a post-tax IRR of 94.8%. The Project PEA estimates a production volume of 104k Au oz pa.
Cerrado Gold aims to rapidly ramp up their two gold assets production by 400% to 250k Au oz pa in 2025 and become a low cost, mid-tier, gold producer.
Gold prices have spent most of 2021 trading in a range between US$1,700 and US$1,900/oz, which means any gold producers with low costs and growing production can really do very well.
One smaller gold producer plans to grow their gold production aggressively over the next 3-4 years. The company is Cerrado Gold Inc. (CERT: TSXV) ("Cerrado").
Cerrado plan to grow their gold production by approximately 400% from the current ~40-50K oz pa to ~250K oz pa in 2025, from their two core assets located in South America. That would make Cerrado one of the fastest growing small cap gold miners in the world and push them into the mid-tier gold miner category.
Source: Cerrado Gold company presentation
Cerrado two key gold assets include:
Minera Don Nicolas Mine in Argentina (small but growing gold production)
Monte do Carmo Project in Brazil (development stage gold project)
Minera Don Nicolas ("MDN") Mine (Argentina)
Cerrado 100% owns the newly producing high-grade Minera Don Nicolas ("MDN") gold and silver mine in Argentina, contained on their massive land package in excess of 333,400 ha. Cerrado acquired the mine in March 2020. The MDN Mine and property lie within the highly-prospective Deseado Massif, a prolific gold district with numerous large-scale gold mines (AngloGold, Newmont, and Yamana).
MDN is an initial open pit gold mine with an associated 1,000 tpd carbon in leach (CIL) gold recovery plant, targeting to produce 45-55koz/yr gold at an AISC of US$1,000/oz. Current operations are focused on two mining areas, La Paloma and Martinetas, with material processed at a central plant facility. The Property has significant exploration potential.
The August 2020 Resource estimate resulted in a M& I Resource of 198,808 Au ounces @5.49 g/t Au and Inferred Resource of 348,693 Au ounces @2.33g/t Au. There is also considerable silver.
Cerrado plans to increase the size and scale of the MDN mine through operational improvements, exploration work and potential expansion opportunities.
The Minera Don Nicolas (MDN) in Argentina has several open pit gold mines where production began in 2018

Looking at the recent performance of the MDN Mine the following news was announced on November 25, 2021:
"Q3 2021 Minera Don Nicolás ("MDN") Operational Highlights:• Another consecutive quarter of record gold production of 10,168 ounces, 6% higher than theprevious high of 9,607 ounces• An all-time high for average gold head grade of 3.57 g/t and a 20% improvement over Q22021• Strong operating margin of $3.5 million and operating cash flows of $2.3 million in the thirdquarter• Cash Cost per ounce sold of $1,075, a 12% improvement over Q2 2021 and the fourthconsecutive quarter of improvement• AISC of $1,382/oz, a record low since the Cerrado acquisition and the fourth consecutivequarter of improvement."
"Production is 125% higher in the three months ended September 30, 2021 due to more tonnes mined, higher throughput, higher grade and higher recoveries. Production of 10,168 ounces of gold in the third quarter 2021 also represented a 6% improvement over the 9,607 ounces of gold produced in the second quarter of 2021…..the third quarter gold head grade of 3.57 g/t also represents a 20% improvement over the 2.97 gold head grade recorded in Q2 2021, Cerrado's previous high for gold head grade."
Total gold production year to date is 27,259 oz Au and 66,513 oz Ag at a cash cost of US$1,202/oz Au, and at an AISC of US$1,534.
As shown above in the Q3 results the 10,618 oz Au puts the mine on an annual 'run rate' of 42,472 Au oz/pa. Cash costs continue to fall rapidly helping the mine to now become operating cash flow positive. As shown below the year to date ("YTD") average realized margin per gold ounce sold is US$545/oz.

Usually once small gold miners can grow gold production to and beyond the 50,000 oz/pa mark economies of scale start to kick in. In the case of Cerrado their YTD AISC of US$1,534 is below their average realized gold selling price per ounce of US$1,747, which means the mine is now operating cash flow positive. As these cash flows potentially increase to allow Cerrado to become potentially net profitable, the cash can be used to further expand production and exploration.
Next steps at the MDN Mine include:
Evaluation of leaching oxide resources on the MDN property to add 20-30,000 Au oz pa of low-cost gold production. Construction decision expected in Q1 2021 with production by year end.
Extensive drill program underway as part of the program to accelerate exploration at MDN to expand high-grade resources from both open pit and underground targets.
Monte do Carmo Project (Brazil)
Cerrado is focused on expanding the resource base at its prolific, high-grade Monte do Carmo Gold Project in Tocantins State, Brazil. The Project size is large on a 67,785 hectare property with 6 regional analogues open pit targets to current mineral resource at Serra Alta. A Hub and Spoke production plan is being considered, which means a central Mill supported by several mines.
The August 2021 PEA resulted in a NPV5% of US$617m (IRR of 94.8%) using a selling price of $1,600/oz gold, based on the expanded resource and on a life of mine annual production of 104k oz at an AISC of US$612/oz. Initial CapEx was estimated at US$126m, based on an initial open pit mine over an 8 year mine life.
PEA summary showing very low forecast cash costs and AISCs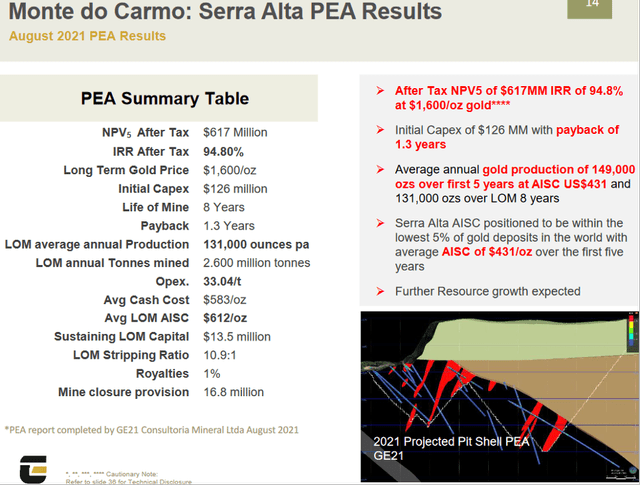 Source: Cerrado Gold company presentation
Next steps at the MDC Mine include:
Phase 2 drill program currently underway; targeted to grow resources to 2m ounces in the near term to include additional regional analogue targets. Cerrado state that "numerous regional targets suggest over 5.0m+ oz or more potential on the property."
Cerrado to commence development plan and Feasibility Study at Serra Alta using updated PEA to allow for construction to commence in Q2 2023 and production in Q1 2025.
Management
The Cerrado management team is highly experienced in mining and also in South America and also contains plenty of local in-country team experience.
Mark Brennan is Cerrado Gold's CEO and Co-Chairman. He is a Founding Partner and Executive Chairman of Ascendant Resources Inc. and Executive Chairman of Vanadium One Iron Corp., and has more than 30 years of financial and operating experience in the Americas and Europe. Mr. Brennan most recently served as president and CEO of Sierra Metals Inc., a major zinc-lead-silver-copper mining company with operations in Peru and Mexico. Prior to that, he was the president and CEO of Largo Resources Ltd., and a founder of several resource companies, including Desert Sun Mining, Brasoil Corp., James Bay Resources, Morumbi Oil and Gas, and Admiral Bay Resources.
You can read more details on the Cerrado team management and board.
Recent executive additions to the team include Mr Clinton Swemmer as VP Technical Services and Mr David Ball as VP Business development.
Cerrado Gold investment highlights