We are working on a detailed analysis of lululemon athletica inc. (ticker: LULU), to be published later this week. As a preview to this analysis, we are releasing this simple valuation model to initiate conversation in the Seeking Alpha community.
This simple model is designed to allow for quick analysis of potential growth scenarios. This model estimates 5 year forward net income based on four key variables:
New stores added per year
Revenues / retail square foot
Online revenues 5 year CAGR
LULU corporate profit margin
The model then values LULU based on an assumed LTM price to earnings multiple and discounts this value back to the present at an assumed equity discount rate. A screen shot of five different scenarios is below: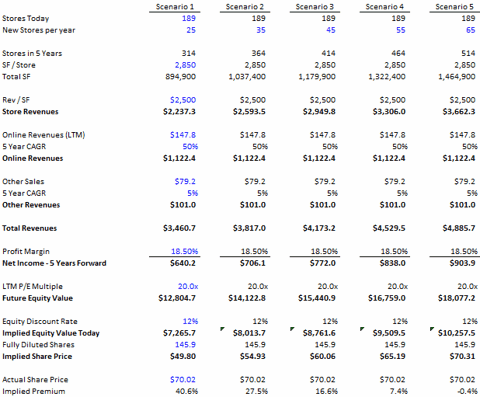 In the scenarios presented above, the model illustrates the impact of new store additions between 25 and 65 new stores per year. In all cases, the output assumes $2,500 retail revenues per square foot of retail space, modestly above comparable sales comps for 2011. In addition, these scenarios all assume online revenues grow at a CAGR of 50% per year. Finally, all scenarios assume a corporate profit margin of 18.5%, in line with 2011 and LTM figures. These assumptions result in annualized net income growth between 24% and 33% over the five year period.
Finally, in all cases the five year forward net income is valued at 20.0x price to earnings ratio, roughly in line with Nike's LTM multiple. This valuation is then discounted back to the present at a 12% discount rate. Assuming that you accept the use of Nike's LTM price to earnings multiple as reasonable five years forward, this model suggests LULU is pricing in:
Average of 65 new store openings per year
Online revenue growth of 50% per year for the next five years
Maintenance of industry leading profit margins
Maintenance and modest growth in industry leading sales / s.f.
We believe these assumptions are highly aggressive if not unrealistic. Do you have a different view on these assumptions? We have posted the Excel version of this model to our blog for others to use (here) and test their own assumptions. Note, this simple model does not account for the positive impact of free cash flow between now and the terminal valuation date, but we believe the impact would likely be fairly small.
Disclosure: I have no positions in any stocks mentioned, and no plans to initiate any positions within the next 72 hours.