Conversion Labs: If You're Not Yet A Believer, You Will Soon Be Converted
Please Note: Blog posts are not selected, edited or screened by Seeking Alpha editors.
Summary
Conversion Labs (NASDAQ:CVLB), is a high-growth, direct-to-consumer ("DTC") telehealth service and product provider focused on the U.S. patient market.
CVLB plays in large, attractive end-markets and offers a convenient, accessible, and cost-effective solution relative to traditional health care options.
Similar business model to competitors – Hims & Hers (NYSE:HIMS), Thirty Madison (holding company for Keeps, Cove, and Evens) but with best - in - class operating profile.
Enormous white space with multiple growth opportunities / catalysts for valuation increase.
Compelling valuation relative to peers: on a Total Enterprise Value / 2021E Revenue Multiple, CLVB trades at 6.6x vs. HIMS at 24.9x (and peer average at 20.9x).
Conversion Labs ("CVLB" or the "Company"), originally called Immudyne Health, was founded in 1994 with a focus on consumer health products. The Company made a strategic pivot to focus on DTC healthcare in 2018, at which point it also rebranded as Conversion Labs, and telemedicine in 2021. The Company is now focused on selling over-the-counter and prescription medications (prescribed after an initial telehealth consultation with a physician) for chronic conditions such as hair loss and erectile dysfunction. Since 2018, the Company has grown its topline at ~114% per annum with ~68% recurring revenue (based on 2020P revenue), and currently serves over 250,000 customers across 50 states.[i]
Figure 1: Conversion Labs at a Glance[ii]
Conversion Labs operates in a large, growing addressable market. The broader U.S. healthcare industry is ~$4 trillion,[iii] and is projected to grow to greater than $5 trillion by 2030.[iv]
The Company currently offers four core products giving them exposure to a total addressable market ("TAM") of >$313bn[v]:
RexMD: a digital health clinic for men; current focus on erectile dysfunction and premature ejaculation ($6bn global TAM)
ShapiroMD: a leading hair loss telemedicine platform ($3bn global TAM)
NavaMD: online skincare and telehealth brand offering teledermatology services ($44bn global TAM)
LifeMD: subscription-based primary and concierge care designed improve patient access to high quality, long term primary care ($260bn global TAM)
Conversion Labs' platform allows patients to access medication for chronic ailments at 15-25% of the cost of a visit to a doctor's office, which typically costs $200-$300 per visit.[vi] Moreover, CVLB's platform is highly scalable allowing them to quickly and cost-efficiently offer new products under the aforementioned existing brands, and enter other large end-markets or conditions with new brands.
Figure 2: Large High Priority End Markets / Indications[vii]

For example, Conversion Labs recently announced a roadmap to roll out several other mens' health products under the RexMD brand, expanding their TAM by an incremental ~$166bn (i.e. bringing RexMD's total TAM to ~$175bn).[viii]
While Conversion Labs' business model is not fundamentally different from its primary competitors – HIMS, Thirty Madison, and Ro – it is worth noting that the Company has best-in-class partnerships (partners with GoGoMeds for prescription fulfillment and Wheel tele-health for physician consultation, ensuring ongoing compliance & operational excellence at minimal capital investment on CVLB's part) and a best-in-class management team (led by CEO, Justin Schreiber, who has significant experience in digital marketing) that translates into a best-in-class operating and financial profile.
Figures 3-5: Comparison of Financial Results vs. Peers[ix]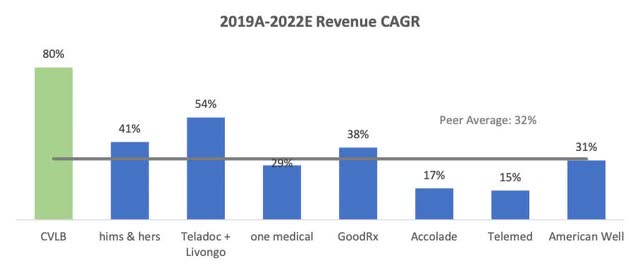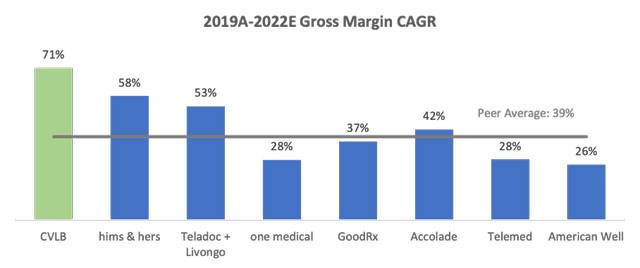 Despite not having a fundamentally different business model from its competitors, CVLB does have several points of differentiation which we believe provide it with competitive advantages.
First, rather than have significant spend on product development and R&D, CVLB's two leading brands – ShapiroMD and RexMD – are sold under exclusive licensing agreements. This enables CVLB to outsource its product development to product experts at a fraction of the cost of its competitors (e.g. the developers of ShapiroMD – Drs. Steven Shaprio and Michael Borenstein – are leading dermatologists who developed the patented product over 15 years, and continue to consult CVLB on continued product innovation).[x]
Second, CVLB recently increased their ownership stake in PDFSimpli , a SaaS product that enables editing, converting, compressing, and splitting of PDFs, from 51% to ~83%.[xi] While the business may not seem core to Conversion Labs' telehealth platform, the business has deep experience in digital marketing and online customer acquisition which is key to the growth and success of CVLB's telehealth platform.[xii] Moreover, PDFSimpli – which currently serves 39k subscribers – is growing >100% y-o-y (2020E expected revenue contribution of ~$6mm to CVLB) and generates a 4x LTV / CAC.[xiii]
Finally, investors might note that CVLB's EBITDA loss widened pretty significantly in Q3 2020 vs. prior quarters. One of the primary drivers behind this decline was the Company's investment in a 400-seat call center in South Carolina.[xiv] This call center provides a point of differentiation by enabling CVLB to improve conversion of customers in the acquisition funnel through direct outreach and higher touch customer service. In other words, while the call center adds incremental expenses, we believe it will ultimately pay for itself by converting incremental customers whom otherwise would fail to be captured by a purely internet-based customer acquisition strategy.
We believe there are several near-to-medium term catalysts that will drive growth in the business as well as a multiple re-rating translating into meaningful share price appreciation. In addition to a number of product and service expansions within the RexMD and Shaprio MD product lines expected over the next 4-6 quarters, growth in NavaMD and LifeMD as well as introduction of new product lines will continue to drive topline and bottom-line momentum.
Additionally, it appears that Conversion Labs is at an inflection point where it is graduating from being purely a retail stock to a company with institutional investors and backing. Explicit evidence of this can be seen from the following sequence of events:
August-2020: CVLB attracted a $3.5mm strategic investment from David Blitzer (CEO of Blackstone's Tactical Opps – NYSE:BX) and Wes Edens (co-founder of Fortress Investment Group – now part of Softbank (TSE:9984) - and current Chairman and CEO of New Fortress Energy – NASDAQ:NFE)
November-2020: CVLB receives a $16mm investment from a consortium of other strategic investors to advance the Company's uplisting from the OTC exchange to the Nasdaq, which successfully took place on December 10, 2020
Nov-2020 thru Feb-2011: This was followed by a series of strategic board of director ("BOD") and management additions including
We see these as a series of positive developments that will draw increasing institutional interest, which will in turn provide for increased liquidity and price appreciation in CVLB's stock. In fact, it is likely that this inflection point is already happening as evidenced by the increase in average daily trading volume (>8x vs. prior 3 months) and share price appreciation (>3x) over the last four weeks, which we suspect to be a result of institutional investors starting to buy into the stock.
Figure 6: Conversion Labs Share Price Performance (Jan. 11 – Feb. 5, 2021)[xv]
In closing, it is worth noting that despite the recent increase in the Company's price per share, Conversion Labs' shares remain attractively priced relative to HIMS and other telemedicine / DTC healthcare peers; CVLB currently trades at a TEV / 2021E Revenue multiple of 6.6x, which represents a ~74% discount to HIMS' valuation and a ~53% discount to the average of the peer group. Therefore, while Conversion Lab shares have had a good run as of late, we think this is only the beginning with more positive developments ahead for both the Company and its shareholders.
Figure 7: CVLB Valuation vs. Peers (xTEV / 2021E Revenue)[xvi]
---
[i] Conversion Labs Investor Presentation dated January 2021.
[ii] Conversion Labs Investor Presentation dated February 2021.
[iii] Centers for Medicare & Medicaid Services per Oaktree Acquisition Corp. 424B3 dated 29-Dec-2020.
[v] HIMS Investor Presentation, and Conversion Labs Investor Presentation dated February 2021.
[vi] Agency for Healthcare Research and Quality per Oaktree Acquisition Corp. 424B3 dated 29-Dec-2020.
[vii] Conversion Labs Investor Presentation dated February 2021.
[viii] Conversion Labs Investor Presentation dated February 2021.
[ix] BTIG Initiating Coverage Report of Conversion Labs (Jan. 6, 2021); HIMS Investor Presentation, Public Filings, Wall Street Consensus Estimates from S&P Capital IQ. Note that Teladoc + Livongo data points are pro forma for the merger.
[x] Conversion Labs 2018 10-K.
[xi] Conversion Labs Investor Presentation dated January 2021.
[xii] BTIG Initiating Coverage Report of Conversion Labs (Jan. 6, 2021).
[xiii] Conversion Labs Investor Presentation dated January 2021; BTIG Initiating Coverage Report of Conversion Labs (Jan. 6, 2021).
[xiv] BTIG Initiating Coverage Report of Conversion Labs (Jan. 6, 2021).
[xv] S&P Capital IQ.
[xvi] S&P Capital IQ; BTIG Initiating Coverage Report of Conversion Labs (Jan. 6, 2021); HIMS Investor Presentation.
Analyst's Disclosure: I am/we are long CVLB.
Seeking Alpha's Disclosure: Past performance is no guarantee of future results. No recommendation or advice is being given as to whether any investment is suitable for a particular investor. Any views or opinions expressed above may not reflect those of Seeking Alpha as a whole. Seeking Alpha is not a licensed securities dealer, broker or US investment adviser or investment bank. Our analysts are third party authors that include both professional investors and individual investors who may not be licensed or certified by any institute or regulatory body.