For the past year, everybody has been hyping Electric Vehicle stocks - some without a product, some running out of cash, and most heavily loss-making. What we have here is a company that satisfies all the hype of being the global market leader in the incredibly fast-growing premium electric scooter market that is simultaneously profitable and not eye-wateringly expensive. We present to you NIU - that's right, NI with a U and not an O.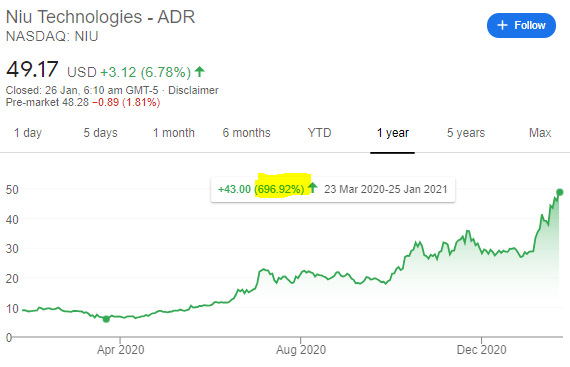 VALUATION FOR DUMMIES
Potential upside in 3 years→ ~460% UPSIDE → Target Price $280 (today at $50).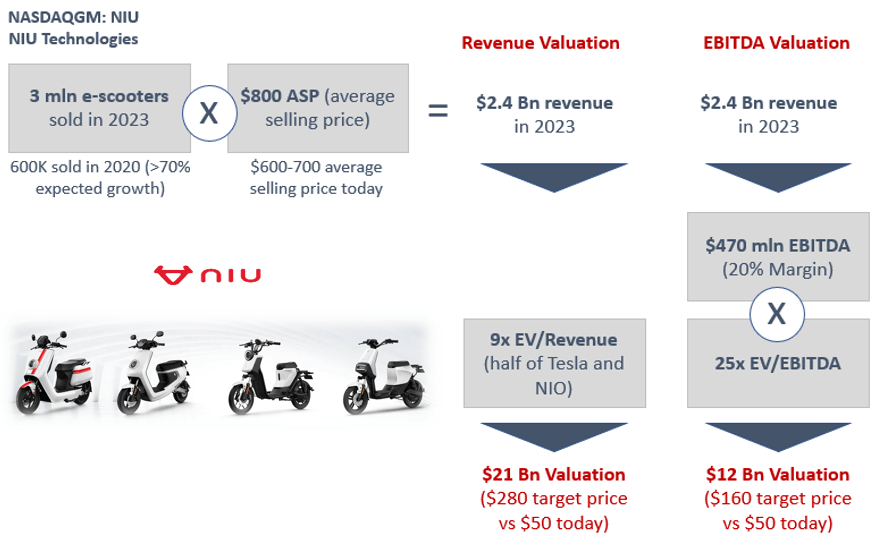 Volumes

NIU sold 600K e-scooters in 2020 (41% growth Q4 2020 during Covid, within which international grew 180%), with 70% projected growth rate in 2021

Extrapolating 2021 forecasted growth of 70%, NIU would sell ~3 million units in 2023

China e-scooters total sales projected to be ~20 million in 2023. Consider the global e-scooter sharing and mobility market including international markets (NIU international sales grew 180% in Q4 2020 in 20+ countries); NIU just entered Indonesia with a population of ~270 million people!

Price

Average selling price of $800 in 2023 (today at $600-700)

Valuation

NIU potential revenue of $2.4 Bn in 2023 ($800 x 3 million units)

Revenue valuation implies $280 share price: 9x revenue (half of TSLA and NIO at 18x, and a fraction of NKLA at 113x)

EBITDA valuation implies $160 share price: 25x EBITDA whereas NKLA and NIO are loss-making, and TSLA is trading at 92x EBITDA
FURTHER ANALYSIS
The world's largest lithium battery smart e-scooter maker growing at 70%+. Total Addressable Market (TAM) of ~20 million scooters in China in 2023, with international markets growing at an even faster rate. NIU is projected to grow >70% in 2021 (compared to TSLA's 48% and NIO's 94%)

Profitable EV company with 23% gross margin and 9% EBITDA margin. EV makers are mostly loss-making. Here, you are believing in a company that is growing and delivering it at a profitable rate

Compelling valuation at 5x 2021 revenue and 36x 2021 EBITDA. In comparison, Tesla is trading at 18x revenue and 92x EBITDA, NKLA at 113x revenue and negative EBITDA, and NIO at 19x revenue and negative EBITDA! Think about where NIU could go!

Future lithium-based product with premium positioning. NIU is branded to be premium and fashionable with Bosch motor, Panasonic lithium battery and co-branding with McLaren. Lithium battery is the future, being 75% lighter, 50% shorter charge-time, 15% lower life cost, and more environmentally friendly than traditional lead-acid battery

At the cusp of international expansion. Given it's premium positioning, NIU is one of the best companies positioned for overseas growth and has already expanded to more than 20 international countries. In Q4 2020, NIU's scooter sales in international markets grew by 180% as people become increasingly aware of individual mobility solutions.
This comes from the perspective of professional investors who worked in investment banking (bulge bracket) and large-cap private equity (multi-billion dollar funds).
We are, like you, people working hard in our day-to-day jobs and searching for quality investment ideas that will generate >5x returns to multiply our enjoyment of life (and buy a yacht).
---
For full disclosure, we were long on NIU since $9 in November 2019 and continue to be long as of writing at $50 in Jan 2021.
Note that we disregard EV to Equity adjustments due to the small net debt position of the company.
Information and opinions presented have been obtained from sources we believe are reliable but we make no representation as to their accuracy or completeness and accept no liability whatsoever.
Tag: $NIU, $TSLA, $NIO, $NKLA