On Monday June 2nd, we get the ISM index reading and Construction spending. The ISM index for May is supposed to bring a reading of 55.6. The April construction spending is supposed to bring in a reading of 0.7 percent growth.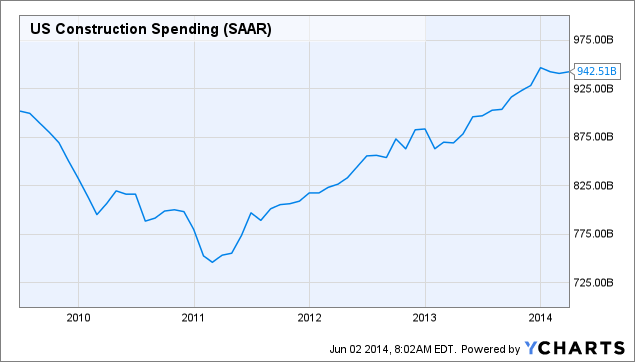 US Construction Spending data by YCharts
On Tuesday June 3rd, we will get Factory Orders data, as well as Auto Sales. Factory Order growth for April is expected to read 0.5%.
On Wednesday June 4th, the ADP employment report will be released. The market expects 200,000 jobs added for the period of May 2014. Unit Labor costs, Productivity, and the Fed's Beige book will also be released.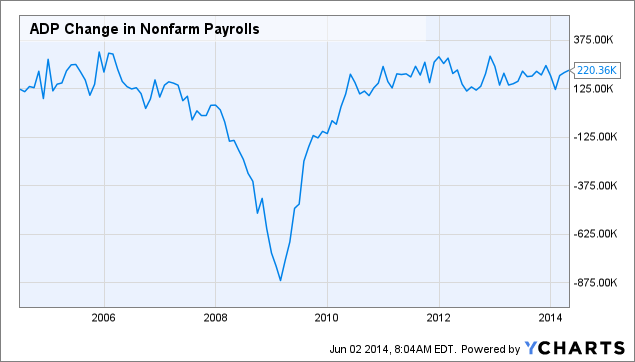 ADP Change in Nonfarm Payrolls data by YCharts
On Thursday June 5th, the Challenger job cuts report will be released, shortly before we get the initial claims report for the prior week. Last week, the 4-week average of initial claims hit a 7-year low. The market expects an initial claims reading of 310,000 for the prior week.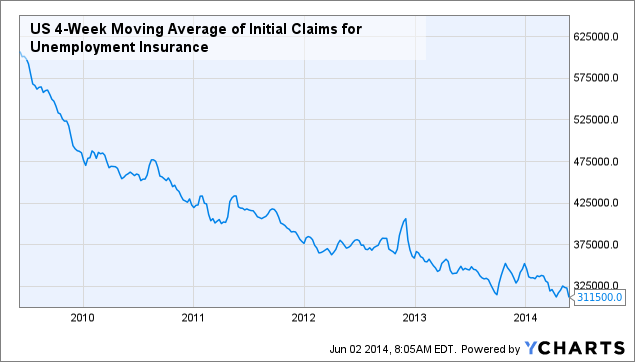 US 4-Week Moving Average of Initial Claims for Unemployment Insurance data by YCharts
On Friday June 6th, the non-farm payrolls report and the unemployment rate will be released by the Bureau of Labor and Statistics. The market expects job growth of 220,000 and the unemployment rate to check up to 6.4%.
Commentary:
If the market truly expects job growth of 220,000 while the initial claims rate is hitting 7-year lows there will be a surprise to the upside. Unless there is some funky data in the 6.3% reading from last month, the unemployment rate should easily beat the 6.4% expectation provided by the market. Who is providing this data and these expectations anyway?
Several indices recently hit their all time highs. The Russell 2000 (NYSEARCA:IWM) even hit a new high then corrected by 10 percent in May. Meanwhile, the S&P 500 (NYSEARCA:SPY) has hit new highs without correction.
If inflation continues to trend upwards, as it has in a few recent reports, and employment continues to accelerate, then the economy could be well on its way to the higher growth rates expected in the 3rd and 4th quarters.
Disclosure: I am long IWM.