This is a final portion of a republished analysis over Impac Mortgage preferred stock (OTCPK:IMPHO). This is an important piece of the shareholder lawsuit, which the plaintiffs expect to take to the appeals court very soon. Here it is...
------
No Consents Received
The final damaging point for Impac is the sworn depositions of several employees involved with the tender offer of 2009. They simply observed that there is no evidence of a single written consent being received or counted. It never happened.
Why does this matter? The Articles Supplementarysay they matter. The consents must be given "either in writing or at a meeting" and this never happened.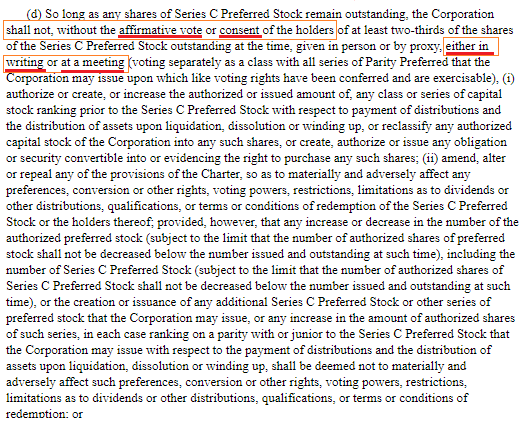 Why didn't Judge Pierson enforce the wording of the Articles Supplementary? The reason is simple. He had already ruled on this issue in 2013, before the defendants, in sworn depositions, declared that they had no written consents. Everyone assumed that Impac had received them, since it is required in the Articles Supplementary and they publicly stated that they received them.
In fact, Impac's outside legal counsel, Pam Palmer, swore that they received the required written consents. The problem is that she has not been able to produce a single consent as evidence. They don't exist.
If you ask a preferred stockholder, they were never given the option to vote on anything. I spoke to a financial advisor recently who is involved with the case, he told me that a few of his clients in 2009 held the preferred shares. Some of them, when faced with a complete wipe-out of value, sold in a panic. Others continued to hold, but they never received any documentation from the company that allowed them to submit a written consent, affirming or negating the action by Impac.
Disclosure: I am/we are long IMPHO.