If Impac is able to execute on strategy, the current price level could be a launchpad for the stock.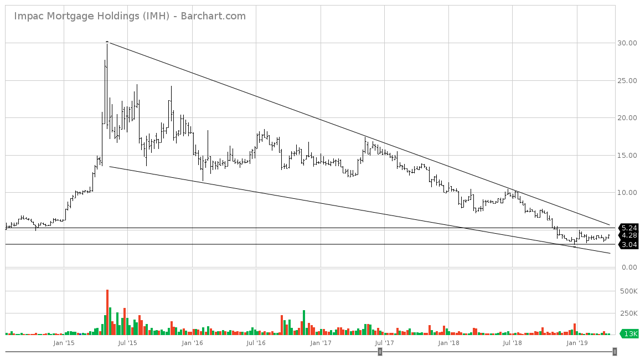 Impac needs to do the following to lift shares:
1. Resolve the preferred stock lawsuit.
2. Issue their own non-QM MBS. 
3. Increase origination volumes.
With the drop in mortgage interest rates to near 4%, origination volumes should already be improving. This could get even better due to the fact that foreign bank rates are actually negative throughout the world. If the dollar becomes too strong, it could have a dragging effect on the economy, forcing the Fed to initiate rate cuts. This will drop mortgage rates further.
Impac recently sold about $113 million worth of Mortgage Servicing Rights. Oddly, not much of those proceeds were used to increase the cash balance. Most of that money was used to pay off warehouse lending lines and short-term debt. Right now, the company is actually holding whole loans of about $70 million more than the corresponding lending lines. These loans will likely be swapped for newly issued Non-QM MBS, allowing them to retain a portion of the issuance. At 10% retention, the company will be able to issue $700 million in Non-QM. This is more than the total inventory of loans currently on the books, which means there is room to grow.
If the preferred stock lawsuit is resolved, investors will have a much more optimistic outlook for the shares. The $5 resistance level will be forgotten.  I'd expect a valuation closer to $10 per common share, possibly $15.
Disclosure: I am/we are long imh.
Additional disclosure: Preferred C and minor number of call options.