Monsanto Co. (NYSE:MON) released 3rd Quarter earnings this morning. Adjusted earnings per share were $1.63, with analysts expecting $1.58 per share. Actual revenue was $4.22 billion with analysts expecting $4.0 billion.
The company's diluted adjusted earnings of $1.63 per share from ongoing operations came in a the high end of analysts expectations and they reaffirmed their FY2012 earnings expectations. The company confirmed that full year EPS should be in the $3.65 to $3.70 range.
Shares of the company were moderately higher in pre-market trading, rising 1%. Over the past year, Monsanto stock has significantly outperformed major indices.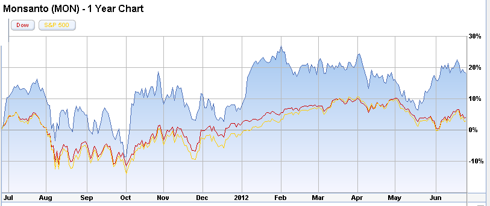 Monsanto's competitors include Potash Corp. (POT) and Mosaic Company (NYSE:MOS).
Disclosure: I have no positions in any stocks mentioned, and no plans to initiate any positions within the next 72 hours.