Last week, the FDIC received the assets of five community banks. Asthe financial crisis appears to be coming to an end for the largestbanks in the United States, small community banks continue tostruggle. Thirty-eight community banks have closed in 2012.
Banks closed last Friday include:
First Cherokee State Bank, Woodstock, Georgia - $222.7 millionin Total Assets
Georgia Trust Bank, Buford, Georgia - $119.8 million in TotalAssets
Second Federal Savings and Loan Association, Chicago, Illinois - $199.1 million in Total Assets
Heartland Bank, Leawood, Kansas - $110.0 million in Total Assets
Royal Palm Bank of Florida, Naples, Florida - $87.0 million in TotalAssets
As the U.S. battles with persistent high unemployment and possiblestagnation in economic growth, it is time for policy-makers to look atthe role of community banking in the economy. Some view communitybanking as the best mechanism for economic stimulus as they tend tolend to small businesses.
The Independent Community Bankers Association gives two important reasons why community banks are good for small businesses.
Community banks are the primary source of lending for smallbusinesses and farms. Even though they compose just 21percent of the banking industry by assets, community banks withless than $10B in assets made 58 percent of outstanding bankloans to small businesses.
Most community bank loans benefit the neighborhoods wheredepositors live and work.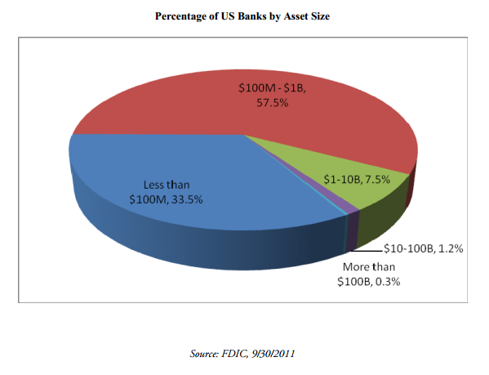 When small business owners approach large banks like Citigroup (NYSE:C) orBank of America (NYSE:BAC) for loans, they could get turned away. For alarge Too Big to Fail bank, it is more lucrative to search forinternational lending opportunities or to arrange financing with a largercompany due to economies of scale. But when the economy isgrowing, community banks have a voracious appetite for lending andtypically work only within a local community.
The response of financial leaders in the U.S. markets during thefinancial crisis of 2008 could be best described as using a financialbazooka to blow out and expand equity reserves at the largest banks,making sure they had enough capital to absorb losses. The problemhere was that community banks took outsized losses on their portfoliosat the same time. The Too Big to Fail banks got lots of cash and moreoverall market share. Community banks were destroyed and absorbed.
To state this more clearly, one great example is provided by Citigroup.In 2009, immediately after the bailouts were released, more than two thirds of Citigroup's deposits were outside the United States. Withoperations on all six populated continents, Citigroup is actually more ofan international bank than a U.S. institution. Allowing the bank to failwould have had political costs, but by focusing efforts on large banks,U.S. policy-makers actually stimulated the global economy, whileshort-changing U.S. communities.
Some Community Banks May Be Attractive
Despite the fact that thirty-eight banks have been seized by the FDICthis year, there may be some bargains in the sector. After severalyears of diligent research and results, investors can have someconfidence that balance sheets mostly reflect the risks associated withthe mortgage market. This is especially true if you believe the housingmarket has bottomed.
Community Bank System Inc. (NYSE:CBU), Fulton Financial Corporation(NASDAQ:FULT), and Webster Financial Corp. (NYSE:WBS) trade near book value andwith forward price to earnings ratios between about 10 and 13. Themarket capitalizations for each security are also over $1 billion each.All of these stocks have decent analyst coverage and at least one ofthem has some insider accumulation of shares. All of these securitieshave dividend yields that are higher than the rates received onten-year Treasuries.
If the housing market has bottomed and policy-makers realize thatbigger is not better when it comes to banking, then smaller banks havea real opportunity to move.