The National Association of Homebuilders (NAHB) released the NAHB Housing Market Index this morning with a reading of 37. Analysts had expected that the index would remain unchanged from last month's reading of 35. In the prior period, confidence rose more than expected as well.
"From the builder's perspective, current sales conditions, sales prospects for the next six months and traffic of prospective buyers are all better than they have been in more than five years," said Barry Rutenberg, chairman of the National Association of Home Builders (NAHB) and a home builder from Gainesville, Fla. "While there is still much room for improvement, we have come a long way from the depths of the recession and the outlook appears to be brightening."
Homebuilders, realtors, and analysts are reporting increasingly good news recently with home prices rising year-over-year. Home inventories are dropping and confidence among builders is rising faster than expected.
Part of the reason for the surge in housing is historically low mortgage rates, which have been propelled by the Federal Reserve's Operation Twist program. Currently, the ten-year Treasury yields about 1.75%, but it has been climbing steadily off of lows near 1.39% in July. As a result, 30-year fixed rate mortgages have also gotten more expensive after touching the lowest rates ever recorded in July.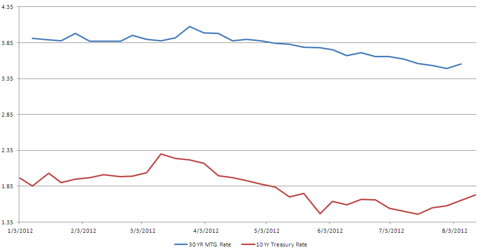 Meanwhile, the fallout from the subprime era continues as banks get additional repurchase requests from the Government Sponsored Entities (GSEs). Bloomberg reported this morning that $84 billion in repurchase requests have been recorded and sent to banks like Bank of America Corp.(NYSE:BAC), Wells Fargo & Co. (NYSE:WFC), JPMorgan Chase & Co. (NYSE:JPM), and Citigroup Inc. (NYSE:C).
Disclosure: I have no positions in any stocks mentioned, and no plans to initiate any positions within the next 72 hours.