We know the importance of banking and financial-services in any given economy. Therefore we have put our feet forward to march ahead on a crusade to dissect the financial-genes of our banking and financial-services companies both big and small. In last two articles we had zoomed into Wells Fargo, Bank of America, Rurban, Fifth Third, Morgan and Mercantile Bank.
In this third article in the series, we will look at Citigroup Incorporated (C), CVB Financial Corporation (CVBF) and MBT Financial Corporation (MBTF).
Citigroup Incorporated: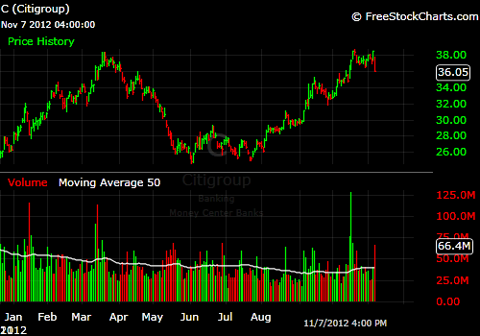 Citigroup is a globally diversified financial-services holding company. Its businesses provide corporations, consumers, institutions and governments with an expansive range of financial products and services. Citigroup now works through three major limbs which we state herein-below:
Citicorp: Global bank for consumers and businesses, representing Citigroup's core franchise.
Citi Holdings: Caters to Brokerage and Asset Management, Local Consumer Lending, and Special Asset Pool.
Corporate/Other: This arm mainly takes care of global staff roles and other corporate expenses, unallocated corporate treasury and corporate items, global-operations, and finally technology.
Although most big banks faced the financial turmoil in the past years, Citigroup has been able to survive and move forward. Reason being its derisking and a diversified spread over 160 jurisdictions and countries. At the same time this bank covers 200 million customers. This saved the bank from a big impact due to U.S. slowdown. Citi will continue to expand strategically in the 'growing' emerging markets which will leverage its risks and influence revenues in future.
Citigroup's tactics to deleverage by cutting down noncore assets and increasing the fee-based business may although seem a setback in the near term (with specific view on revenues). But rest assured it does augur well, and a leaner, stronger, faster-growing Citi will emerge. The runoffs and winding-downs in Citi Holdings, of the problem assets, will derisk and free up more capital to use toward productive use including investments in its well-performing core businesses eventually.
The bank currently has good reserves which cover the bank too comfortably against future probable losses or economic emergencies. Size and spread have disadvantages such as make exposed to ever-changing regulatory-requirements. This may affect Citigroup negatively. Further, the company has overall disappointed in passing the 2012 stress test and by failing in significantly increasing shareholder value. Certain lawsuits also linger.
Third quarter results have been impressive overall, with specific emphasis on EPS, lower expenses, higher global consumer banking revenues, and lesser bad asset provisioning. Giving back of significant shares of MSSB to Morgan Stanley did dent a minor loss. But excluding this and the CVA and DVA adjustments, revenues improved about 3% over same quarter in last year.
A behemoth, Citigroup is undergoing transformations which may be impacting its shorter term performance. But the same strategy adopted today to stay afloat and become competitive will make the company leaner and creative in future, to its benefit as well as benefit of shareholders.
CVB Financial Corporation: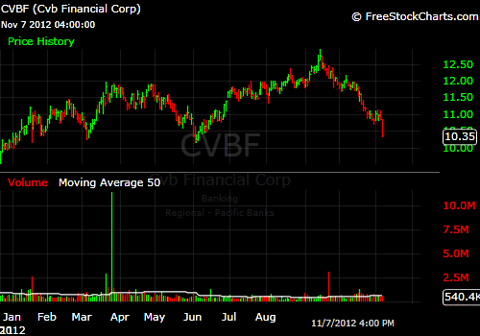 CVB Financial Corporation has 42 business financial centers located in the Inland Empire, Los Angeles County, Central Valley and the Orange County areas of California. Besides, it has 5 commercial banking centers located in Encino, Torrance, Los Angeles, and Burbank. A bank holding company for Citizens Business Bank that provides various banking and trust services for small and medium-sized businesses, professionals and individuals, CVB's founding year is 1974 and it now headquarters in Ontario, California.
This is an excellent bank, having low cost of funds and an avoidance policy for subprime lends, and its following conservative lending-standards. It is no joke that CVB Financial consecutively ranked (over last 30 years) as a Super Premier Performing Bank for 19 years, and a Premier Performing Bank for 11 years by the Findley Report. Not possible if no mettle lies in the bank.
Third quarter results recently announced, it portrays streamlining of balance sheet and overall performance with competitiveness as well as polishing itself to deal with future challenging environment in a better way. High and low points of the company are:
Third quarter saw net income at $9.30 million compared to net income of $22.40 million for matching quarter of 2011. Reason being, CVB decided to prepay $250.00 million of FHLB loans and redeem $20.60 million of the remaining junior subordinated debentures. This lessened its overall future cost of funds and further lessened leverage. The annual net pretax interest cost savings is to be about $8.5 million, with nearly $2.1 million in pretax savings for the rest of 2012, which will be inherent profit in future. This strategy will strengthen the overall viability of the bank.
Net interest income for the third quarter decreased slightly by $236,000, or 0.39%, compared with the same period in 2011. The slight decrease in earning assets was also because of a dwindling effect on interest-earning cash as an impact of prepayment of $250.00 million of FHLB advances.
Classified loans total $302.5 million, and are still standing lower about $56.7 million from $359.2 million at December 31, 2011.
The founding Chairperson of the company George Borba, the man who pulled CVBF to this level, has unfortunately passed away recently. But he leaves behind a strong management to steer the company even further.
Besides earnings results, we must also look at the overall historical performance of this company. This is one great stock that has given us 92 consecutive quarters of handsome dividends and a 'mighty' 142 quarters of profit. Currently with $6.30 billion of assets, lending-growth of 400% (from $1 billion to $3.9 billion) and a past decade increase in deposit-growth of almost 300%, who would not like to have CVB for dessert?
A rock-solid performer, a top-ranking dividend payer, and a must for a portfolio even for longer terms, that's CVBF!
MBT Financial Corporation: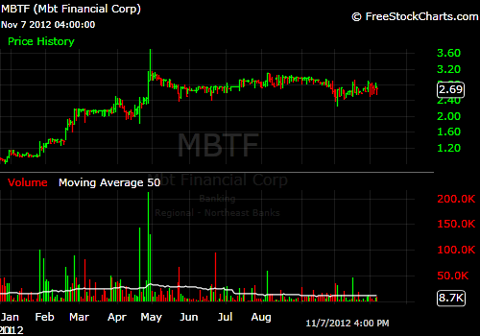 Incorporated in January of 2000, MBT Financial Corporation headquarters in Monroe, Michigan. It serves as a holding company of Monroe Bank & Trust, a fully-owned subsidiary originally founded in 1858, with service areas consisting of Monroe and Wayne counties in Southern Michigan. Among the larger community banks in Southeast Michigan, MBT boasts of incomparable and customer oriented mind-set.
With 24 offices and 40 ATMs, the arsenal of MBTF consists of a comprehensive array of products and services including complete range of business and personal accounts, credit choices, and phone and online banking services. Its Wealth Management Group is one largest and most respected in South-Eastern Michigan.
Earnings and results from second quarter, followed by the third quarter (earnings results just announced) have been encouraging:
The Bank remains adequately capitalized and its liquidity position remains strong, with cash and investments on constant increase from 37.7% of assets at the end of 2011 to 40.2% at September 30, 2012.
Total problem assets (unlike in second quarter when it decreased 13.0% compared with a year ago) has this time increased by 3.90% from the second quarter. This is although business environment in the area substantially improving. But this is not alarming and is a temporary incident as total problem assets have reflected net decrease of 7.2% compared with a year ago. In the second quarter we had marked the fifth consecutive quarterly decrease in problem assets.
Due to overall improvement in asset-quality year so far (in financial terms) the company enjoyed a fifth consecutive profitable-quarter despite a decrease in net-interest margins.
Economic conditions in southeast Michigan continue to improve slowly, and this is having a positive impact on the company's business and this trend is to continue.
Improving loan demand will augur well and take care of net interest margin and net interest income. MBTF's commercial loan pipeline remains strong.
The company is much ready to brace increased lending-activity [growth] by continuing to have a solid deposit base, satisfactory capital and a liquid balance sheet!!
The Third Quarter results released just now have been much beyond investor expectations and in line with performance history.
MBTF needs to be cautious in this rather-bad business environment to continue this winning-run. It can do this by continuing to focus efforts on improving asset quality, controlling expenses, preserving liquidity, and seeking new sources of revenue and capital continuously .
Though small when compared to big leaders, MBTF is another investable and trusty ALPHA-stock. Below its value, it's a solid performer. MidTerm to LongTerm buy (if you do not own already) and hold (for those who already hold this stock).
Detailed Chart Comparing C, CVBF, MBTF, SPY and DIA: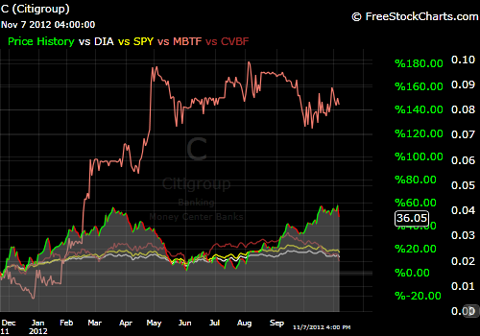 Note on Sources: This article would not be informative had I not researched various-facts and material on various-websites and other-resources. Major ones are Yahoo, Google, Nasdaq, among others. Charts are from www.freestockcharts.com . A big thank you to all of them for the relevant matter and guidance indirectly charging my analytical thought.
Disclosure: I have no positions in any stocks mentioned, and no plans to initiate any positions within the next 72 hours. I wrote this article myself, and it expresses my own opinions. I am not receiving compensation for it. I have no business relationship with any company whose stock is mentioned in this article.