People say things like that Russell 2000 index experiences stronger ups and downs than S&P 500. So I did a quick check on this notion.
First picture contains tops and bottoms of the indexes with percentage change from previous value (Dates are D/M/Y).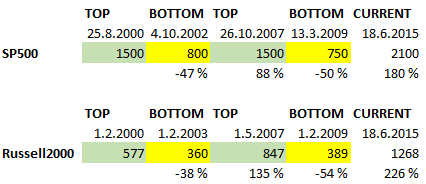 Must remember that this material starts from the year 2000, as older data is not really comparable. So what we see here, might not always remain true (Markets change).
Anyway, to the interesting points:
1. Russell 2000 tops up well before S&P 500
2. Russell 2000 is more profitable when compared top and bottom values.
3. Russell 2000 drops about the same (%) as S&P 500, but rises more.
Conclusion:
Based on information from past 15 years and their major financial events, Russell 2000 is a more profitable and safer index to invest into.
We cannot know if this will remain true in the future. I will definitely follow Russell 2000 more and compare how these indexes behave. If previous points remain true, then Russell 2000 can be a very useful warning sign of future downturns and also a profitable index to invest into.
Below a bit more data on them.

Graph of the percentual change below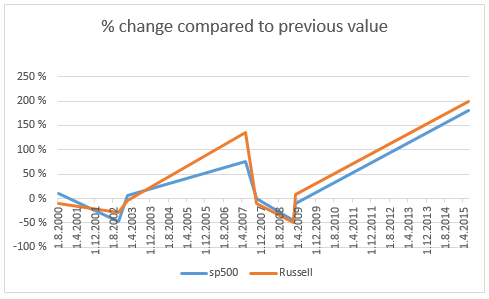 Disclosure: I/we have no positions in any stocks mentioned, and no plans to initiate any positions within the next 72 hours.