Do note that the article below is based on material released by BBS as these materials, or newer versions of them are not freely available. Please do let me know in comments if you have further knowledge to share!
On 28th February 2018 I woke up to IPO news about a small company I had never heard of, located in northern Finland, with market capitalization of only 22 million euros. It was a quite a small IPO, collecting only 3.5 million euros and raising total share and number of owners to 5 090 520 and 1150 respectively (source). Stock was listed at Nasdaq First North marketplace, which is meant for small companies in the Nordics. Despite all of this, I felt immediately hooked to their stock due to reasons I´ll go through below.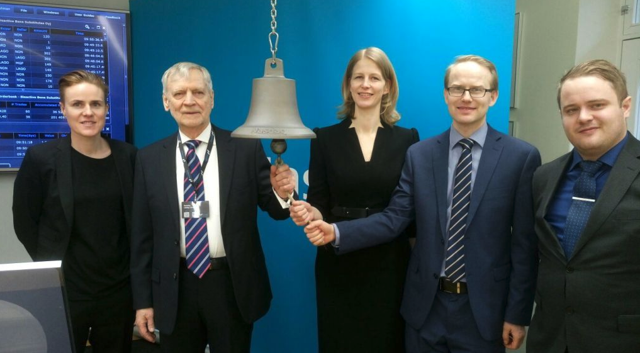 The company in question is Bioactive Bone Substitutes Plc ("BBS"). BBS is a Finnish health technology company that aims to become a leading player in the field of bioactive implants.
"[...] has developed a new generation innovative medical device product for the treatment of bone defects in orthopaedic and traumatological surgery". 

BBS' CEO Pekka Jalovaara:

"Orthopaedic diseases are the second most common cause for disability and drain on health care resources worldwide, and they increase with the ageing population. An improved standard of living means that there is a desire and capability to treat even difficult bone defects, as long as effective yet safe, reasonably priced and easy-to-use methods exist."
ARTEBONE

BBS explains that company's first product–ARTEBONE–is an injectable paste in a ready-to-use syringe, which is injected into the bone's problem spot or fracture area. The main use is for treatment of bone defects and healing problems in extremities such as foot and ankle. It supports bone healing by providing both the doctor and patient with a more reliable, safe and high-performing substitute for bone. 
The material used in ARTEBON is a reindeer bone - an ideal raw material, because reindeers drop their antlers every year and then grow them back, resulting up to 30% change in their body weight. This special ability for bone growth is part of all their bones, as confirmed by BBS' tests. This feature is a critical part of ARTEBONE, as it is able to support the healing of human bone much better than competing products - by providing the support for bone growth and by promoting the new bone formation. It is also safer to use, as reindeer bone does not carry human diseases, which are a risk with human-to-human transfers.
By stimulating the new bone formation, it provides an effective and safe repair of bone defects in a growing market for such products. The potential market size for orthobiologics today is already approximately 5 billion dollars, of which bone graft substitutes account for nearly 3 billion dollars. All of the pre-clinical testing and clinical tests have been done, and BBS has launched the application process for the CE mark. The CE mark is a prerequisite for the commercialisation of ARTEBONE® in the EU area.
Bonus points:
• Potential savings in time and money for hospitals due to patients' improved recovery time.
• Cost savings to insurers and third parties due to a shorter operation time in surgery room; the patient has a faster recovery time, needs to spend less time in hospital and is sooner ready to return to work.
• Avoiding potential complications and disease transfer risk, which can happen due to human bone transfer - and lowering the risk in cases where ARTEBONE is mixed with human bone.
MARKET
The cost of making one syringe is under 100 EUR per piece and planned end price is 1000 EUR, which would place it in a cheaper end of the market. The price can of course change depending on agreements and local markets. 
Competing products and their pros and cons:
• Using person's own bone is cheaper, but it requires a second surgery to extract the bone. Even if complications are avoided it will lead to a slower healing process.
• The bank bone is one of the product at the cheaper end. It is received from donors and hospitals. It demands multiple surgeries as well and carries the possibility of transmitting a possible contagion from donor to the recipient.
• Other product categories vary from 500 USD to 5500 USD, but have had trouble achieving stable quality standards, which has caused the market leading products to experience weakening sales.
• Possible future product group is stem cells, but their expected price is high and it is still under research.
Total global orthopaedic market is reported to be 46.6 billion USD in 2015 according to The Orthopaedic Industry Annual Report.
It is divided among companies as presented below: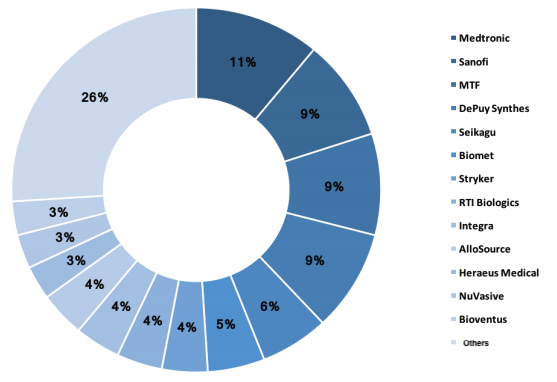 BBS' target of the overall market is "bone replacement market", which is reported to be 2.3 - 2.7 billion USD in 2015 and growing at an approximate pace of 2.6% per year. Market size increases further if calculated in market potential that is handled by other techniques, such as transferring person's own bone–but would be potentially done by using BBS' product once this option is available. Current estimates propose the total market value of up to 7.5 billion USD.
The largest markets are the US, Europe and Japan, which covered 83% of the market in 2013. The US is the largest single market and market growth overall is supported by aging population, which leads to obvious bone related problems and need for orthopaedic treatments.
BBS is also supported by expectation that younger generation of orthopaedists prefers techniques that shorten and simplify surgeries, lead to less complications and provide them with the ability to do more surgeries in a day. Moreover, some leading products in the market have had quality related problems, leading to slowing sales on their part.
HISTORY
The research that made ARTEBON possible has been done since the 1980's. Product development had started in the University of Oulu in the 1990s. BBS was officially established in 2003. At some point, it was decided to focus research on reindeer bone due to suspected ability for faster bone growth compared to animals like cow, which later proved to be true.
In 1997-2007, the company focused on product development and prototyping, with more detailed testing done in 2007-2014. In 2015, BBS received permission for a medical manufacturing facility and since then the preparations have been made for CE and FDA certificates.
FUTURE
BBS expects that new surgery techniques and demands with growing numbers of surgical operations will drive the market growth for bone replacement technologies. New orthopaedist generations are expected to prefer solutions that lead to faster and cleaner surgeries with smoother healing process.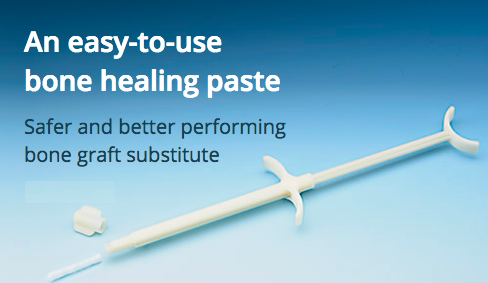 Initially, BBS will come to the market with ARTEBONE, focusing on limbs, shoulder blades and pelvis areas. Further possible plans mentioned by the company include spine, jaw, joints and even dental areas of the human body. Even further in the future BBS thinks that it could begin to provide products for animal needs. No market values were mentioned, and in any case it can be expected to take multiple years before company is ready to start tackling new areas.
BBS currently focuses on commercialization of ARTEBONE by its own salespeople and product specialists in Northern Europe due to location and suitable markets, followed by Germany, Italy, Slovenia, Austria, Switzerland, France, Belgium, Netherlands and Great Britain, with the list of European countries expanding as seen best. BBS initially plans to sell directly to hospitals, later also starting with licensing and selling their bone protein extract to companies who will handle production and sales.
BBS also reports that transfer agreements have been signed with three companies located in the US. Two of those companies have already done animal testing with ARTEBONE with successful results.
Plan for the future:
BBS was aiming to get 2-8 million euros from the IPO and ended up with about 3 million euros in new capital. It is expected this money would last for about a year, depending of course how soon the CE certification comes in and BBS is able to start sales.
In case of CE certification taking too long and cash reserves starting to run low, BBS has the possibility to release more shares for sale. However, since public interest in the company was already weak, participation from the venture capital firms would be vital for gathering enough cash for BBS to survive.
During BBS' annual meeting on 29th March 2018, the board of BBS was authorized to issues one million new shares or convertible bonds entitled to such amount. No decision was yet given if this right will be used.
So far the company has focused on research and therefore no sales or revenues are available yet (financial reports). As a result, all reports show just a varying amount of business loss due to research expenses.
It was mentioned that without new capital BBS does not expect to survive even for one year. Raised money will be used for preparing the machinery for sales level production, hiring new people, getting sales network built in above mentioned countries and hiring a new CEO who has the skills to focus on the commercialization phase.
I am expecting approximately 2 years for the company to start turning a profit.
• Current CEO has admitted that a new CEO is required for the commercialization phase, as his own expertise lies in research.
• Receiving CE certification for ARTEBONE is expected during 2018.
• Animal based products are not new, but there have been no previous products based on reindeer, so testing authority will do detailed tests before acceptance.
• After CE certification is received: FDA's 510(NYSE:K) acceptance process has been started on preliminary level and will continue once CE certification is received, as it will help getting FDA approval. BBS expects certification process to take 2 years, but we have to remember that if there are any problems, it can easily take multiple years before the certification might be granted.
• FDA approval received in 2020 at the earliest.
• BBS has not published detailed plans for further expansion beyond North American market. The next goal is stated to be global markets, likely Japan as the main goal due to it being the third largest individual market at the time of writing.
• In the next product phase, besides possibly expanding product category as already explained, it is possible to sell the product material to other implant manufacturers helping them to improve the quality of their own products. In such case, BBS would avoid marketing and sales expenses, while becoming a critical part of those products.
OTHER
The company's offices are in Oulu with separate production facility in town of Reisjärvi and the company currently has 12 employees. They expect to end up with 30-40 local employees, covering main office and production facility. BBS also has a scientific advisory board consisting of international medical experts.
There is currently one production line and it is able to produce 25 000 units per year by using BBS' own patented production method - a batch of reindeer bones arrive, which are then grinded and chemically treated over a few weeks to produce the end product. Batches of tens of kilos of bones are used to produce a few grams of protein paste. BBS has an exclusive contract with a large reindeer bone provider to deliver the needed bones.
Growing the production line would be difficult and expensive, but they can go around that by replicating the production line, because the current one only uses 200 square meters of their 3000 sq meter facility, which BBS fully owns. They therefore have enough space available to grow their production from 25 000 to 375 000 units.
CONCLUSION
Investors could expect the following stock price movements (both risk and opportunity):
The stock price is reasonably steady, until one of the following possible news are announced:
• The money runs out and new shares are released, stock price goes down by a large percentage

• The interest in new shares is too low and company has to get a bank loan or it will run out of money
• CE permit is given during 2018 or early 2019, in which case stock price takes its first bump up
• BBS might use this opportunity to release more stock to collect cash reserves
• BBS reports its first profitable quarter–late 2019, second bump up in stock price
• FDA certificate is given–no earlier than 2020, stock price takes its third bump up
• permit is delayed, stock price takes a step down, or can also stay levelled if expectations are still strongly positive
One question is, why venture capital firms did not continue investing money in needed amount? Only reason I can think of right now is that they finally want to see results and sales first. Leading back to the original problem - this simple idea is hard to quantify and compare, if you are not familiar with this industry (and it seems very few are), as the few articles available about the company don't make any mention of the actual market and BBS' potential in it.
The articles seem to simply refer to the risk of such situation, which makes me think this is due to classic behavioural problem of focusing on past negative events – such as a failed mining company in Finland – that drew in large amounts of private and public investments, but was covered with bad news until its bankruptcy. When valuing more typical companies, you believe you understand the business and are able to make fancy calculations about mobile phone sales and minerals in the ground, etc. A product made out of reindeer bones for healing broken human bones is perhaps too strange and new. 
Having a hard time to understand product is both good and bad. It doesn't help the company to get investments, as evidenced with the IPO, but for investors that do jump in or are waiting a bit longer, it can be good as the company remains undervalued for longer, giving them time to invest. Of course, first it has to survive until sales are producing profit, which is the greatest risk at this stage. It is every investor's own decision how comfortable they are with such risk and if they believe in the BBS' plan. Only 1150 investors seem to.
Other sources:
IPO brochure, only in Finnish: BROCHURE 
Home page: BBS
Stock: NASDAQ
You can search Youtube using these words "bioactive bone substitutes bone grafting" and find many explanatory videos on this topic and other products.
Disclosure: I/we have no positions in any stocks mentioned, and no plans to initiate any positions within the next 72 hours.
I wrote this article myself, and it expresses my own opinions. I am not receiving compensation for it (other than from Seeking Alpha). I have no business relationship with any company whose stock is mentioned in this article.