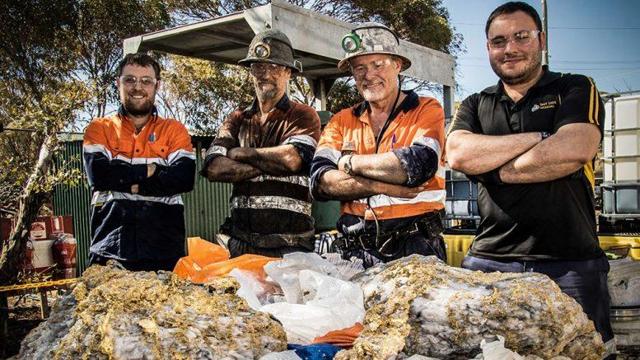 Gold Boulders From Beta Hunt Bonanza Gold Strike, On Left The "King Henry", One of the Five Largest Gold Nuggets Ever Found In The History Of World 
Whereas politicians and conmen promise things that are too good to be true, and do not deliver, my experience is that when a stock appears to be too good to be true, value wise based on facts, they end up being superb investments. 
Have been blessed to have several 20+ baggers.  That is stocks that went up more than 20 times from the lows. There are common themes to those stocks and RNC Minerals  OTCQX:RNKLF has all of them. These factors may surprise some, counter to their preconceptions. 
1. A starting price under $1.
2. A starting market cap under $50 million. 
3. A real company, that is profitable or it is reasonable to expect profits soon. 
4. It is undervalued with financial ratios below and hopefully way below normal financial ratios in the market.
Optional but helpful bonus factor is a billionaire being involved in a big way. 
RNKLF has all four and the bonus factor.  It was .07 a month ago, .06 two months ago and is now .61 (10 Bagger) and hit .90 (15 bagger) on 9-24 when they found bonanza grade ore 200 meters away from the initial bonanza strike on another test of the new geologic model.  
If a stock goes up 10 times that does not mean it is overvalued, nor is a stock necessarily undervalued when it declines 90% as SUNE (SunEdison) did on its way to a 100% decline. SUNE was always overvalued and since the bonanza strike the facts argue RNKLF has always been undervalued. I will later explore the potential price targets for RNC, but will say here that with more good luck $5 to $10 is possible, that a 50 to 100 bagger for RNKLF is possible. 

I was in the stock by pure luck before the strike, had no idea it was coming. RNC had a hunch with a new geologic model that coarse gold would be where they hit it.  The company was mostly a nickel miner and the Beta Hunt mine was mostly a nickel producer, but did have gold in it.  It is an older and big mine which is good news. Dating back to the 1960s with modern infrastructure and an extensive tunnel system that will allow them to access the new bonanza grade model targets easily. 
It was a poster on Seeking Alpha that clued me on the strike in the wee hours Sunday night.  It all started with this:
dpinvest Comments403 | + Follow 

News breaking via cnbc of a substantial gold strike in a mine owned by RNC in Western Australia. Anybody have confirmation?
According to the cnbc story, RNC is in process of selling this mine. Not sure if they now will change their mind (seems obvious they shd). And, shd now require further sampling/testing to determine extent of the new find.
10 Sep 2018, 01:39 AM Reply 3Like
Darp Comments5493 | Following

dpinvest, when I first read you post, thought it was a labor strike! then your 2nd post made it clear it was a positive "strike". Due to nanocap mkt cap of Royal truly think this is massive news and the market has under reacted to it so far. Sold none and increased position about 65% today.  Cheers
10 Sep 2018, 04:43 PM Edit/Delete
The icon I have on SA is a 2 oz gold nugget in my hand shortly after it was found.  I am a rusty geologist who knows people that own hard rock gold mines and have done a fair amount of placer gold mining ala "Bering Sea Gold" TV program method, but in rivers not in the ocean. 
Here is the first PR on the bonanza grade strike: 
SEP 9, 2018 New Discovery Yields 9,000 ounces of High Grade Coarse Gold from Single Cut at Beta Hunt Mine
New discovery includes 95kg specimen stone containing an estimated 1,402 ounces of gold and a 63kg specimen stone containing an estimated 893 ounces of gold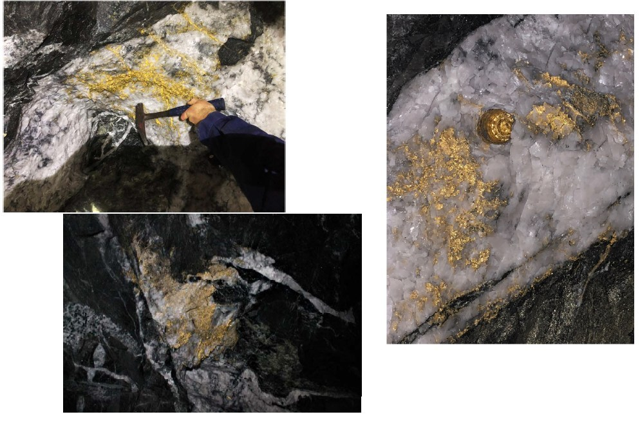 Apparently the blast was done on Father's Day in Australia, Sept 2nd, hence the name "Father's Day Strike".Many said it was a one off and did not buy the stock, and they were wrong on both counts.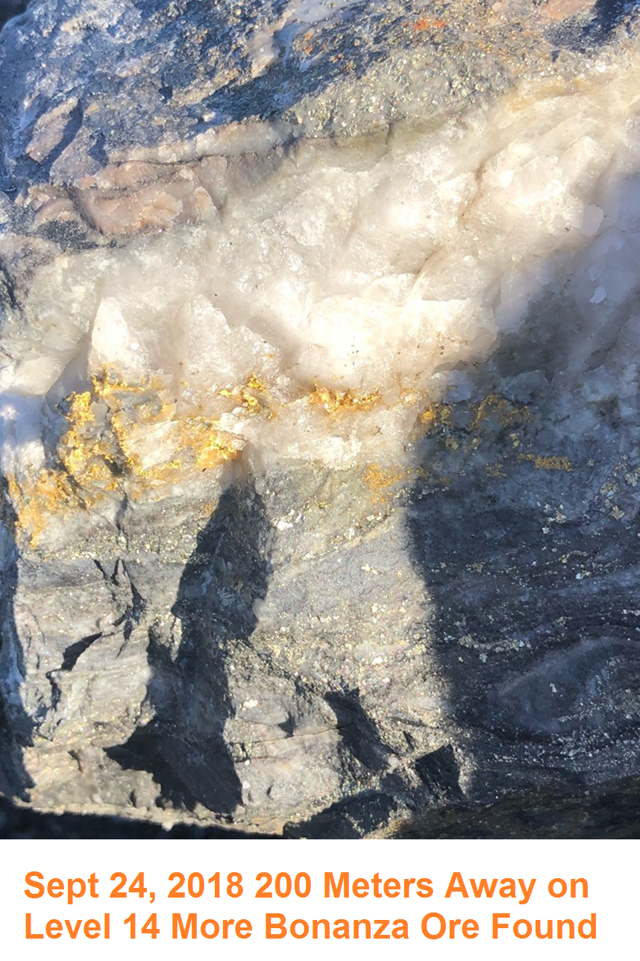 Three weeks later:  "RNC expects a minimum of 30-35,000 ounces of gold to be recovered from the initial development area. To date, approximately 27,000 ounces of high grade coarse gold has been recovered from a 60 m3 cut (167 tonnes) on 15 Level at the Beta Hunt Mine, grading over 161 ounces/tonne or 5,000 grams/tonne." 10-24-2018:Note they did overestimate the gold in the biggest nuggets, so the grade may be more like 4,500 grams a ton, they have not said yet. RNC Provides Father's Day Vein High Grade Gold Discovery Update
That works out to about $800,000 Cad per cu meter! On smaller blasts like this the size is roughly 3 x 3 meters HxW so 60 cu meters would be roughly 3x3 and 7 meters long. 
For perspective the richest grade gold mines in world in 2015 are less than 1% as high grade as the initial blast at Beta Hunt on the new geologic model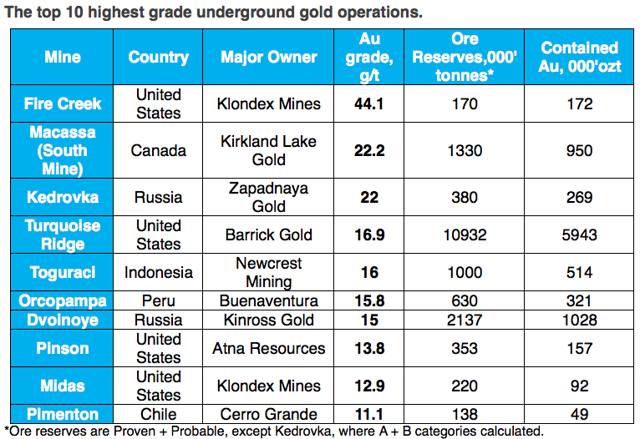 They came up with a model that on footwall side of intersection of pyritic sediment layer (undulating with dip) with near vertical Shear Zones that are 10-40 meters thick that there should be coarse gold. They sent in blaster Henry Dole to test it.  Here is Henry with one of the pieces he found the next day when he watered down the rumble to see if there was any gold.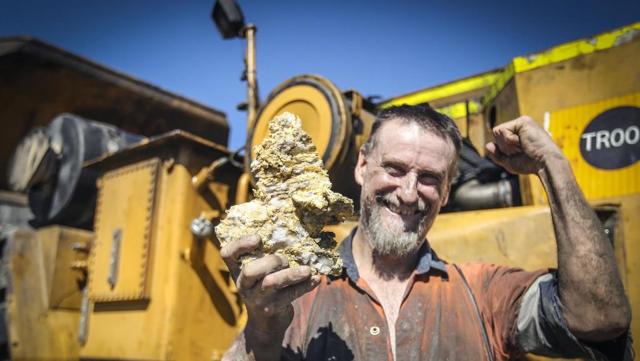 This is a great story even for non investors.  They were days away from selling the mine, likely because they had a rather severe debt problem. The only reason the mine was not sold was the other side drug their feet, so RNC was double super lucky, first they hit the richest bonanza grade deposit ever and the only reason they own it is it was taking longer to sell it than they expected.  They only paid about $7.5 million for the mine and it had $100 million of equipment and infrastructure invested into it in the prior 15 years.  
They hit such rich ore that "$38 million in cash to be received from the sale of the previously announced 24,000 ounces of gold recovered from the Fathers Day Vein discovery, will allow the company to repay all of its debt and achieve a substantial net cash position. This cash is expected to fully fund all corporate activities for the foreseeable future, including most importantly the upcoming exploration program at Beta Hunt."  
Right now they have cashflow coming out of their ears. 
For valuable background and entertainment here is an excellent video on the strike at Beta Hunt. Henry tells the story better than a A list Hollywood actor could, and it has been referred to as a "once in a lifetime discovery, a "once in 50 lifetimes" would be more accurate: 
As the geologist says in most underground gold mines you are thrilled to see pinhead sized gold in the mine face, at Beta Hunt there are coconut sized hunks of solid gold. 
How does this bonanza ore find compare to the Comstock Lode?
This is one of the bullet points in the header.  Which is richer, the Comstock or RNKLF's Beta Hunt?
The answer is surprising. John Mackay became the richest man in the world, based of of just a short section of the Comstock (Virginia Consolidated). The Hearst fortune was based off just another section of Comstock (remember movie Citizen Kane, Rosebud) In fact the Hearst fortune started off of just 1/6th of that same mine, the Ophir, which in today's dollars produced $83,000 a ton ore, the Ophir Bonanza.
"In the summer of 1859, Hearst learned of the wonderful silver assays of the "blue stuff" someone had picked up over what was to become the Comstock Lode, and sent to a Nevada County assayer. Hearst hurried over to the Washoe district of western Utah territory, where he arranged to buy a one-sixth interest in the Ophir Mine there, near present-day Virginia City. That winter, Hearst and his partners managed to mine 38 tons of high-grade silver ore, packed it across the Sierra on muleback, had it smelted in San Francisco, and made a $91,000 profit (or roughly $2,500,000 in 2016 dollars). It was the sight of the bars of Ophir silver that started the rush to Washoe."
"His son insisted on taking control of one of his father's holdings, the San Francisco Examiner, which became the foundation of the Hearst publishing empire."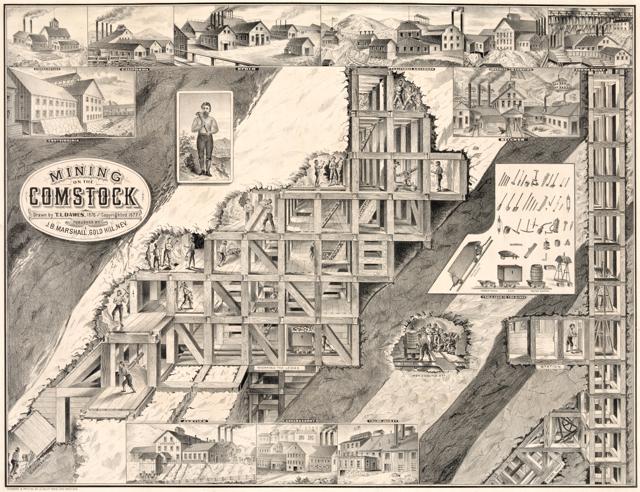 Ok this gets better, Hearst become one of the richest people in the USA from owning 1/6th of just one of over 20 small mines on the Comstock (675 feet long), and the first strike took 6 months to get 38 tons. The Beta Hunt in one blast and 3 days of picking up the gold got over 3 times more ore (130 tons) and it was richer ore. AND RNC owns 100% of kilometers of structure, The Ophir was 675 feet, not much longer than a two football fields!, so Hearst in effect had only 115 feet of it.   Today a gram goes for $39.18 USD that is $196,000 USD a ton of ore on the Beta Hunt Bonanza as the average for the Father's Day Bonanza is 5,000 grams a ton so far. Beta has produced more tons than the Ophir, 168 tons vs Ophir's 38 tons. 
Bottom Line: The Beta Hunt Bonanza Is 4 times bigger (more tons) and has twice as rich ore as Comstock's Ophir Bonanza which created fortunes and started the big Comstock Rush. Beta Hunt's first Bonanza is 4 X 2 = 8 times better than the Comstock Lode's first bonanza and Beta's took a fraction of the time and cost to produce as the one at Comstock. 
Is anyone in the investing media talking about this? To best of my knowledge I am the only one and have been pointing this out since the 1st day after the strike. The only thing that has changed is the grade and gold ounces have gone up a lot since then at Beta.  There are many things being missed about RNC and the Beta Hunt Mine by the investing world. This has not been missed by the Beta Hunt Mine Manager Kevin Small, who when I pointed out the Comstock comparison did not disagree, his response was "Just think, were not even finished mining the main discovery out."  
And Beta Hunt owns 100% of the entire deposit. And it is 100% owned by Royal Nickel RNKLF, a whole lot better than Heast's 1/6th of 675 feet. 
The "Big Bonanza" at Comstock which came later was also not as spectacular grade as the Beta Hunt, but it used to be considered the richest ever bonanza. Whether Beta Hunt will be able to surpass the production of the Big Bonanza is yet to be determined, if Beta achieves 1/4 of the Big Bonanza in terms of production it will be a spectacular success as a stock investment. There is a lesson from the Big Bonanza that applies to RNC, that is selling a month after or a year after the strike. There are many posters of StockHouse and other sites wanting RNC to be bought out by Kirkland or another larger mining company. In my opinion this is a horrible idea, and the history of the Comstock shows why. 
History Of Early Sellers At Comstock, Should We Sell Now?
In 1871, 12 years after the Ophir Bonanza, Irish-Americans John William Mackay, James Graham Fair, James Clair Flood and William S. O'Brien, organized the Consolidated Virginia Silver Mine near Virginia City, Nevada, from a number of smaller claims on the Comstock Lode and later added the nearby California mine. Mackay and Fair had the mining knowledge and Flood and O'Brien raised the money. The purchase price of the claims, later to become a fabulous source of wealth, was about $100,000. The original stock issue was 10,700 shares, selling for between $4 and $5 a share.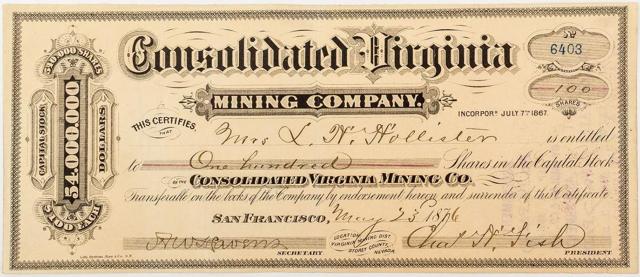 In 1873 the "big bonanza" was uncovered and San Francisco and the entire mining world were hurtled into a fever of excitement. The first stock issue was converted into two issues of 108,000 shares each, and by the middle of 1875 the speculative value of the two mines were close to $1,000,000,000. Shares went as high as $710.
In that case those that bought out others 12 years after the strike got a 10,000 bagger in the next 2 years, due to good results and to huge overvaluation, which is to be expected. If something goes up 50 times on value, the stock will almost for sure go further due to momo and overvaluation, such as Amazon has. 
Those that sold in first month after the original strike got even less. "Patrick McLaughlin sold his 1/6 interest in the Ophir claim for $3,000 to George Hearst." 
To sell out now would be crazy. Even if its a stock deal. Say Barrick buys out RNC for double its price today (and a double in a buyout happens maybe only 1% of the time) that would be $1.20 and maybe $500 million market cap.  Then RNC would be 1/30th of ABX market cap, and if Beta Hunt made $500 million in profits maybe it would boost the ABX stock 50%.   
But if RNC does not sell and produces the same $500 million in profit in a year, unlikely but possible, what would RNC stock do?  The average stock in SP500 has about a 25 P/E and ABX right now is about 21 P/E.  If RNC achieves that it would be likely the fastest growing and highest profit margin company on the market, a 25 P/E would be cheap, that would not require any mania like the overvaluation we have today in overpriced Cannabis stocks.  Easy math, $500 million in profits x 25 P/E = $12.5 Billion market cap divided by lets say 400 million shares = $31 a share for RNKLF. 
So with same profits for RNC selling to ABX (Barrick) for stock at a 100% premium would produce $1.20  + 50% = $1.80, and not selling for stock we would get $31 a share. That is why selling now is a crazy bad idea.  I am not saying RNKLF is going to $31, am looking for $5 to $10, but it is possible. That would be a 500 bagger. In general most stocks have no chance to even 20 bag.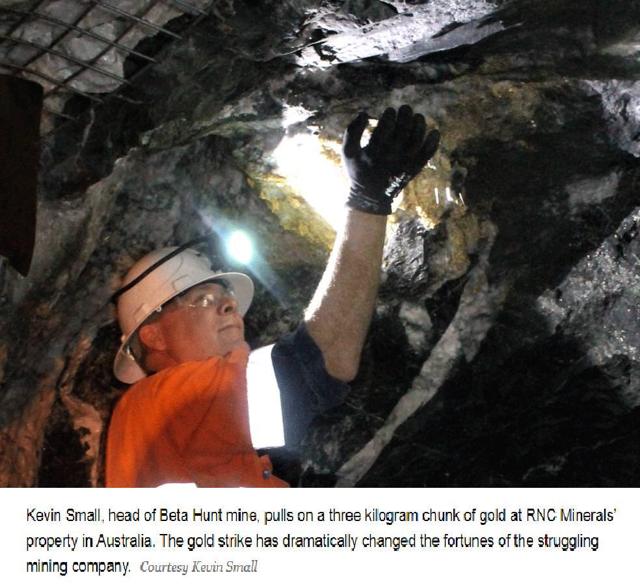 In the bullet points mentioned that RNKLF currently has a run rate of under 1 P/E.  Again the math is easy to do on this except taxes.  On a pretax basis they have said 30-35,000 oz just from the Father's Day Bonanza in last month. And they always have over delivered, check the PRs. So will use 35,000 oz figure.
There is a "Crown royalty" of 2.5%, that Australia takes and RNC pays ~7.5% royalty to Maverix Metals, so one could look at it net of those as 4500 grams a ton instead of 5,000 grams a ton.  Will mention that here but in the rest of the article "Pretax" means before taxes and that royalty is taken out. 
The rest of the mine is still running the 3ish gram a ton ore like they did in 2Q and company was profitable in 2Q and Beta did cashflow some if read the Q right.  What are their costs for the bonanza ore? Asked and Kevin Small said "Production cost would be so cheap, don't even want to figure it out…Almost free…"The costs are so tiny it is not worth the time to figure it out! Kevin says they hand sort through the blast rumble for visible gold, then send that to Perth Mint as is. There is no milling except they send the "sweepings" to the mill.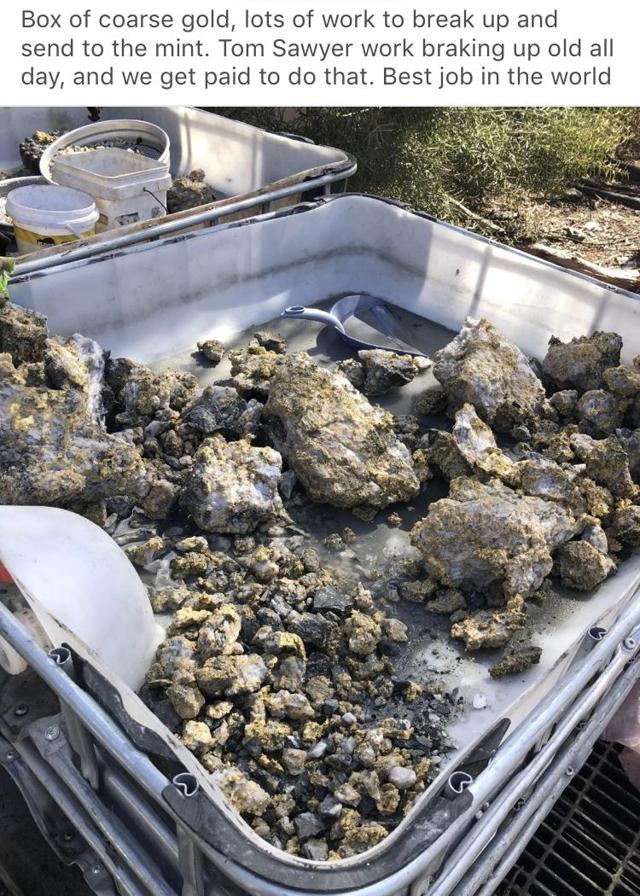 He says the vast majority of the gold in this 5,000 gram a ton ore is coarse gold. So that means in last 4 weeks they have likely produced a $36 million profit X 12 = a $432 million annual profit run rate wise. Mind boggling isn't it? 
Current market cap Yahoo says is $240 million so Run Rate PE is today 0.56. Another mind boggling figure.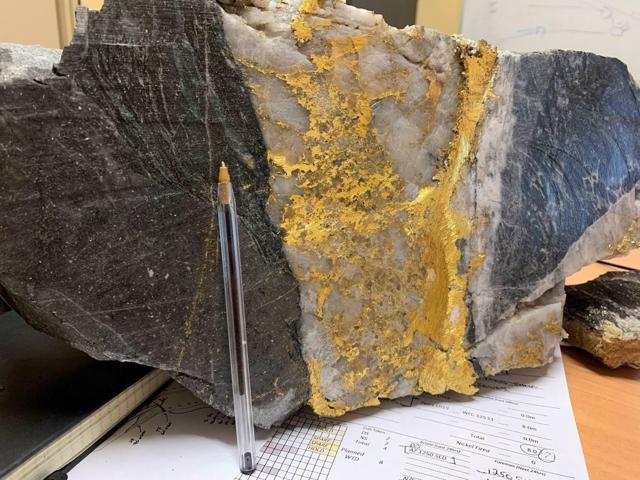 Recent Gold Slab Cut At Beta Hunt With Diamond Chain Saw
So being the mine can cover all costs without the bonanza ore, the bonanza ore is basically 100% profit.  This is again mind boggling and it means that bonanza grade ore at Beta deserves about a 10 X multiplier.  Profits are what counts so Beta bonanza ore gold is worth much more. 100,000 oz per year of high grade Beta gold at say 95% (it's better than that) pretax margin is of equal value to 1,000,000 oz of gold at a typical mine that is has a 9.5% pretax margin.  This is huge and this has been totally missed by the stock market and most analysts. 
Some background is their last reported Q, 2Q 2018:  Mined gold production at the Beta Hunt Mine during the second quarter of 2018 was 13,320 ounces, up 60% compared to 8,281 ounces in the second quarter of 2017 and gold tonnes mined was 132 kt in the second quarter, up 7% from the 123 kt mined in the second quarter of 2017. Gold sales were 11,508 ounces in the second quarter, an increase of 95% compared to 5,891 ounces in the second quarter of 2017.  
They roughly break even with the 3.0ish gram a ton ore which is low grade for an underground, a sign of how efficient they can mine. They are continuing to mine it and the AISC is dropping quite quickly so it seems they are getting more efficient. Their non bonanza legacy gold production is about 40,000 oz a year.
| | |
| --- | --- |
| Gold tonnes mined (000s) | 132 |
| | |
| --- | --- |
| Gold all-in sustaining cost, net of by-product credits (US$ per ounce sold) 3,4 | $1,230 |
| | |
| --- | --- |
| Gold mined grade (g/t)1 | 3.14 |
 http://www.rncminerals.com/2018-08-15-RNC-Announces-Q2-2018-Results
 
So there are many positives, what are the dangers and negatives?
There is one main one, bad luck.  That where they have tested the new geologic model were the only places that the coarse gold exists on the property.  What are the odds of that? Let's look at it from the perspective of the Father Day Bonanza only. Above figured that at 7 meters long at the say 8-10 kilometers of the target structure is there. Let expand that to 10 meters. What are the chances they hit the only good 10 meters out of 8,000 meters?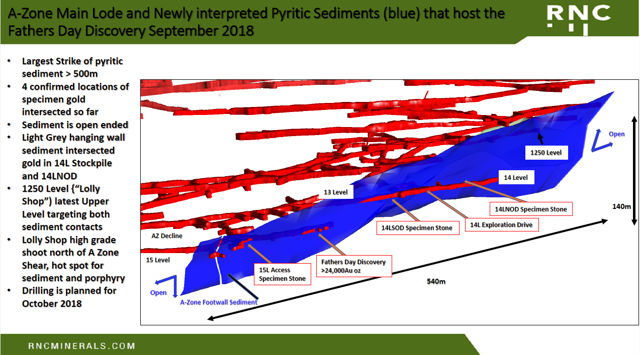 The Father's Day Bonanza Is About Center Of Mine, Close-Up Above
That is pretty easy, 1 in 800. Did they pick a special spot more likely than the other 799 ten meters sections? No, asked them. They found 177 oz pocket of rich ore on headwall side (see 15L Access Specimen above) and then decided it was more likely to be better on the footwall side, so nearby they tested that and as Henry Dole said when he watered it down to see if there was any gold "There was gold everywhere, as far as I could see."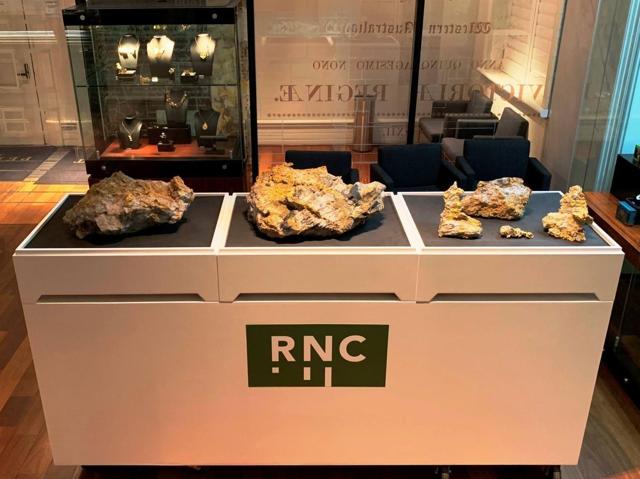 Not only that they have said repeatedly the grade gets richer with depth and they tested it near the top of the dome structure of the pyritic sediments. The sediment layer dips down about 20-25 degrees from the dome.  It intersects 4 shear zones that are each roughly 2km long and that is where the rich gold has been found, at the plane intersections of the two.  It is due to a chemical trigger, the iron pyrite in the pyritic sediments is a known chemical trigger to drop  gold out of solution. So in the hot fluids coming up the shear zones it drops the gold out of solution into the solid form of gold. 
They now have found the high grade gold in multiple places in line with this new model both in tunnel tests and drill holes, even over a kilometer away. So a "one off" is off the table. 
In fact the below picture shows three bonanza grade finds from other locations that support the new geologic model.
What about it being spotty?  This is a much more likely danger, let's say that is the case and 9 months a year they get nothing (highly doubt that) and 3 months a year they find as much as they have in last 4 weeks.  How would that work out? That would be 35,000oz X 3 = 105,000 oz a year.  Remember Beta bonanza grade ore is worth about 10 times more than normal gold mine gold, because it is about 10 times more profitable to mine. So you can think of it as 1,050,000 oz a year production, which is huge in the industry.
But how about the profit? 105,000 oz X $1200 = $126,000,000 revenue at 95% pretax profit = $119,700,000 pretax profit (just from bonanza grade) and lets say since it is pretax it gets a mundane 12 pretax P/E that is a $1.437 Billion market cap, that translates a share price on RNKLF of about $3.60 a share or a 6 Bagger from today and a 60 bagger from pre gold strike prices. If RNC produces 105,000 oz of high grade ore in next 12 months I will be disappointed, because they will be applying so much more resources to this new model, yet that will reasonably result in a $3.60 share price a huge win for investors now. My guess for production including existing lower grade bulk mining is 300,000 to 400,000 oz in the next 12 months which could result in a $5 to $10 share price. 
The stock market has missed so many things about RNC. Which is very good for those not in it yet as they can buy it for a lot less than the stock should be selling for now. I hope this article helps the market see what it is missing. Please do pass it along. I have made it a blog post so anyone can read it and comment on it. However as a blog post on Seeking Alpha it will not show up on the Articles page for RNKLF. I encourage passing the link around and other SA authors putting this link into their articles so people will see it.
This week CEO Mark Selby did an interview in which he was very positive about Beta Hunt's future: 
There are many good SA articles on RNKLF and will post their links here. 
In date order: 
https://seekingalpha.com/article/4210751-rnc-minerals-beta-hunt-valuation-implies-significant-upside  This one by Alt Investing Plays is very conservative in coming up with a valaution using more convention spreadsheet methods of DCF. I have in this article the odds method. He comes up with a downside bad luck valuation of a 41% gain and an upside good luck of 251% gain. He acknowledged it is conservative. He has been helpful on tips of how to write a SA article to me, and may find the cost of production info in this article will boost his #s.
https://seekingalpha.com/article/4209216-royal-nickel-spin-beta-hunt-might-warranted
https://seekingalpha.com/article/4205558-rnc-minerals-sometimes-blind-squirrel-finds-nugget
https://seekingalpha.com/article/4203893-update-rnc-minerals
The stock is now one of the most active on stock message boards since the strike and on the TSX RNX.TO has been the #1 highest share volume stock on the exchange for many days since the strike. In fact two stock sites often average 1 post per minute. https://ceo.ca/rnx which has a sub channel for due diligence only here https://ceo.ca/rnx%20dd  Eric Sprott has publicly mentioned he reads about RNC on CEO and the other site is StockHouse here Stockhouse privacy policy (version 1). 
As mentioned already RNKLF has the "bonus" on my list of parameters more likely to produce a 20+ bagger of having a billionaire being involved. That billionaire is Eric Sprott who is the largest shareholder in RNC and has substantially increased his position post bonanza strike. I have had good luck with the "billionaire bonus" a 105 Bagger in GTN, and a 3 Bagger that is still active in TAT.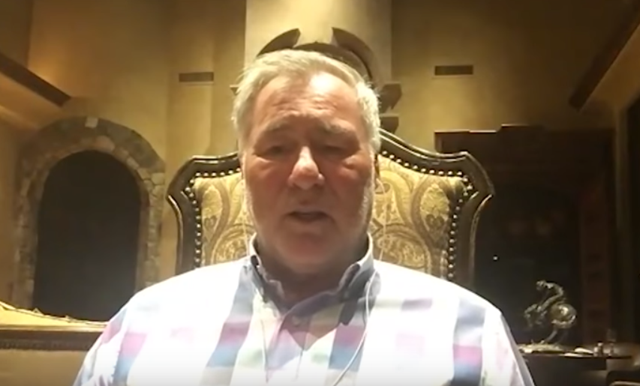 Eric Sprott Has Increased His Large RNC Position Post Bonanza
Update 10-19-2018:Sprott is the most positive yet on RNC in radio broadcast today Sprott Money News Weekly Wrap-up - 10.19.18 by Sprott Money News at 8:50.
He mentions the news is so good it's hard to wrap his mind around it. This is what I have been saying from the beginning, the reality is so good and so far beyond what the market is used to, it can not digest it. Which is an opportunity for those that can deal with the reality faster than the market. Sprott has done much better than the market as a whole, he did jump on it and added after the bonanza strike.
If you view StockHouse especially you will see wild enthusiasm which is in many ways justified and extreme fear, suspicion and paranoia by sincere people and phony bashing and paranoia seeding by shorts and my guess even more likely paid bashers by the shorts. The stock is heavily shorted and my guess is by mechanical systems with rules such as "if an OTC stock goes up 100% in 3 days short it and wait for 40% decline" which will work most of the time. 
For the record RNKLF is not a pink sheet officially or in the bad way (a non reporting scam) it is an USA listing of a fully reporting company that is in Canada. Most mining companies are headquartered in Canada and larger Canadian stocks have the same dual listings. 
Ignore the official short reports, the stock does have a heavy short position which has been ruinous to the shorts, they have lost more than 100% on most of those shorts, and up to 500% losses in some cases. They have a vested interest in generating fear and doubt to get out of their losing positions with smaller losses.
I am making about $60 a day in short borrowing interest off the shorts and that is just off maybe 25% of my stock, as they do not lend out any of my RNX.TO at all. And my broker takes more than half.  The shorts are paying 60% interest, that is over 1% a week! 
Here is a very good report by experts on Short Manip Tactics, suggest a full read if you want to be an expert on this. http://www.intellidex.co.za/wp-content/uploads/2018/07/Intellidex-Report_Investment-Research-in-the-Era-of-Fake-News.pdf Just one snip :
Forms of market manipulation in which the intention is to affect the price rather than to own or not own an asset. These are:
1. Pump and dump A pump and dump scheme is market manipulation undertaken on the long side. A stock is bought, usually an illiquid penny stock where large percentage increases in price can occur with relatively little trade. After a position is taken, false information is circulated in the market that is intended to have a positive impact on the price. For example, a rumour can be spread that the company is being targeted for a takeover. Once the share price responds, the trader can exit for a profit.
2. Short and distort (also known as trash and cash) A short and distort scheme is the inverse of pump and dump. A trader takes a short position in a stock and then spreads false information that is negative and damaging, with the intention of manipulating the price downward to generate a profit.
3. Stock bashing Stock bashing is similar to short and distort except the trader acquires a long position after the share price has been manipulated downward, at the discount achieved by the false and misleading information published. This approach can be used by traders, but also by companies intending to acquire another company. Bashing the stock of the target can help convince shareholders they should sell the stock, or accept a lower price for the company. Research reports on the short side that fall into either category two (conviction-based research) or three (outright false research) could be used in short and distort or stock bashing market manipulation campaigns.
It is unfortunate that many have sold at .12 thinking it would fill the gap at .08 (never has in fact has left three gaps now) or at .15, .25, etc. based on fear it would drop. It is a study in human psychology if you read those posts.  I have increased my position by 4 times post bonanza and am selling nothing now. How can you sell a 0.56 P/E run rate stock with cashflow flying out its ears?  There are two keys to avoiding this profit destroying paranoia, the first is being a value investor. 
Most investors truth be told have no way to value a company, they have no idea if it is selling for 1/4th value or for 5 times more than value.  I recommend studying value investing.  Some studies show the EV/EBITDA ratio (low is good) is the best single gauge. It has a flaw in that if either or both EV and EBITDA is negative the number is backwards. That has been solved with Allen Enterprise Value/ EBITDA on Uncle Stock | Fundamental Stock Screener and I have screens that return about 30% a year (OTCPK:CAGR) over the last 10 years back tested with an Allen EV/EBITDA of less than 3 and a Price/IV (Implied Value) of under 90%.   
If you can value a company, then you will be less nervous holding it.  My rule for taking a large position is: "If I could afford to buy 100% of the company and take it private for the current price, would I?"  If the answer is no, suggest not taking a big position. I would buy all of RNC today if could afford it at the current price, and the same is true of prior 20+ baggers such as CLGRF and GTN. 
The other way to avoid profit killing false paranoia is to listen to the great American Philosopher Oddball: 
Going further to find negatives on RNKLF the article I think that is most negative is in a big publication. This week the Financial Times did this article on RNC  A deal to sell a failing nickel mine fell through, then they found gold - lots of gold
It is positive in many ways and the stock went up 14% the next day (10-12-2018) so it has not hurt RNKLF, but it had one quote in it that wish to explore.  "As spectacular as the find is, it only covers a very small area. Most geological professionals that I talk to are not believers. They say these kinds of things happen in this district, and they're very localized and you're not going to get much more."   I have a bone to pick with this. As with other "doubters" have never seen them back it up with anything.  "these kinds of things happen in this district " Really?
Not at all, the biggest gold nugget ever found in world? The biggest collection of gold boulders ever? The richest bonanza grade gold strike ever?  Something like has never happened in the district nor in the world for that matter, ever.  And BTW it was 9,000 oz and they said that, then it was 24,000 oz and the naysayers said same things and now its 35,000 oz.  My opinion is this is lazy naysaying, people anchored to the "normalcy bias" instead of the facts and have not bothered to look into the facts. 
Next let's explore the common problems that mining stocks have.  How many of these issues does Beta Hunt have?
1. No recovery issues.
2. No locals roadblocking the mine.
3. No water issues.
4. No permitting issues.
5. Safe jurisdiction.
6. Rule of law.
7. No investment needed.
8. No Convertible debt.
9. Trained workforce.
10. Safe rock conditions.
11. No strikes, labor violence.

It is hard to think of a single problem they have at Beta. The biggest gold mine in world is Grasberg, it's got half those issues above. The average South African mine has many of those issues and unsafe rock conditions. 
Beta Hunt is so lacking in problems its uncanny, the market has trouble grasping this.
Before getting into details on the Beta Hunt deposit, in the title said: 
How To Get 20+ Baggers
And did put up a list of factors:
1. A starting price under $1.
2. A starting market cap under $50 million.
3. A real company, that is profitable or it is reasonable to expect profits soon.
4. It is undervalued with financial ratios below and hopefully way below normal financial ratios in the market.
Optional but helpful bonus factor is a billionaire being involved in a big way.
Getting multibaggers has produced most of my investing profits, it has worked better than anything else.  It is bumpy road though, for example I did 172% (best year ever) in 2016, about 9% in 2017 and was down in 2018 until RNC took off. However over the long term is has worked well. From 2002 to 2016 in an IRA using no margin did a tad over 20% CAGR.  That is about 3 times better than Warren Buffet in same time period and Warren uses heavy margin. 
What Does Work In Investing?
1. Buying the SPY or similar market ETF works very well, as a buy and hold or if you can time it, even better. 
For most investors this is better than trying to pick stocks, the average investor does much worse than the stock market and even worse than mutual funds, studies show. They get into things like solar companies, lithium miners, and cannabis stocks and lack the ability to know the value of a stock. 
2. Value Investing ala Graham/Buffet.  This takes skill and knowledge. 
3. Multibagger Value Investing as the author and Peter Lynch focus on. This also requires skill and knowledge, but can be very rewarding. It is finding stocks that have a legitimate chance to 5 bag, 10 bag, 20 bag and even do better that 20 bag. 
What Does Not Work In Investing?
1. Chasing fads based on "Concepts" like Dotcoms in 1999, Lithium Miners, Ethanol in 2006, Cannabis, etc.  It is said the four most dangerous words on Wall Street are "This Time It's Different".  I suggest the most dangerous single word is "Concept".  Many investors decide on a stock concept like Ethanol then buy with no concept of value and end up with 95% losses. They will buy a company just if it has the "concept" word in its name, even if it has no revenue.  The best way to win with these stocks is to play the "Greater Fool" game knowing it is overvalued and a fool's game but finding a fool to buy it at a higher price. 
A key reason that "Concept" investing fails is that it is not based on reality, not on things that have happened, but on predictions of events years away and the belief that the company will not only have a huge market but will have little or no competition. Such as SunEdison will dominate solar and the sun is free, or TSLA will sell the majority of all EVs, or X Company will sell $Billions of cannabis at 50% net margins without hardly any competition.  
Remember what the great American Philosopher Yogi Berra said about predictions: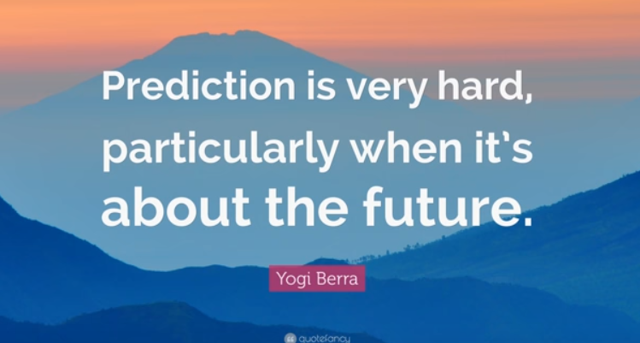 2. Mutual Funds and Hedge Funds:  There are exceptions, but the underperformance of both type of Funds is shocking.  Roughly 1 in 20 actively managed domestic funds beat index funds.   Over the last 15 years, 92.2% of large-cap funds lagged a simple S&P 500 index fund. The percentages of mid-cap and small-cap funds lagging their benchmarks were even higher: 95.4% and 93.2%, respectively.  https://www.marketwatch.com/story/why-way-fewer-actively-managed-funds-beat-the-sp-than-we-thought-2017-04-24    Hedge Funds Returned Less Than Half of S&P 500 In 2017, 8.5% Vs 21.8% for S&P 500 https://www.investopedia.com/news/2017-hedge-funds-return-less-half-sp-500/
3. Analysts and Paid Stock Promoters: When a rating goes up or down many investors believe they are right and they should not without their own research. One example is SUNE, SunEdison. A friend asked me to look at it, based off a stock promotion.  I looked at it 5 minutes and told her it would go bankrupt, that would not buy all of it for free, because it would bankrupt me if did.  It had about $1.5 Billion is losses per year, massive debt and was running out of money.

Dear Reader,
It's not a matter of "if"…
It's a matter of "when"…
And experts agree: The day of reckoning is here…
At this moment, oil is caught in an absolute death spiral …
Already, billionaires are dumping oil stocks at frenetic pace…
The above was the start of the piece promoting the stock. If you ever see something like this ... run for your life. A lot of good people were harmed with $Billions of losses in SUNE because they bought into this concept that solar energy is free when in reality it is extra expensive most of the time and has to subsidized. 
That article by Dr. Kent Moors is still on the internet https://oilandenergyinvestor.com/acq/this-new-fuel-will-kill-big-oil/ 
So only the most foolish and ignorant people bought into this? No Analysts or Hedge Fund Managers? Right? ... Wrong!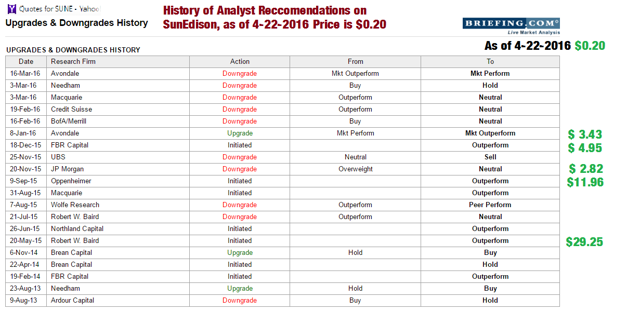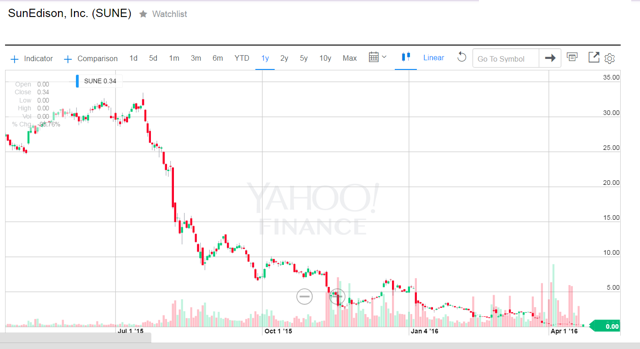 Even billionaire David Einhorn, considered by many to be maybe the best hedge fund manager for due diligence, was totally taken in and was on the board of SUNE as it collapsed.
As Valeant Tumbles, So Does Bill Ackman's Hedge Fund Herd Mr. Einhorn, 47, whose fund at its peak owned 6.8 percent of the company's shares, remained bullish on SunEdison's prospects even as the stock, which was trading at about $31 a share last summer plunged during the remainder of the year. In early January, as SunEdison shares were trading at $3, Mr. Einhorn got a representative appointed to the company's board.
Then on April 21, the company filed for bankruptcy. Shares now trade for around 24 cents.
Why he could not see what I could in 5 minutes is surprising, guess he was blinded by the "Concept".
4. Buy and hold of individual stocks:  It works for index funds/ETFs, but the McDonald's are the exception and the BlockBusters (bankrupt) are the norm. This is the chart of AKS , a fairly typical chart, a very real company and it was $12 in 1994 and less than $5 now and was $70 in between.  Big money could have been made on it, if you did not buy and hold.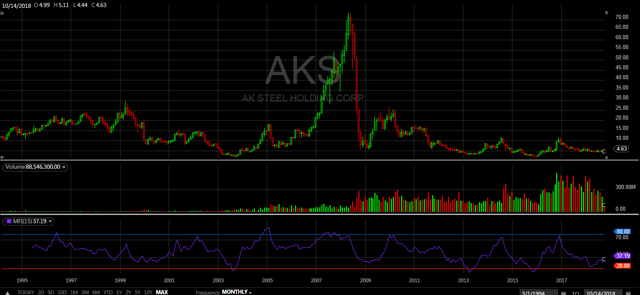 Hope these ideas are of use to you! 
The 20+ bagger I have got that is most like RNKLF is CLGRF my last 20+ bagger.  Exited last of it for over $2.80 after it was bought out by SSRM in summer of 2016 for about a 27 Bagger with a low buy of .105.  It is very much like RNKLF a Canadian gold mining company that had 50,000 oz production and was about break even, then they hit the Santoy Gap. 
Nothing like the Father's Day strike, but they found 50% to 100% higher  grade on wider veins and I bot it like crazy as thought it would boost production to about 80,000 oz and at higher grade.  "Grade is everything" is a saying in mining, and generally is true within limits. It did work out that way, they did go to 80,000 oz and at much better profit %.  After it got to $2ish on its own, SSRM bought them out and then SSRM stock went up more.
At that point felt is was overvalued and sold after being in it about 2 years. I had posted on Seeking Alpha that thought it would 10 bag in 2 years and there were naysayers then too, claiming they were getting higher profits by high grading and would ruin the mine. The Naysayers ended up being wrong, today the production is even higher. 
Seabee September 2016 Preliminary Economic Assessment Highlights:
Extends production profile: Estimated gold production averages 100,000 ounces per year over the period from 2018 to 2023, a 29% increase from 2016 production.
Fortunately SA keeps stocks that get bought out, on their site. Went back and found on Claude (OTCQB:CLGRF) that the comments were just as remembered them, even though 3 to 4 years old.
Nowhere as good news as RNKLF has, but CLGRF hit a much higher grade system, like 10-15 gram/ton roughly (Santoy Gap) and I bot it like crazy as knew it would greatly improve profitability. Others like on RNKLF today feared the news was too good to be true so they did not buy or suspected something was wrong or the stock would be higher already, etc.
One wrote an article that they were high grading the mine, crippling its future, that is here: seekingalpha.com/... and one quote:"But these lower costs are almost certainly temporary--the company is mining its limited amount of high grade gold in order to achieve these results."
I responded on another of his articles articles:
Darp Comments5399 | Following
"Hi Ben, How do you know they are high grading? I was under impression they were just doing a better job." 
Then a month later on this article
Darp Comments5399 | Following
WHY CLAUDE IS THE MOST LIKELY GOLD MINER TO 10 BAG IN NEXT TWO YEARS
I am not a contributor at Alpha. Glad to see Claude has a page here with knowledgeable posters. So am doing an unofficial analysis of Claude just as a poster. Glad that Ben is following Claude. For full disclosure I have about 10 gold mining stocks with Claude being the#1 position with between .5 to 1 million shares of it. I am also a geologist, but a rusty one.--- over 300 grams per ton over 1.55 meters Here is the link http://bit.ly/1sTDbJf with a picture of the core sample. Look at all the high grade core samples in Santoy Gap, there are 12 drill holes in a row over 10 grams a ton. The current grade looks sustainable to me.
There are a lot more reasons that CLGRF can ten bag. Can any one name another gold miner so likely to ten bag?
15 Nov 2014, 02:01 PM seekingalpha.com/...
The parallels are very close, similar price and market cap at the start, but the boost to production and grade at Beta Hunt is way way beyond what happened at Seabee.
So at Claude they 50% to 100% increased the grade, in just part of the mine, and increased production by 33% and the stock went up 27 times.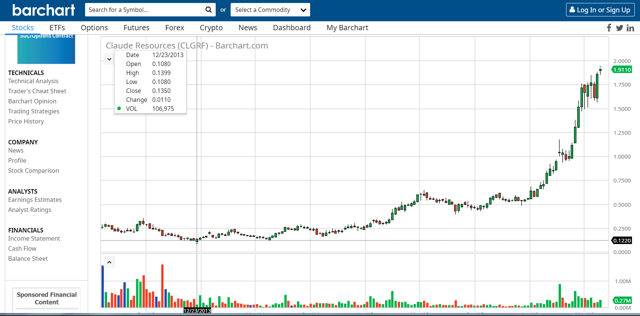 Note Action Above, Claude Was Not Over Valued Until Over $2 Later
So at RNC's Beta Hunt so far they have increased 3Q production by about 300% with just 3 weeks of the new ore body of the 12 weeks of the Q.  And the grade went up, well it's ridiculous, but the grade when up 166,700% (3 grams to 5,000 grams). 
Even if things drop by 90% on the new model ore bodies at Beta Hunt it still blows away Seabee Mine's #s that caused a 27 bagger. If RNKLF reacts as much a CLGRF proportionally to the news it will go way beyond a 27 bagger. A 50-100 bagger from the prestrike prices is quite possible, even without overvaluation. 
10-25-2018 Update on Australia Gold Price: Did CLGRF have an additional advantage? Yes the Canadian gold price was much higher than the USD gold during the 27 bagger. Does RNKLF have a similar advantage? YES  Today gold is $1750 in AUD basically on all time highs: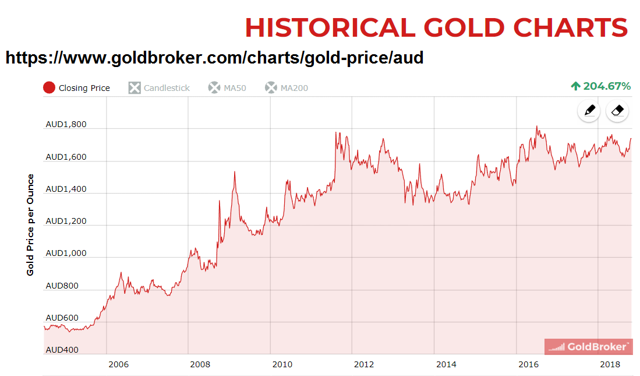 A gold mine buys labor, etc. on the country they are in and sells their gold their too. The AUD dollar a few years ago was higher than the USD, but not now. So RNKLF is getting a $500 profit bonus an oz because it is in Australia. CLGRF got the same bonus but a somewhat smaller one in Canada on their 27 bagger. This factor helps explain how RNC had such good profits in 2Q on 3 gram/ton ore, this factor will really kick in with their tripling of production in 3Q and huge increase in average grade. 
No one today knows what the future grade and production will be, but by the time that is know, the stock may be well over $5. It is a matter of playing the odds.  Also to keep in mind if you wait till it say triples from here ($1.80), then you have 3 times more risk than you have today.
Geology of Beta Hunt Bonanza, Can it Persist?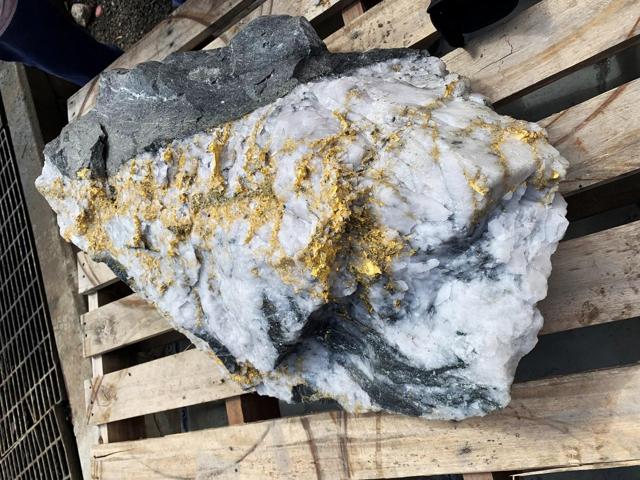 First off people wonder how much gold could be in this new geologic model? That is pretty easy to figure out, if they have got $50 million Cad out of say 10 meters advance on the structure and there is 8 km of it, that is 800 x $50 million or $40 Billion Cad of gold. Remember Beta Hunt Gold is worth 10 times more than many mines with say 9.5% pretax profit so that is like $400 Billion, as both will produce the same profits/cashflow. 
Do I think that will happen? No.  In fact they have hit bonanza grade on purpose or by accident other places on the structure, but it was not as good as Father's Day. There has never been a continuous ore body for KMs long that was over 50 grams a ton. 
But it doesn't have to anywhere near that good for spectacular investor profits. If they get just 105,000 oz a year of high grade or just 9 weeks worth of current production levels for a year, a $3.60 share price for RNKLF would be conservative. It they get 300,000 oz a year then $10 a share is reasonable, with no cannabis/lithium miner mania needed.  Is that possible (300,000 oz)?, yes. 
Will now go to info that will let you do your own evaluation of the odds. First a geologic map underground: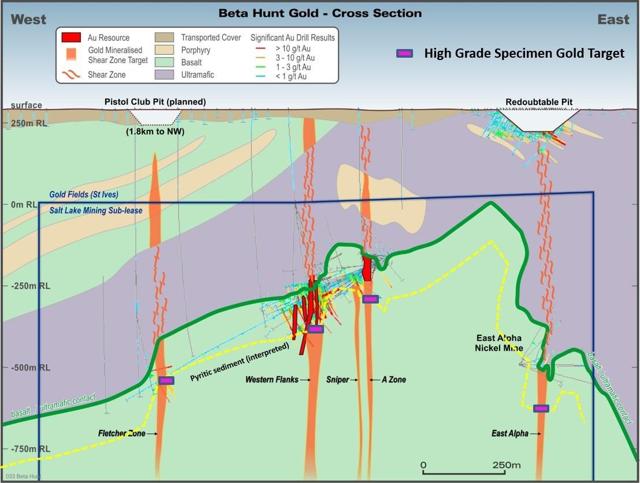 The intersection of the shear zones (orange) with the yellow dashed line  (sediment layer) is where the the bonanza grade gold has been found, Father's Day is on A Zone if recall correctly. The hot pink rectangles are the targets for high grade gold.  And they go 1KM away from this view and 1KM towards you, that is where the 8KM comes from.  And they mention 10KM too and is because of the dome shape it can be 20 or 30% more surface area than the vertical view. A bended line between point A and B is longer than a straight line. 
This drawing is very useful to understand the opportunity. The blue lines outline RNCs land (they have underground not surface rights). There is good potential beyond RNC borders but it would be cheap for RNC to mine that and very expensive with a long wait for a neighbor to mine their land building new mines with deep shafts. My guess is either RNC would mine it and pay a royalty or the neighbors would pay a royalty to use RNC's access tunnels. JMHO the 1st is more likely scenario. 
The sediment layer is between two flows of Lunnon Basalt, basalt is the same type of lava as Hawaiian Islands. It is very old, this area is about 2 billion years old. Kevin Small says studies guess the Lunnon Basalt was 1,000 meters underwater (ocean) when the flows took place. So it flowed for a while then stopped, and the pyritic sediments were deposited on top of the first flow, that is the yellow line, then the basalt flowed again, covering the sediments. This didn't cause the gold. Underwater volcanic eruptions (not slow flows) likely provided the pyrite sands as an underwater "rain". Black Smokers may be the source or one of the sources.  They have been videoed in today's oceans. 
Here is one in action:
So where did the gold come from? The orange shear zones in map above fractured the Lunnon Basalt which is very tough BTW, so is safe to mine in. A shear zone can be thought of as a fault but instead of a 1" wide fault with polished sides (slickensides) it ripped up the rock into a jumbled pieces between the two sides of the shear.  You can see this in some of mine photos. At Beta it can be 10 to 40 meters across on shear zones.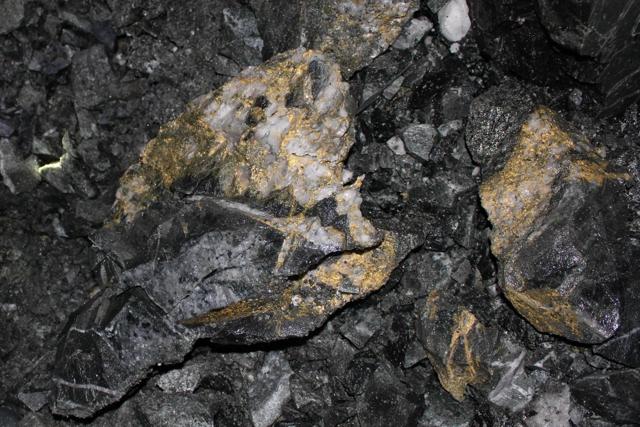 Notice Coarse Gold Outside Quartz 
Can there be more shear zones and more sediment layers at Beta? Yes, and they have mentioned that in regard to sediment layers, there can be more below. And being it is almost totally unexplored below I expect more shear zones too, but likely smaller than the ones they know of now.  So can as much or more gold be below the currently unknown sediment layer as is in the current one?  Yes. 
   And the gold can be rich outside of the quartz as this photo shows
So from some gold source below, hot fluids (hydrothermal fluids) have come up the shear zones and the sediment layer acts as a chemical trigger to drop the gold out of solution into a solid, in this case large solid gold nuggets.  Those fluids are super high in gold content apparently, they created the biggest nugget ever found (King Henry). Such fluid flow up shear zones with a chemical trigger dropout is common in gold deposits. What is new here is they are below the top of the Lunnon Basalt and no one has explored down there before.
Being these shear zones are very big, there is every reason to believe the gold rich fluids were widespread. The shear zones were obviously quite permeable and that is normal. And Kevin Small says all 4 shear zones have coarse gold. You will see at the top of the shear zones at the surface there are open pit gold mines. This area is one of the richest gold mining areas in the world, with 20 million oz produced nearby. 
There is a new theory of gold formation, that low pressure during earthquakes can cause flash gold deposition as fluid vaporizes (boils) and solids drop out.  I asked Kevin Small about this:
Author: Notice mention of extension veins a lot for coarse gold, do you think they may be the result of tension and low pressure during earthquakes as the extension veins would be especially low pressure zones in an earthquake and that could be be one source of dropping the gold out there? according to this theory https://www.nature.com/news/earthquakes-make-gold-veins-in-an-instant-1.12615 -
Kevin Small: We do see majority of the gold contained in extensional veins, this discovery is actually at the branch between main vein and extensional vein.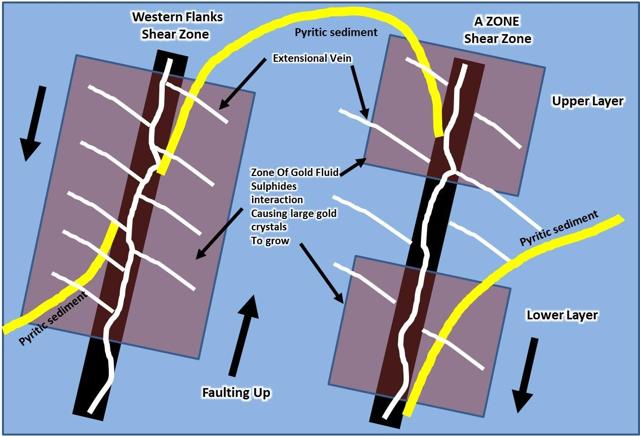 Here is key part of that article: 
Scientists have long known that veins of gold are formed by mineral deposition from hot fluids flowing through cracks deep in Earth's crust. But a study published today in Nature Geoscience1has found that the process can occur almost instantaneously — possibly within a few tenths of a second.
The process takes place along 'fault jogs' — sideways zigzag cracks that connect the main fault lines in rock, says first author Dion Weatherley, a seismologist at the University of Queensland in Brisbane, Australia.
When an earthquake hits, the sides of the main fault lines slip along the direction of the fault, rubbing against each other. But the fault jogs simply open up. Weatherley and his co-author, geochemist Richard Henley at the Australian National University in Canberra, wondered what happens to fluids circulating through these fault jogs at the time of the earthquake.
What their calculations revealed was stunning: a rapid depressurization that sees the normal high-pressure conditions deep within Earth drop to pressures close to those we experience at the surface.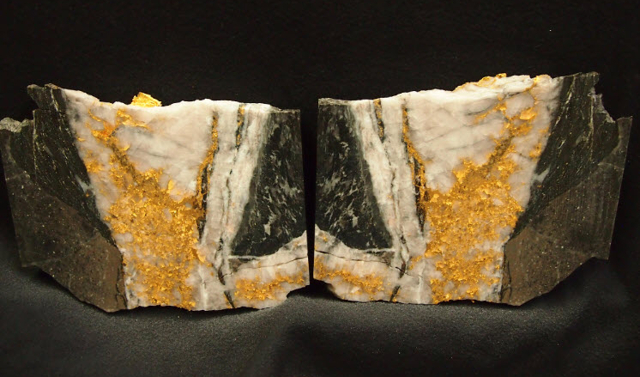 Polished Gold  Specimen Found Recently At Father Day Bonanza
For example, a magnitude-4 earthquake at a depth of 11 kilometres would cause the pressure in a suddenly opening fault jog to drop from 290 megapascals (MPA) to 0.2 MPa. (By comparison, air pressure at sea level is 0.1 MPa.) "So you're looking at a 1,000-fold reduction in pressure," Weatherley says.
When mineral-laden water at around 390 °C is subjected to that kind of pressure drop, Weatherley says, the liquid rapidly vaporizes and the minerals in the now-supersaturated water crystallize almost instantly — a process that engineers call flash vaporization or flash deposition. The effect, he says, "is sufficiently large that quartz and any of its associated minerals and metals will fall out of solution".
Author: Looking at some of the maps, it did appear that the deposits do seem inline with this flash deposition theory.  My guess it is it's just part of what dropped the gold out.  
So now even if you do not have any mining or geology background hopefully the deposit is understandable, that was the objective of this section.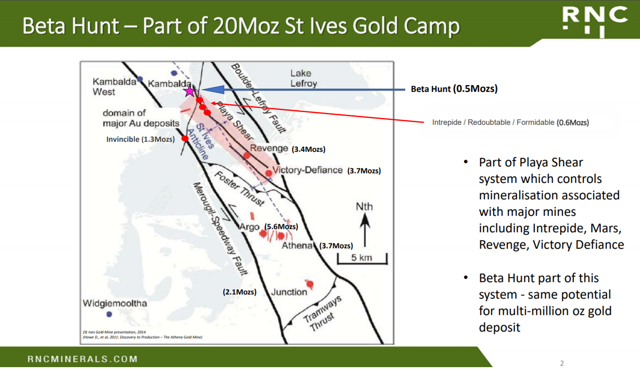 More good news. The biggest problem the Comstock had was pumping water so the mine could be worked, it was a huge cost. Asked Kevin Small about it at Beta:
Question Author: Do you have to pump water down there?
Kevin Small, Beta Hunt Mine Manager: Nope, we use majority of salt water brine, which is stored underground and we tap into old workings from the mine right next door to us.
Author: If so is it significant cost?
Very dry mine, we do pump water, but not really lots of it, if we get large inflow, during rainy periods, we have lots of old workings which we flood and pump out later.
Other Questions Answered:
Author: looks like it is under the salt lake, is that correct?  Correct…we have 7.3 km of strike length to drill and explore for gold/sed layers
Author: June rich pocket, was this followed till petered out in all directions? Still open, still mining in this area
Author: Was it at new model plane intersection zone? -Follows sed bedding plane and shear extensional veining
Author: Why is it not still being mined, again presume petered out.
Still Active area, had to get the jumbo crews to open up the area to allow small scale mining.
Author: What is the highest up the shear zones and down the shear zones from the pyritic sediment, separately, that fingernail sized gold has been found at FD point?
Still working on that, only the level gold has been mined, gold is in floor and backs at this time. Plus we have not finished mining north along the vein, taking time to remove the "Golden Bootleg"
Author: Have the shear zones been mined for gold before, any info/history much appreciated.
Yes and No, the coarse gold has been mined, yet was assumed to related to Nickel sulfides, now we think it the pyritic sediments which cause the gold to form.
Author: It is a dome structure, does the geologic model predict higher grades at top or lower flanks? Any info appreciated.-We are seeing gold values increase with depth
Author: Recovery method:  Coarse gold gets shipped to the mint 85%, the remaining gold is recovered at the mill. 
Author:  You have proved two shear zones have coarse gold so far, are their prior drill holes that prove the other two shear zones have coarse gold at plane intersections? Any detail appreciated.-All our shears have coarse gold, normally 24-35 percent of our gold will be recovered in gravity circuits at the mill. 
Author: So far has any low grade gold been found near the high grade that is high enough grade to mine? Currently mining 1800 to 2000 tons per day of 2.8 g/t in long hole production.-Will now focus on the high grade and figure out the best mining method and rate to use
Author: Have any significant gold values been found in drilling below current pyritic sediment layer?
Yes, my interpretation from the 2017 diamond drill program, is the gold grades are increase as we go deeper, the sed layer was intersected in western flanks and contained significant gold values. (See Press Releases on diamond drilling)
Author:  You are buying another drill rig, how many does Beta have already?-Use contractor diamond drilling -Plan to have 3 rigs at site 
Author: Mark has said 90% margins on this super rich as in first 24,000 oz. What AISC cost would there be for same mined zone roughly?  Production cost would be so cheap, don't even want to figure it out…Almost free…
Author: For other two shear zones not bulk mine tested yet, how far is nearest mine tunnels from model targets in them?   South Side of Alpha Island Fault- Working are right over top of all three major shears.
Author: Your initial bonanza is bigger and richer than the one on Comstock Lode, these are historic specimens.
Just think, were not even finished mining the main discovery out
And a bonus have held this answer out till end, this is exciting and interesting:
Author:  Laterally in the undulating pyritic sediment layer, what is the furthest from shear zone that visible fingernail sized gold has been found? -25m 
The miners and geologists that read this will find that of interest. Coarse gold has been found up to 25 meters from the shear, indicated at time of deposition the sediment layer was permeable. Add to that:  "-All our shears have coarse gold" and we have a very exciting situation at Beta Hunt.
Many thanks to Kevin Small for answering these questions as I know he is super busy. Also thanks to Rob Buchanan and Mark Selby at headquarters for getting me in contact with Kevin. 
I have only looked at the Beta Hunt.  RNC has several other assets. The reason is that the potential at Beta Hunt is so huge in terms of driving the share price in the next year, have focused on it. Info on other assets is availible at company site http://www.rncminerals.com/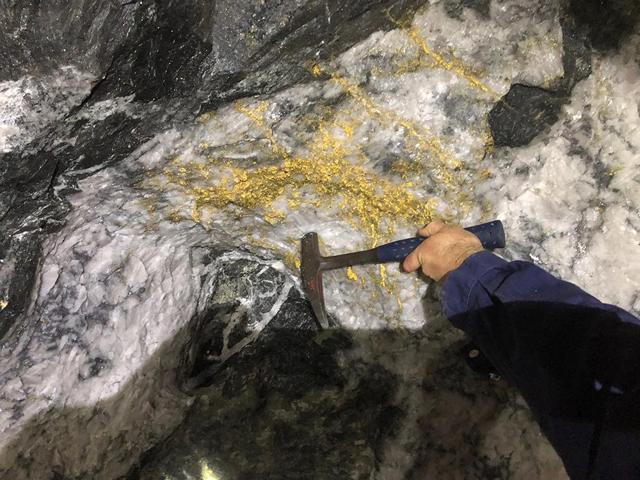 Conclusions:
RNC Minerals offers an exceptional Risk/Reward investment opportunity. It has recently greatly boosted gold production and skyrocketed it's gold grade to an unheard of 5,000 grams gold per ton in a bulk mine sample that yielded about $50 million Cad for the company, paying off all its debt and providing all the money they need going forward to develop the new bonanza grade gold.
It is the author's opinion that with moderately good luck, at the Beta Hunt Mine, that the stock can achieve $5 a share and with either more luck in the mine or with overvaluation in the stock market the stock can achieve $10 a share.
The market has missed this from the start of the bonanza. What the market is missing the most today is with the likely 95%+ pretax margins in the bonanza ore, RNC is making ten times more cashflow than a typical gold mine per ounce, so in effect RNC gold ounces are worth ten times more than the ounces of many other gold mines.
The author suggests readers use the information in this article to do their own due diligence and make their own decisions on RNC stock.
Disclosure: I am/we are long RNKLF and RNX.TO.
Additional disclosure: I do not work for the company nor am being paid for this article I am an investor that specializes in finding deep value stocks believe have the potential to multibag.