Is LexaGene The Perfect Stock?
Please Note: Blog posts are not selected, edited or screened by Seeking Alpha editors.
Deep Value, Special Situations, Contrarian, Gold & Precious Metals
Seeking Alpha Analyst Since 2010
I have been involved with high tech, have started several businesses and have a geology degree. Have been involved with small scale gold mining and that is a 2 ounce gold nugget in my hand. My speciality is to look for stocks that can 5 bag, 10 bag even 20 bag and have been blessed to have achieved such results multiple times.
Better results are possible than many think. My records tracking gains/losses go back 20.25 years as of Q1 2022 and my CAGR is 23.86% during that period.  According to one chart of the best ever investors that would put me at #3 in last 100 years for a 20 year or longer record. That is behind GreenBlatt and Soros and ahead of Buffet. In one account it is easy to run annual result statements for have a Roth IRA (thus no margin) and my 3 year CAGR is 145%. A 16 bagger for the entire account in 3 years.  Here is an image of those reports and the calculations of that 145% CAGR https://imgur.com/a/9IHvvB4  I look forward to sharing how deep value investing can beat the market. 
Summary
LexaGene has just started sales of a revolutionary automated PCR machine that can test for 27 pathogens at once in about one hour.
It parallels Electrovaya, which have a recent 15 bagger on, a value nanocap stock in a highly favored sector that is likely to go profitable and have extreme growth.
I can find nothing wrong with the company as the management, market, technology and execution are all excellent.
Timing is perfect, they have just started sales with a $billion+ sales potential product and FDA approval to enter the POC market is possible in May.
I have know about LexaGene Holdings (OTCQB:LXXGF) for maybe 9 days. It is an almost instant love story. I am a value investor that specializes in nano and microcap stocks. It has worked well, in 2020 did 289% on all four accounts at my largest broker. In last 18 years in an IRA that was untouched until this year so could calculate the CAGR on it did 21% without using margin. That is very hard to do. No mutual fund has ever done that am aware of. See about 18% as tops. Here is a chart of the best returns ever that includes hedge funds and sole operators. This is investors only. Jim Simons has done a lot better, but he does not invest, his is a quant fund that does high frequency trading.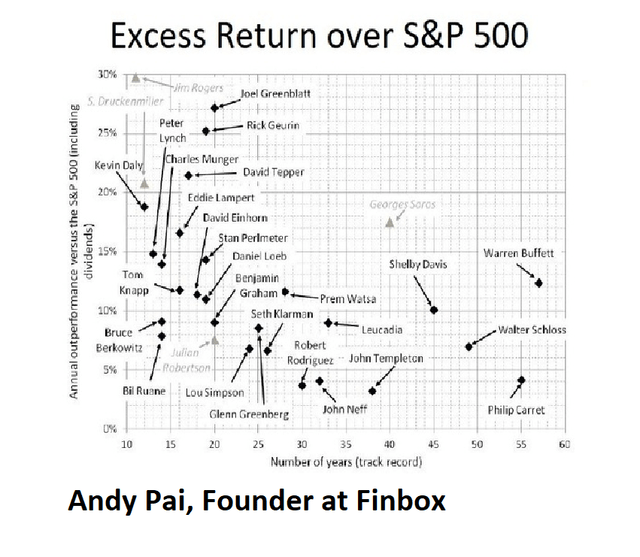 That chart is excess returns over the SP500 so you can add about 8% to it. Joel Greenblatt looks like the best at 20 years with 35%. Benjamin Graham, Buffets mentor, is at 17%, Peter Lynch did 21% over 13 years. The bottom line is that this method has worked well and it is the method that Warren Buffet started with and made his first billion with. Confess it was a goal of mine a long time ago to have a record that could compare to these folks.
Practically never buy a biotech. Look at the #s and they are often ugly, way overpriced, high risk and they often go bankrupt. It does attract lottery players as some of them do zoom 10 bags, 20 bags ,50 bags, even 100 Bags. But would not be surprised if more money is invested in many years into all of them, than the total capital gains realized. More money was spent goldmining in California than was gold ever found.  
The same is true of EV companies like NIO (NIO) and Tesla (TLSA).  They just are so overvalued that even if things go right for 3 years you may lose money on the stocks. Look to the current and future Free Cash Flow yield and EBITDA yield and can not justify buying them. 
Then found Electrovaya (OTCQB:EFLVF) a Lithium battery producer for forklifts, an EV company. It was losing money but has a minuscule market cap, think it was like $20 million when first got into it. They seemed to have a technology advantage (no fires as ceramic separators), they made progress, got rid of a serious debt issue and made a big sale to Walmart. Wrote an article here on it:
Projected a 10 Bagger for it and that happened in about 6 months. LexaGene is the first stock since then have found that parallels it as a value nanocap stock in a highly favored sector that is likely to go profitable and have extreme growth. Electrovaya had problems and a spotty long term record when got into it. But have got a 15 bagger anyway on it in the last 18 months as they have executed very well. They are in a highly favored sector of the stock market and have been growing like a weed in the last year. Have written a second article on them:  Electrovaya The Tesla Of Forklifts Gets Game Changing Raymond/Toyota OEM Deal   Am still in the stock.
LexaGene (LXXGF) has those exact same factors. I bought it last week and this week for an average of $.80. Then mentioned it a couple of days ago on Seeking Alpha and it went to .90 in about an hour.  It is now a $105 million market cap. The CEO Jack Regan gave a quick overview of the technology recently in a video interview, the "open access" part is important: 
Jack's background is excellent. He completed his doctoral training at the University of California, San Francisco (UCSF), where he studied influenza, and performed his post-doctoral studies at Lawrence Livermore National Laboratories, where he was a lead scientist in developing the APDS instrument that was adopted by the Department of Homeland Security (DHS) for use in its BioWatch program for continuous biothreat surveillance. 
It is the patents that were developed at Livermore by Jack Regan that LexaGene has bought and are used as a basis for the product Jack discussed above, MiQLab. So they do have patent protection.
Polymerase chain reaction (PCR) is what the LexaGene MiQLab does. It is the gold standard to detect disease, things like viruses and bacteria. However MiQLab does it in an automated manner right at the the Point Of Care (POC) and does not required skilled labor to do it. It also can do 27 tests at the same time, so it can check a suspected Covid-19 patient for Covid-19, South Africa Covid, UK Covid, Pneumonia, and 24 other diseases all at the same time. It takes about one hour. 
Polymerase chain reaction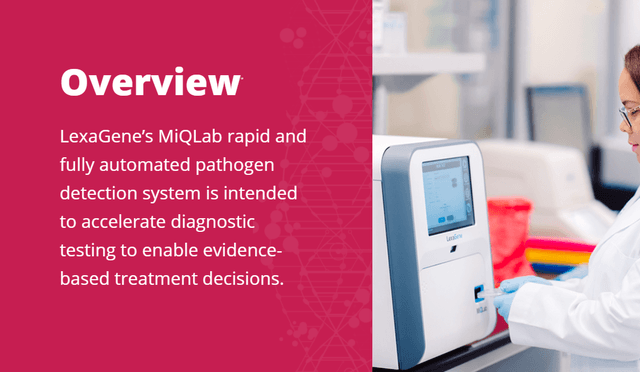 Dr. Jack Regan gave a video tour of LexaGene below, well worth watching.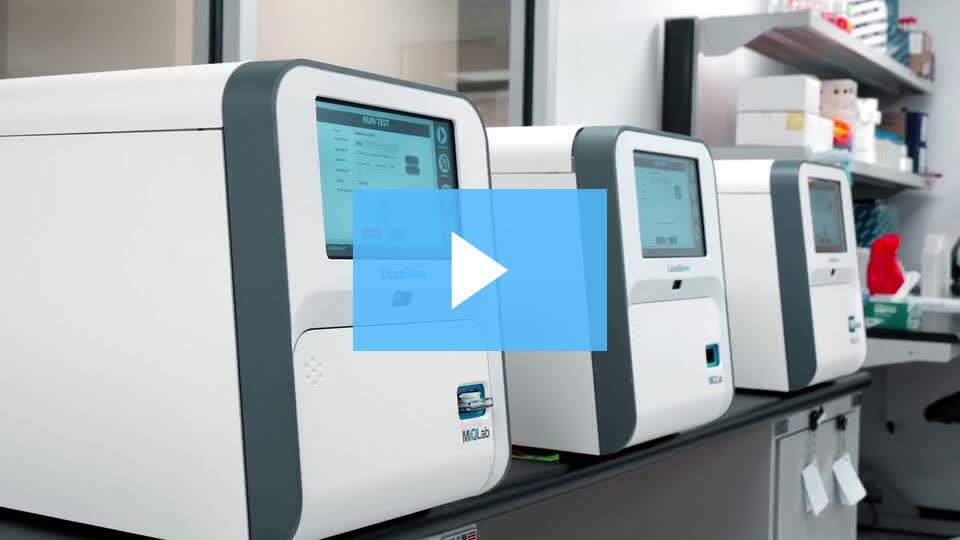 Year-end Message to Investors  click this link for video
After watching the two videos not only will you know a lot about LexaGene and MiQLab, you will likely pick up that the CEO is a very appealing person.  He is someone you want to work for, talk to, buy from and invest in. Last week I talked with Jack for about an hour. He is very open and answered every question I asked. 
Sometimes having a doctor as a CEO is a problem as some do not have a business mind. This is not the case with Jack. Have told him that I can not find anything wrong with LexaGene. Part of that is they are doing everything the way I would do it, and have run companies. One example they went public through the TSX, Canada, symbol (LXG.v). That saved money and then they got a USA mirror listing on OTCQB which is not all that expensive. This reduced dilution and saved cash and it will make no difference once they get sales in the millions. Maybe now it would be 3 times higher with a fancy expensive IPO but in long run it makes no difference, and makes buying here even better. 
They now have 35 people but only hire people as they need them. They could raise a lot more money and have found it fairly easy to raise money, but are waiting to make more progress and to raise at a higher price later. They have enough money to likely make it through 2021. What could their price be by then? 10 times higher is feasible and it could be even more. Thus they could get the same cash for 1/10th the dilution. These are not their figures, they are my guesses.  
Jack has experience in this area. He was part of the startup team for QuantaLife. QuantaLife was bought out by Bio-Rad Labs for $162 million after just reaching $900,000 in sales. 
Hercules, CA — October 5, 2011 — Bio-Rad Laboratories, Inc. (NYSE: BIO and BIOb), a multinational manufacturer and distributor of life science research and clinical diagnostics products, announced today that it has purchased QuantaLife, Inc. for $162 million in cash plus potential future milestone payments.
QuantaLife has developed an innovative digital PCR (Polymerase Chain Reaction) system that provides quantification of target molecules with unprecedented precision and sensitivity.
Then he worked for years at Bio-Rad after the buyout in management, before he started LexaGene. So did Bio-Rad overpay? Not at all, best can tell QuantaLife part is doing over $1 billion in sales. This is a very appealing business sector. It is possible that LexaGene has similar future sales potential, maybe even more.
I also talked with Jay Adelaar, Vice President of Capital Markets. Purposely asked the same questions of both him and CEO Jack Regan, detailed questions. Got exactly the same answers from both, a good sign. They are confident they have a winner and very open.
Perfect Timing For LexaGene?
Yes. Perfect timing is to be able to buy a company with a bright future when they have made their first sale and proven their technology at roughly the same share price it was a year before that huge milestone had been achieved. That is the case for LexaGene. The share price should not be here just like Electrovaya should not have been .13 in May 2020 (now $1.53) but that is wonderful for the new buyers. So am very grateful found them before they took off.
Their first sale was to a Pharma company to test drug batches.  LexaGene Receives Purchase Order from a Multinational Biotechnology Company
They have also placed MiQLab in a trial at a Veterinary school   LexaGene Places MiQLab System at the University of Pennsylvania's School of Veterinary Medicine 
And at two Veterinary Hospitals:  LexaGene will provide access to its point-of-care technology to both Veterinary Specialty Hospital (VSH) of Palm Beach Gardens, Florida, as well as to Denver Animal Emergency (Denver) in Denver, North Carolina. Both practices will evaluate the MiQLab system and MiQLab Bacterial AMR Test in specialty and critical care settings using a range of sample types.  
And a sale to veterinarian hospital chain: LexaGene Receives Purchase Order for MiQLab from Ethos Discovery 
Dr. Chand Khanna, DVM, PhD, DACVIM (Onc), DACVP (HON), the President of Ethos Discovery, comments, "We are very excited to purchase a MiQLab system and look forward to using the validated test panel to quickly diagnose infections. In veterinary health, there are many unmet clinical diagnostic needs where LexaGene's technology can be of great value."
The automated system is easy to use and is currently equipped with LexaGene's Bacterial and AMR Panel capable of screening samples for the 7 most common bacterial pathogens and 13 anti-microbial resistance markers.  Dr. Jack Regan, LexaGene's CEO and Founder states, "Up until now, veterinarians have had limited options for infectious disease testing. Generally, veterinarians send collected samples to reference laboratories and wait up to 5 days or more to receive the results. This slow turn-around time and delay in proper treatment can be frustrating to many veterinarians and potentially harmful to their patients. With the MiQLab, we are changing veterinary diagnostics".  
There are many sectors they can sell to now, before they get their FDA approval for human POC. 
What are their competitive advantages? 
As you saw in the videos they have a product now ready for sale and are selling it and have about 15 in inventory. They sell the MiQLab for about $25-30K, it costs them about $20-$25 to build them but they may get that down to a $12k cost in a year or so. Things could change, maybe they will sell them for more in the future. Covid-19 is problematic as it has increased the demand for some of the components, but LexaGene has worked through those issues. 
What is their biggest competitor? GenMark (NASDAQ:GNMK) does appear possibly to be their most direct competition. GenMark does have competitive products to LexaGene. For the GenMark machines from what can gather GenMark charges $80,000 to $150,000.  And on cartridges have heard figures of $120 to $157 each. The cartridges are the razor blades. Each test requires a new cartridge. There is apparently a circuit board in each GenMark cartridge. LexaGene does things inside their machine that GenMark does in the cartridge which is thrown away each time.  Also the assay panel is more automated and "open" on the LexaGene MiQLab. 
The bottom line is it seem that not only does LexaGene have a price advantage over GenMark for customers, it appears it has a cost of production and margin advantage. 
GenMark has grown from $5 million to $147 million is sales in the last 9 years. It is a great market for many players. However their gross margins are 39% and more concerning their EBITDA margin is only 10% and their Net Margin is minus 17%!  Their operating cash flow is minus $2 million, they are not making money. So what is their market cap in light of losing money with sales of $147 million in the trailing 12 months? It is $1.05 Billion, about a 6.5 Price/Sales ratio. The market loves this sector. Bio-Rad has $2.4 Billion in revenue and an $17.6 Billion market cap. Bio-Rad is profitable. 
These numbers back up the margin problems that GenMark has. LexaGene will have potentially higher margins on their machines than GenMark even though selling them for 1/3 to 1/6th as much. The test fluids can stay for a month in a MiQLab but believe that for GenMark they have to be changed regularly in fact appears they are in the cartridge. Zach Bristow of hedge fund Zecca has very recently written a Seeking Alpha article on GenMark which is neutral and he saw the same margin problems as I have seen for GenMark
LexaGene has a razor blade model. Each time it is used a cartridge is discarded. LexaGene Cartridges will be sold for about $65 and at good profit margins. They can do this because LexaGene does not have a circuit board in the cartridge and also LexaGene draws assay fluids from a reusable assay panel inside the machine, GenMark puts the assay fluids in the cartridge. I am not a biologist nor have ever run a PCR machine but this is my understanding of the differences. 
Again LexaGene parallels Electrovaya. Even though Electrovaya is much smaller than Plug Power (PLUG) it has better margins and in the long run it is even possible they may beat Plug Power because of that.
If you listen to Jack, he refers to MiQLab as an "open system" where the customer can actually create their own tests, which he sees this as a big advantage. A customer can actually order the assay fluids themselves for their own tests they create, whereas with GenMark there is no way to do that as fluids are in the GenMark sealed cartridge.  From what know, the LexaGene system is the one I would go for as a customer. 
Here is an animated video on operating it: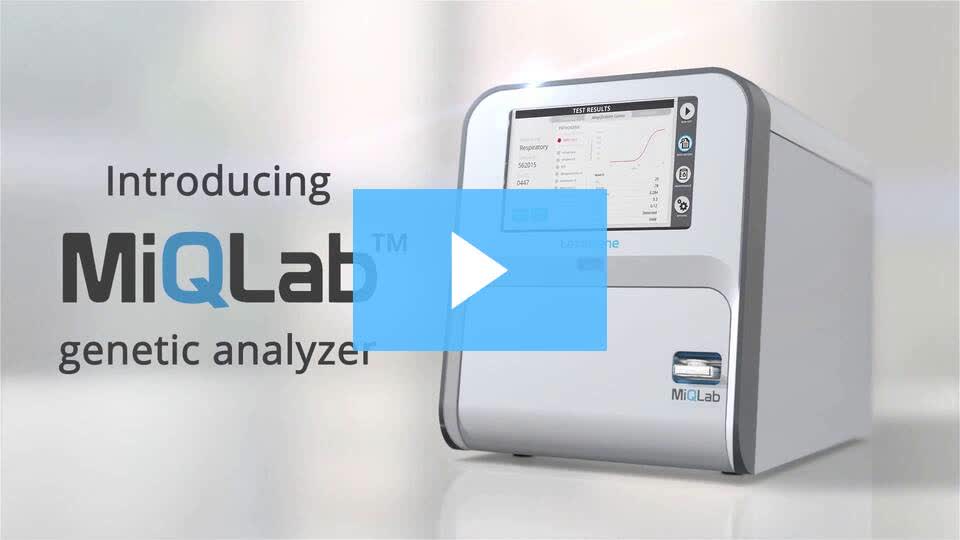 Technology MiQLab | Automated pathogen detection | LexaGene  Click this link
And a real time demo by the CEO: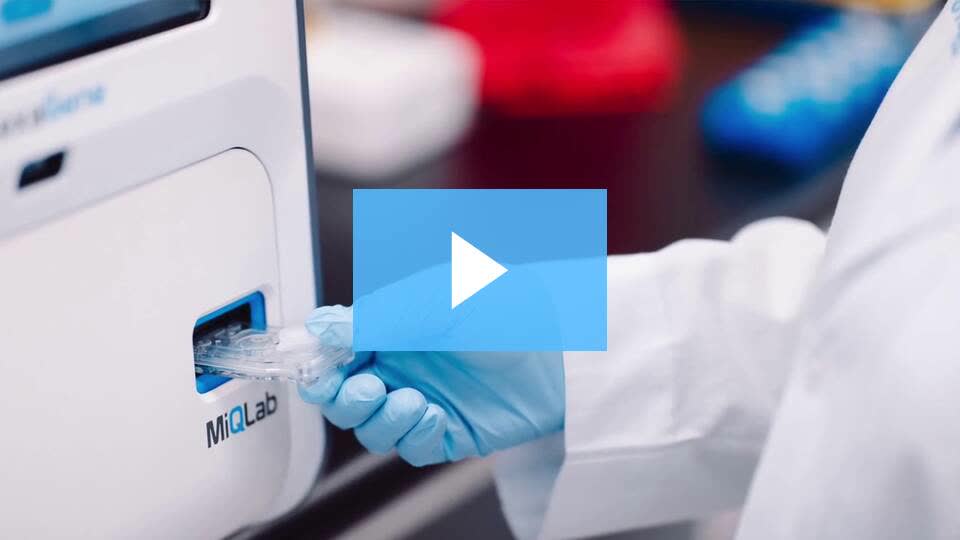 Workflow video   Click this link
I will not makes sales projections as there is a recent Seeking Alpha blog article by Agni Research who has worked up their projections. A thank you to them as they have answered questions have had on the company. 
| | | | | |
| --- | --- | --- | --- | --- |
| | First 3 months of sales | Q2 of sales | Q3 of sales | Q4 of sales |
| Revenue | $3,800,000 | $8,050,000 | $11,520,000 | $15,470,000 |
| Cost of revenue | $3,000,000 | $6,410,000 | $8,185,000 | $10,150,000 |
| Gross margin | $ 800,000 | $1,640,000 | $3,335,000 | $5,320,000 |
| Gross margin % | 21% | 20% | 29% | 34% |
| SG&A | $850,000 | $1,000,000 | $1,200,000 | $1,350,000 |
| EBITDA | $(50,000) | $640,000 | $2,135,000 | $3,970,000 |
| EBITDA margin % | -1% | 8% | 19% | 26% |
| | | | | |
| --- | --- | --- | --- | --- |
| | Q5 of sales | Q6 of sales | | Any Q in 2022 |
| Revenue | $17,250,000 | $17,500,000 | | $6,000,000 |
| Cost of revenue | $11,300,000 | $1,135,000 | | $350,000 |
| Gross margin | $5,950,000 | $16,365,000 | | $5,650,000 |
| Gross margin % | 34% | 94% | | 94% |
| SG&A | $1,400,000 | $1,400,000 | | $1,000,000 |
| EBITDA | $4,550,000 | $14,965,000 | | $4,650,000 |
| EBITDA margin % | 26% | 86% | | 78% |
Source: Agni Research  LexaGene Provides A Reference Quality Lab In A Box. Suggest reading their article.
If sales go 1/4th as good as Agni Research projects the stock will skyrocket in my opinion. Remember that Jack's previous company QuantaLife was sold for $162 million after it had total sales of $900,000 or about 140 times sales. Agni projects $15,470,000 in Q4 of sales or $62 million annualized. If it gets a similar price to sales as Bio-Rad and GenMark that would be a $372 million market cap.  But in reality an incredible growth like that especially with the high profitability that Agni Research projects would result in a stupendous valuation such as say 30 to 80 times sales. At 50 P/S a $3 billion market cap.  Remember that QuantaLife got a 140 times sales valuation.
Now it may take a lot longer but do think a $3 billion market cap is possible for LexaGene. If LexaGene has to sell or otherwise dilute by 50% of their stock to raise the money to ramp up production and does get a $3 billion market cap that would be a 20 bagger. Am looking fairly near term on that as in 2 years. 
Recently Motley Fool recommended biotech BeiGene (BGNE) which today has a market cap of $33 billion on $265 million in sales or a 124 Price to sales ratio for perspective. 
In the long run I can see LexaGene becoming the leader in their sector as right now they appear to be the technology and price leader with higher margins than most in the sector have. Have told Jack Regan that would prefer they do not sell out as in the long run think they 150 bag, based on my $.80 share cost and $84 million market cap at that time. The long run would be say 10 years and $120 a share. Would expect billions in revenue by then and that would be based on overvaluation, which is the normal thing to happen after a long bull market in a stock. 
That is somewhat of a long shot but do thing it is possible and it would be a $19 billion market cap after 50% of dilution added on to the current share count. A shorter term 10 bagger however is not far fetched at all.
Likely Catalyst in 2021
What is more likely is that although LexaGene can prosper without human  POC market (hospitals, etc.), that is the huge one, and the one I think they are best suited for. New Drug Applications are hyper expensive and slow, medical testing equipment approval by the FDA is not.  They think they can get the application in by April and approval times are a matter of weeks, so may happen in May 2021. All LexaGene has to do to 10 bag as a stock in my opinion is to get that FDA approval and sell several million dollars worth of machines into the POC market. Their stock would rationally go crazy if those two things happening. And they may be bought out for even more than that, if those two things happen. 
The world needs this product now and the FDA probably feels that way too. In fact Health Canada (Canadian FDA) has come to LexaGene encouraging them to apply for approval there. I expect quick approvals in both countries.  
Additional Info: There is a fairly recent Seeking Alpha article on LexaGene LexaGene Holdings: Debut Of A Game-Changing Product
Here is a doctor to doctor interview, highly detailed and about 2 hours long by BioPub of Dr. Jack Regan on MiQLab:
In the above BioPub video starting at 1hr 55m the issue is raised of LexaGene being bought out, licensed and uplisted, Jack covers that quickly in about 3 minutes then goes into a comparison with GenMark's products. This part of video is especially valuable. After that Dr. KSS makes highly positive comments on LexaGene. 
There are many market sectors for LexaGene. Food safety testing for example, which is projected as a $23 billion market. However for large operations on food safety being able to test many samples at once is desirable and LexaGene will likely make such equipment in the future. Just like their competitors, who have had excellent growth, LexaGene will in the future produce a series of their automated PCR machines for various sectors and needs.
Human POC testing is estimated as a $12+ billion annual market by 2025. For say $30,000 a MiQLab does fit the needs of a hospital. Instead of waiting 3-5 days to get PCR results back from a remote lab why not buy a MiQLab?  If a hospital needs 3 times more throughput, no problem buy 3 MiQlabs for $90,000 and get one hour results instead of waiting 3-5 days to get results for life and death decisions. If I am a hospital, an easy decision.
MiQLab seems a perfect solution for hospitals and clinics, and even a doctor's office can afford one. And both can be done. For lower value tests where time is not an issue maybe send them out and use MiQLab for the more important tests. But once they do both, inherently the staff will prefer the much faster method and will shift to it, just like the public did shift to digital cameras vs the now near extinct film cameras. Considering the advantages of MiQLab it may drive an increased use of PCR and grow the market. It seems a superb fit for human POC testing.
Forbes wrote up LexaGene one year ago just before Covid:  
"What if we had a piece of technology that could quickly detect and identify those nasty little creatures that cause so much heartache, illness and death, allowing fast diagnoses for illness prevention and treatment? LexaGene, a start-up in Beverly, Massachusetts, may have just that."
Conclusion
The PCR medical testing sector is a wonderful business with very high stock market valuations and buyout valuations. It is recession resistant, in fact the best year ever for PCR was the recession of 2020. LexaGene's MiQLab is a breakthrough product in terms of cost, ease of use, and open access. Am expecting that the FDA will approve it in 2021 for human POC and that LexaGene will be able to generate multiple millions in revenue within a year. Believe that will result in a 10 bagger or better, which would be $8 a share. Can find nothing wrong with this company after studying it for a week. So the answer the question in the title, yes LexaGene is the perfect stock. 
Update 4-19-2021: At first the stock did very well, however in the last month it has done terrible.  To see if it was a sector thing searched SA for keyword "PCR" and the first four stocks that came up were LHDX, PROG, OPK, CODX.  Confirmed they were in the same sector, PCR related, and small. Then put them into a compare chart for 6 months and was very surprised at the results. LXXGF and OPK tied for best performance down about 8%, CODX 2nd at -35%, PROG 3rd at -62% and LHDX last at down 70% despite just getting FDA emergency approval. 
I was expecting LexaGene to be last or middle of pack at best, being it is my worst performing stock lately. So it appears the precise sector LexaGene is in may be the primary reason it has dropped so much.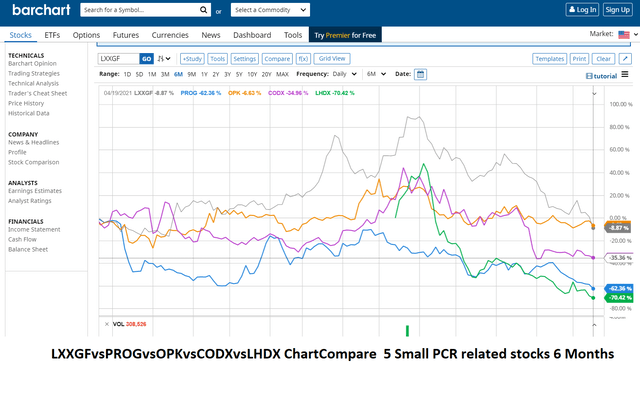 Analyst's Disclosure: I am/we are long LXXGF, eflvf.
I have not received any compensation for this article
Seeking Alpha's Disclosure: Past performance is no guarantee of future results. No recommendation or advice is being given as to whether any investment is suitable for a particular investor. Any views or opinions expressed above may not reflect those of Seeking Alpha as a whole. Seeking Alpha is not a licensed securities dealer, broker or US investment adviser or investment bank. Our analysts are third party authors that include both professional investors and individual investors who may not be licensed or certified by any institute or regulatory body.