I originally published a report on this Company in early June. Since then, here is how it has performed vs. gold and the sector (click to enlarge):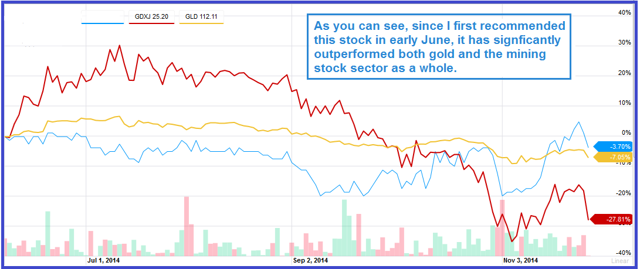 I have updated this report to reflect recent developments and I offer an explanation for why this stock has been outperforming the sector. You can access this report here: Junior Mining Stock Report.
I know the management was in China late last spring meeting with several of the largest Chinese mining companies. I believe the Company is engaged in very prelimary discussions about selling one of its huge copper projects to one of China's largest mining conglomerates. I'm pretty certain that's why this Company's stock has held up well since the takedown of the sector began in mid-July.
Even on its own, separate and apart from the possibility of any kind of M&A event, this stock is significantly undervalued. It is currently generating royalty revenue from a big gold mine in Nevada. That mine is going to be operating an expansion project in late 2015. This expansion will increase the Company's royalty stream.
Furthermore, this Company has a massive prospect/project portfolio, a handbook of which is attached to my report. As the price of gold and silver recover and move higher again, which will happen sooner or later, I believe this stock can provide close to a double in the next twelve months and a triple over two years. That's assuming the metals don't go parbolic…(click on pic to access this report):

Disclosure: The author is long EMXX.