This is the first in a series of five predictions for 2016 that I will be posting throughout the week. One prediction each day will be posted this week and I may throw in a bonus thought or two before the week is done.
Today's prediction has to do with what I think will be the top performing sector of the new year. I think you could make a case for a few different sectors that should do well this year. Financials should benefit from rates slowly beginning to rise. Healthcare could do well as drug and aging-related costs continue to rise. Biotech could do well if we see a surge in M&A activity. But I'm going to go with a contrarian pick. I think energy will be the top performing area in 2016.
Yes, I realize that skeptics could poke a number of holes in this idea and there is plenty of data and evidence that could be used to back it up. And, truthfully, I wouldn't blame them if they felt that energy will have another rough year. But I think the sector actually could be positioned for a turnaround this year and here are a few reasons why.
** Rising Oil Prices By The End Of The Year **
Where oil prices go from here is anybody's guess and it depends on several factors. Ultimately, it usually comes down to the good old supply & demand curve. Global supply gluts have pushed down prices and it can probably reasonably be expected to continue.
I don't think oil prices are going to hover in the $30 area though. I think oil is headed back towards $50 a barrel and I think there's evidence to support this which I'll get into a little later. In the meantime, consider the chart below.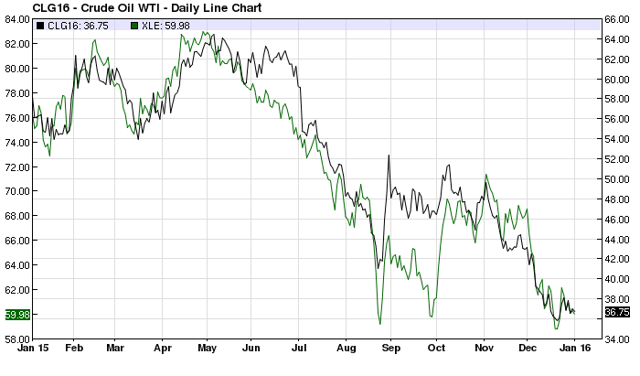 This is a chart of WTI crude oil against the Energy Sector ETF. Not surprisingly, the two move pretty much in sync with each other. This isn't to suggest that the Energy ETF will move up in lock step with oil but if oil moves towards $50 - which is a 36% premium to the $36.75 per barrel listed here - is it reasonable to think that the Energy ETF could rise, say, 20%? I think so.
Now, why would oil head back towards $50?
** A Slowdown In U.S. Oil Production **
In fact, this has already started to happen. The U.S. and OPEC have been engaged in this game of chicken to see who would slow down production first and it looks like OPEC has won. OPEC nations can produce crude cheaper than the U.S. so it has begun shutting down rigs and backing off production until supply and demand starts to balance out.
Now, backing off production could be the final nail in the coffin for some of these outfits that may end up heading towards bankruptcy. But for those that continue to produce, the higher price of oil could lead to an improved bottom line that could end up pushing energy stock prices higher overall.
** Global Demand Looks Pretty Healthy **
What gets overlooked in the global oil oversupply is the fact that demand for oil and its derivatives looks relatively good. In the U.S., it's been a pretty mild winter thus far and that weather is expected to continue so there's a chance we could see the demand for travel improve as the year goes on.
Supply and demand work together though so strong demand alone won't mean much if supply continues to outweigh it. But a steady demand coupled with a lower supply from production shutdowns could swing things back towards a more balanced state.
** A Pure Contrarian Bet **
In the end, as far as investors are concerned this is still a matter of stock performance. Amazon stock is considered wildly overvalued but it still delivered one of the S&P 500's best performances in 2015.
The energy sector still has a long ways to go in order to complete its turnaround but I subscribe to Warren Buffett's mantra of "be greedy when others are fearful". The bottom line is that energy stocks have been beaten down to a degree where they can be considered oversold. When things look worst could be the ideal time to buy.
As a contrarian investor, I feel this could be an ideal "buy low" scenario. If either one of the situations described above plays out it may not be long before value investors begin jumping back on board.
** Conclusion **
I have Devon Energy and BP already in my portfolio and may be adding the Energy Sector ETF to my portfolio shortly for broad sector exposure.
I will concede that there are a number of "if this happens" events that need to occur and any number of things could happen to keep energy stocks down. But I feel that the energy sector has a couple of macro catalysts in play that could lead to a turnaround and outperformance of many stocks in this sector.
Disclosure: I am/we are long DVN, BP.