As I was traveling this past week, I received a text from my wife. It said simply, "My new car has arrived." Along with it, she attached the following picture.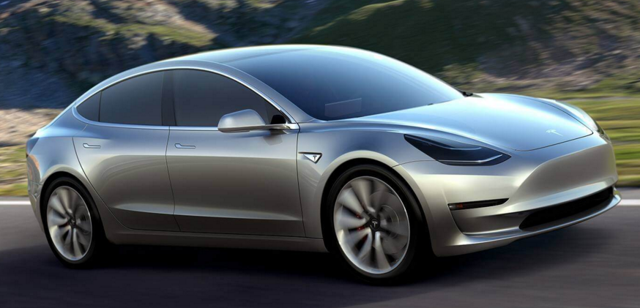 And so it begins. No, we haven't put down a deposit yet but it seems not that far in the future. A happy wife is a happy life!
From a marketing perspective, I don't think Tesla could've teed this up any better. Every Tesla product launch is an event in and of itself but this one might've been the biggest of them all (you can check out some of the pictures here if you haven't seen the already). Up to this point, the Tesla was largely viewed as a car for the rich. But combine Tesla's first car for the average consumer with the Elon Musk hype machine and you've got an event that blew the doors off of even the most optimistic scenario.
The result is that Tesla took 276,000 preorders for the Model 3 in the first three days. The company was expecting less than half that number. Musk said that he was expecting about 20-30 people to line up at each store. I bet he wasn't expecting hundreds.
Whether they knew it or not, Tesla has spent 10 years building up to this moment.
The prototype for the Roadster debuted in 2006. Between 2008 and 2012, Tesla sold about 2450 of the cars with a base price of $109,000. The number of Roadsters produced combined with the high price tag gave them an air of exclusivity while interest in the new electric car remained high.
The prototype for the Tesla Model S, the company's first full size luxury sedan, was introduced in 2009 and full scale production began 2012. A bit more affordable with a starting price around $70,000, the Model S has increased sales nearly every quarter since its debut. Its Q4 2015 sales number hit more than 17,000 bringing the car's total sales to over 107,000 as of the end of 2015. Right now, it looks like sales could jump 60% year over year in 2016.
After production delays, the Model X is finally shipping although in very limited quantities. Just 208 were delivered in Q4 2015 although Tesla boasts some 30,000 preorders. The Model X starts at $80,000 but can easily run up to $130,000 and more depending on the version.
The point in all this is that many people feel owning a Tesla is out of reach for them. With the steep price tags, in many cases it's true. Even for the ones that can afford it, production delays and wait times make the vehicles seem like they're even harder to obtain.
So imagine what happens when Tesla announces a beautiful new car that's in their price range?
The answer is that interest goes through the roof. The average consumer now has a real opportunity to buy a luxury vehicle for the same price as many new cars. In essence, many probably feel like they're holding an invitation to the elite club.
What this does for delivery times for the Model S is still unclear but it seems likely that they'll get pushed back due to the unexpected demand. Even so, Tesla looks like it's hit a home run with its new vehicle and, more importantly, has consumers more than willing to plunk down a deposit to get one.
From a marketing standpoint, this has been genius. Tesla's brand is that of a high end and very exclusive product. Make it available to the masses and suddenly you've got future revenue growth ready to take off.
I've been bearish on Tesla stock for a while given the stock's overvaluation and the company's inability to consistently get cars off the line in an effective fashion. Now, I think there's reason to buy Tesla again. The overvaluation factor is still there but it doesn't feel as overvalued as it did before given how many cars they appear ready to sell over the next couple of years.
And we may be adding our own names to the list soon too!
Disclosure: I/we have no positions in any stocks mentioned, and no plans to initiate any positions within the next 72 hours.