If you're a trader that likes to dabble in leveraged and inverse ETFs, this week was no doubt a fun one for you. We saw the debut of five new triple-levered funds (with a bit of a Trump-ian flair) from leveraged fund specialist Direxion. I want to discuss those funds briefly before jumping into the more notable new entries into the space, the quadruple-leveraged funds from ForceShares.
Of Direxion new ETFs, three fit with the provider's sector-themed approach.

The transportation (NYSEARCA:TPOR), utilities (NYSEARCA:UTSL) and industrials (NYSEARCA:DUSL) triple bull funds are pretty straightforward additions to their existing lineup that already includes ETFs focused on healthcare, financials, real estate, technology, etc. I'd imagine that in the not-so-distant future, we'll see triple bear versions of these sector funds as well.
The other two are a little more intriguing. The aerospace & defense ETF (NYSEARCA:DFEN) is designed to provide triple the daily returns of the Dow Jones Aerospace & Defense Index, which includes names such as Lockheed Martin (NYSE:LMT) and Boeing (NYSE:BA). The timing of this fund is no coincidence since defense spending has been a hot topic in the Trump administration. The index is up roughly 20% since the election on expectations that Trump will significantly increase the defense budget as we deal with tensions in North Korea. The three primary ETFs in this area - the SPDR S&P Aerospace & Defense ETF (NYSEARCA:XAR), the iShares U.S. Aerospace & Defense ETF (BATS:ITA) and the PowerShares Aerospace & Defense ETF (NYSEARCA:PPA) have netted more than $2 billion in new net flows since the election so I'd guess that this fund will garner a fair amount of interest.
The Mexico ETF (NYSEARCA:MEXX) follows a similar tactic in bringing to market a product that is heavily in the news. Where Trump ends up landing on the construction of the border wall will no doubt impact this fund significantly one way or the other.
But those funds are relatively benign compared to the quadruple-leveraged ETFs that will be offered by ForceShares and were approved by the SEC. They are just as the sound. The ForceShares Daily 4x U.S. Market Futures Long Fund (UP) aims to deliver four times the daily performance of the S&P 500 while the Daily 4x U.S. Market Futures Short Fund (DOWN) will do the same in the opposite direction. I suppose this is the next "logical" step in the leveraged ETF industry since the market has been saturated with triple-levered products. I hesitate to say that it looks like we're heading further down the road towards 5x funds or more. It's sort of an interesting about face from the SEC that went on record last year as being interested in curbing the use of derivatives in investment products. In the interest of full disclosure, it's worth mentioning that these products are merely speculative vehicles meant to be held for no more than a few days. Hold them for longer than that and you start running into contango risk which can be costly when the funds need to roll over their futures contract exposure every month and usually results in deterioration of value relatively quickly.
I'll be discussing these funds further in the coming ETF Focus Weekly newsletter available through my website. Each week you'll get…
My weekly ETF watchlist where I present the four funds that I'll be keeping an eye on in the coming week that could be affected by market or industry events.

A list of recently published articles on Seeking Alpha and elsewhere that you may find of interest.

A preview of what's coming to the site in the near future.
And you'll get that before it gets published anywhere else! I know your time is valuable so I've tried to keep it as brief and concise as possible so you don't lose interest long before you reach the bottom!
If you're interested in subscribing and getting this in your inbox every week (it's completely free), simply click on the link HERE. The next one comes out later this weekend. To give you a preview of what you'd receive, here's a copy of a recent ETF Focus Weekly newsletter sent to subscribers. (Note: The images below are screenshots. Clicking on the links won't work although you can find the articles mentioned within HERE.)
Happy investing!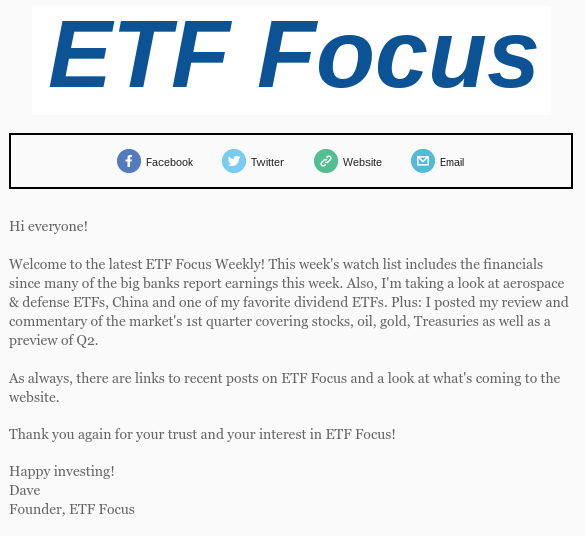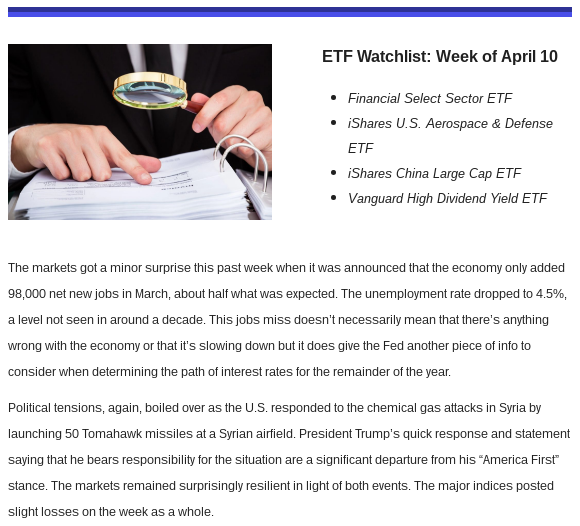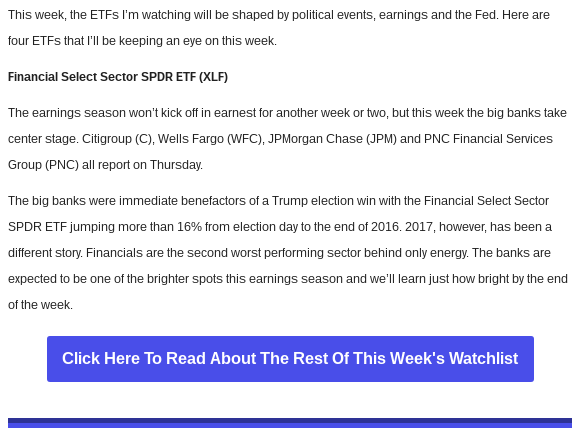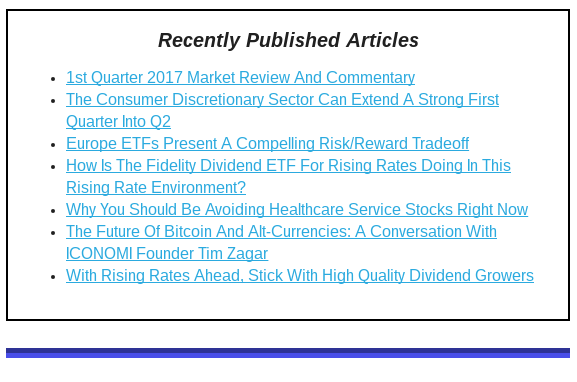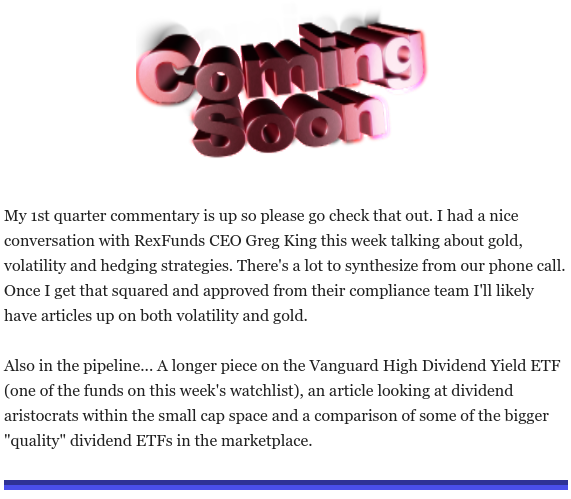 If you're interested in subscribing, simply click on the link HERE!
Disclosure: I/we have no positions in any stocks mentioned, and no plans to initiate any positions within the next 72 hours.