Note: Much of the research below was originally posted in my ETF Focus blog. It includes a lot of quick hits and thoughts as they're happening throughout the week.
Will Equities Rebound This Week?
It was a REALLY bad week for equities. The major indices (SPY) (DIA) (QQQ) (MDY) (SLY) dropped roughly 6%, with the mid-caps and small-caps faring slightly better. Tariffs and a potential trade war with China are the main culprits as Wall Street reacted in much the same way it did when Trump first announced the steel and aluminum tariffs.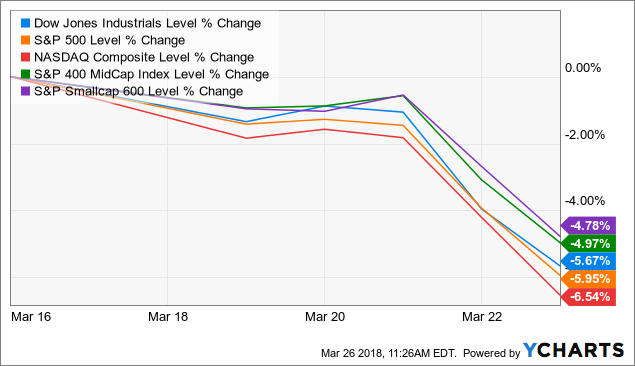 Every sector posted losses on the week with tech (XLK) and financials (XLF) doing the worst. Long-suffering energy sector (XLE) investors got a bit of a reprieve this week, thanks to rising oil prices. WTI crude is back above $65 and could be headed towards $70 as summer travel and oil demand can be expected to pick up. Tech was drug down by Facebook (FB) and Google (GOOG). Financials dipped after Wednesday's expected rate hike.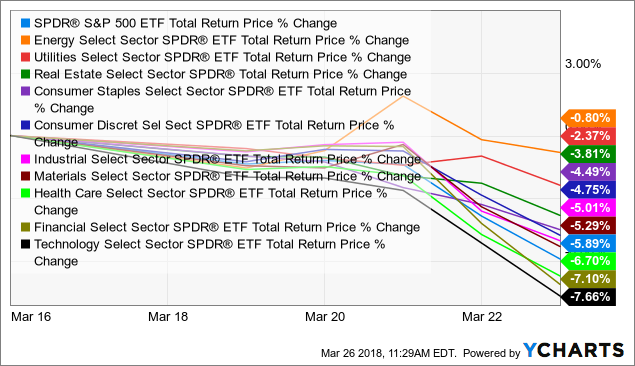 If history is any guide, good news could be on the way next week. This nugget comes from Ryan Detrick (who happens to be a great follow on Twitter)...

Historically, the stock market has rebounded in the trading days following consecutive 2% drops to end the week. Other than the time it dropped more than 20%, of course!
Do you think traders will be in more of a buying mood next week or will trade worries continue to shake buyers out of the market?
--------------------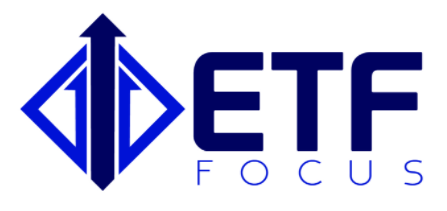 I'm currently offering a risk-free TWO WEEK FREE TRIAL of ETF Focus to anyone wishing to join our ETF community and get well-researched ETF trade ideas and in-depth ETF-based portfolio strategies. Over the past week or so, I discussed adding XBI to my portfolio, made trade recommendations for SOCL and KRE, posted my top 10 ETF ideas for the week and reviewed the ETF Focus Ultra Low Cost Core Portfolio. Click HERE to activate your two week free trial now to check out all of this and more risk-free!

--------------------


10 Year Yield Rises Modestly on Rate Hike; Fed Sees 5 More Rate Hikes by End of 2019
As expected, the Fed raised interest rates by a quarter point on Wednesday. The target Fed Funds rate band now sits at 1.50-1.75%. It was a unanimous 8-0 vote.
The Treasury market was only modestly changed on the news. The 10-year note rose from around 2.89% to 2.93% before pulling back later in the week.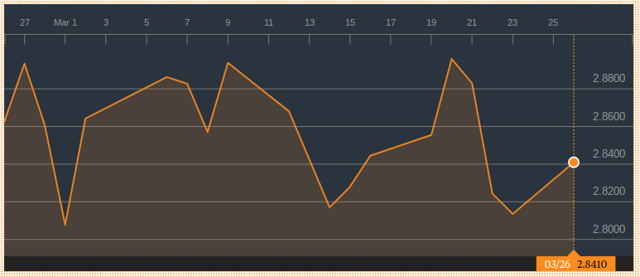 Among the comments coming out of the meeting....
"The economic outlook has strengthened in recent months."
Sees "further gradual adjustments in the stance of monetary policy."
"There is no sense in the data that we're on the cusp of an acceleration in inflation."
The updated Fed Dot Plot report indicated that the median forecast of Fed members calls for a range of 2.75-3.00% by the end of 2019, or five more hikes.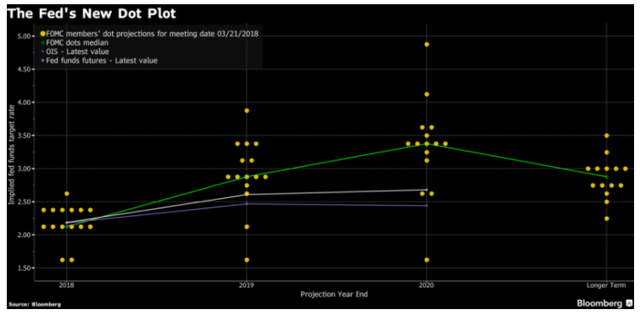 The Fed Dot Plot has been notoriously inaccurate in forecasting future Fed policy, so take these numbers with a few shakers of salt. The inflation rate has yet to stay above the target 2% mark and wage growth remains tepid.
Overall, I take this as the Fed sees the economy is strong and inflationary pressures are modest. This should be a positive sign for stocks as we move forward in 2018.
ETFs Most Impacted By Facebook
Facebook dropped 14% this past week, thanks to ongoing data security issues, crushing the portfolios of shareholders in the process. The carnage has continued into Monday morning as the FTC has confirmed it's investigating the company's data practices.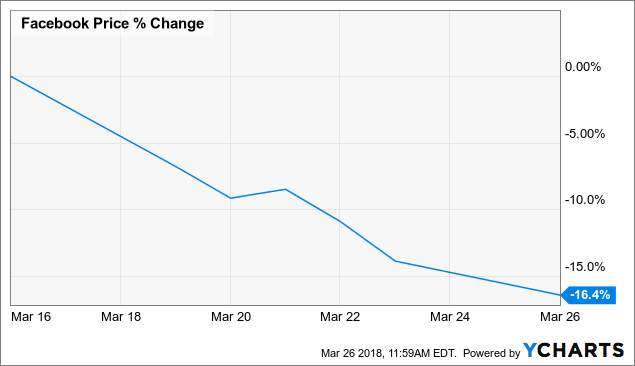 Not surprisingly, tech was one of last week's worst performers. Outside of Facebook, Alphabet was also down 10%, while Apple (AAPL) and Microsoft (MSFT) were each down 7-8%. Tech ETFs also struggled mightily, especially the ones with large exposures to Facebook, such as the ones below (I'm going to assume that the inclusion of the Vanguard Health Care ETF is just a typo).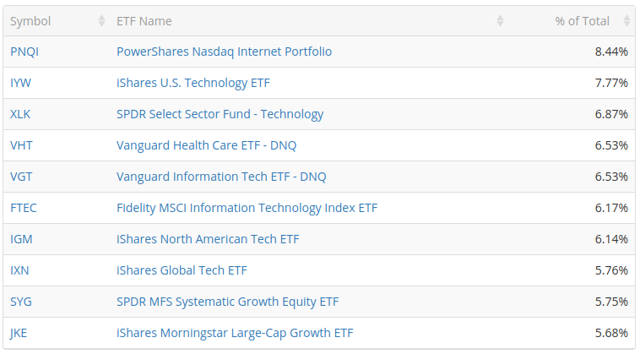 Losses for all of these funds were in the range of 6-8%. Now, the argument begins as to whether or not Facebook is undervalued or if this is a "buy the dip" opportunity. I think more is being made out of the data breach than should be and, given time, this will all blow over. Immediate reactions to events such as these tend to be more volatile before investors start digesting the information a little better. In time, I think this will be viewed as a buying opportunity for Facebook.
What do you think? Would you be a buyer of Facebook right now?
Remember: Click HERE to activate your two week free trial of my ETF Focus Marketplace service now risk-free! If you want to check out the ETF Focus blog, click HERE.
Disclosure: I am/we are long XBI,KRE.