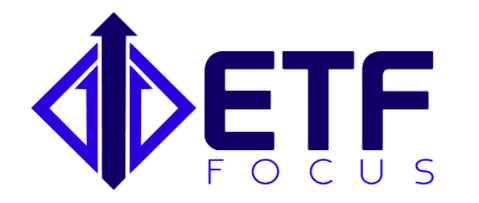 The goal of ETF Focus is to help you develop low-cost ETF portfolio strategies, identify the very best of the more than 2,000 available ETFs in the marketplace and profit from our model portfolios.
A subscription to ETF Focus includes:
ETF model portfolios - We offer a number of model portfolios with strategies - high yield, long-term growth of capital, monthly dividend income, dividend growth, etc. - and are adding more all the time!
Our monthly ETF Power Rankings report - This report scores and ranks more than 700 ETFs across two dozen categories looking at factors, such as fees, diversification, liquidity and more, to help you identify the very best of the best every time.
Our weekly "ETF Primer" report - This report gives you everything you need to know to get set up for the week ahead.
Access to my personal portfolio - Subscribers get visibility into my personal portfolio so you can always see what I own and how I trade my own money!
If you're considering checking out ETF Focus, now is the time!

Through Wednesday, October 24th, you can receive a risk-free two-week free trial of my service along with 20% off the cost of your annual subscription for the first year. It's only for a limited time so you'll need to ACT FAST!!! If you're ready to check it out, click HERE now!
If you're still on the fence, check out a sample of this post that was recently sent out to subscribers talking about some ETF ideas for hedging against downside losses in your portfolio.
2 ETF Hedging Ideas That Don't Involve Gold
With the S&P 500 still on pace for its 10th straight year of gains, the economy in relatively good shape and the Q3 earnings season looking relatively solid so far, investors might still not be too fearful of adding equities to their portfolios right now despite an uptick in volatility.
It still might be a good time to buy heading into the end of the year, but now could also be the time to do something even better - prepare for the worst!
When it comes to the notion of hedging downside risk, many people will tell you that Treasuries or gold are the best plays. Those aren't bad options as long as you're comfortable watching the indicators and rotating in and out of asset classes with some regularity.
What if, instead of rotating from stocks to bonds/gold, you want to stay with stocks but have a downside hedge already built in? If you're looking to stick with equities but protect to the downside, here are a few ideas...
Cambria Tail Risk ETF (TAIL)
This fund is more of a pure downside hedge and is run by famed investor Meb Faber. It will invest a portion of the fund's assets (currently about 10%) in a basket of long put options of various strike prices, with all remaining assets getting invested in intermediate-term Treasuries. TAIL is a product you want to hold as part of a larger equity-heavy portfolio, not necessarily by itself (unless, of course, you think the bottom is about to drop out).
TAIL is a little over a year old so there's not much history to work with, but, as the fund's website mentions, it expects to produce mostly negative returns as the market is rising or volatility is low. October, however, has been anything but a rising market with low volatility, and TAIL has finally managed to give us an idea of how it can perform relative to a falling S&P 500.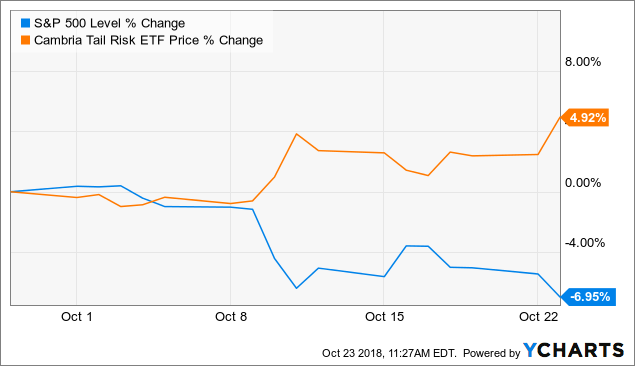 TAIL is a nice little option since it gives you the opportunity to just layer it on and off as needed. Again, you probably don't want to dedicate a lot of your portfolio to a product like this, but it's really dependent on what you feel the downside of the S&P 500 is at any given moment.
AGFiQ U.S. Market Neutral Anti-Beta Fund (BTAL)
This fund is more of a traditional long/short strategy. It goes long low beta stocks and short high beta stocks. In other words, BTAL can be expected to produce positive returns as long as low beta outperforms high beta (to what degree, of course, depends on how the market performs). In theory, in a market downturn, you might expect high beta stocks to do worse than low beta stocks. If that's the case, this fund produces a positive return. Even if it isn't, this fund likely wouldn't drop as much because half of the portfolio is short. The downside, of course, is that it trails the market (probably significantly) in up markets. BTAL is down about 3% annually since its 2011 inception and its expense ratio of 1.93% is unusually high.
That being said, when the strategy works, it works well. Like TAIL, it has done its job during October's downturn.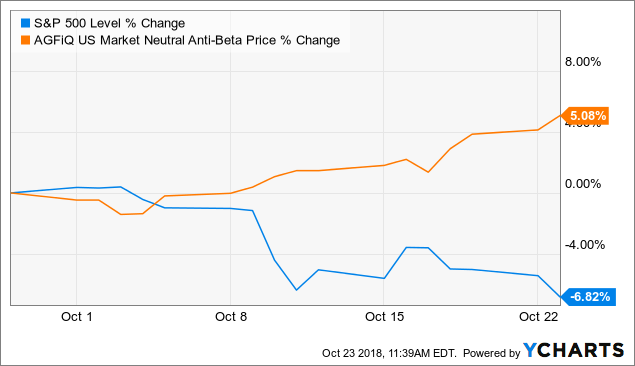 The relative performance of low beta vs. high beta stocks is really the determining factor in how this fund will perform. Since it's a long/short product, the upside is really limited, but it can be a way to produce positive returns in a bear market.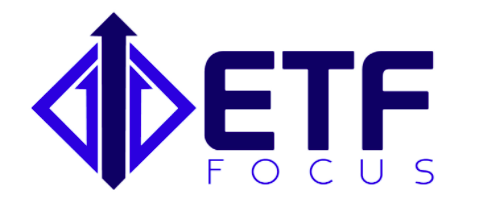 The risk-free two-week free trial plus 20% off the cost of your first year offer only lasts through the end of the day on Wednesday, October 24th!
Click HERE to take advantage now!