Lynden Energy: A Stateside Oil/Gas Play
The purpose of this posting is to provide an overview of observations by others on a speculative opportunity in a junior resource oil/gas company, Lynden Energy (TSXV: LVL; LVLEF.PK). Disclaimer: I am long LVL.
From the Company website www.lyndenenergy.com Lynden Energy Corp. (TSXV: LVL) is an oil and natural gas company engaged in the acquisition, development, and exploration of oil and natural gas properties. Operations are focused on our Wolfberry and Mitchell Ranch projects in the Permian Basin, West Texas, and our Paradox Basin Project, Utah.
Here is the chart of the trade in common shares of LVL for 2012 (Source: Schwab):
LVLEF:TSXV
As of Tuesday, 12/11/2012
+0.50 (113.79%)

The source for all of the information that follows is the "Wolfberry Post" http://www.wolfberrypost.blogspot.com/, by another author, who is also long LVL. I have excerpted from this post certain information that the reader may find pertinent in considering this opportunity further. Exploring this blog and Company website in detail would be an appropriate next step in considering the investment opportunity.
Some analysts posit that the Company is in an ideal position to consider monetizing some of their assets. From Wolfberry Post:
Keith Schaefer from the Oil and Gas Investments Bulletin oilandgas-investments.com posted an update on Lynden Energy today. He states that Lynden is open to both a corporate deal and selling off assets. We believe that monetizing the Wolfberry assets would be worth potentially $200 million (LVL's current market is cap is about $100 million) and Schaefer states that that would be a realistic transaction price.
There is a lot of permitting activity surrounding the Mitchell Ranch area due to the abundant interest in the Cline Shale. We believe that Schaefer's estimate of value for Lynden's Mitchell Ranch of $2,000 to $3,000/acre is low. A valuation of $7,500 to $10,000/acre is entirely possible in the near future which could add $250 to $350 million of value.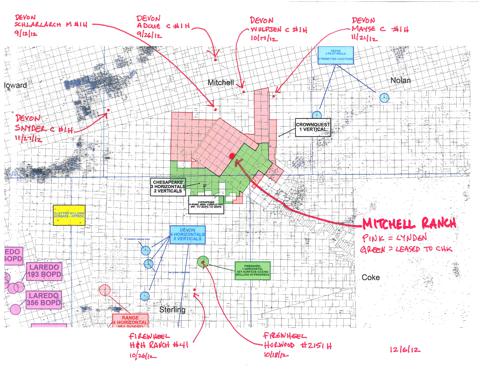 The Oil and Gas Investments Bulletin stated that "Devon Energy is now licensing a well very near the northern border of Mitchell Ranch." They have in fact permitted THREE wells about one mile north of Lynden Energy's portion of Mitchell Ranch and two more in close proximity. Does Devon have the Mitchell Ranch in their sights or is it a mere coincidence that the wells are that close? Either way, the wells are a good sign and the results will go a long way toward showing the production capability of the area without further expenditures by Lynden.
As additional validation of interest in the Cline Shale resources, the Wolfberry Post author cites the recent interest by JVL Advisors (a private investment firm located in Houston, TX, no website available) in acquiring a significant stake in LVL:
JVL Advisors purchased another 1,044,000 shares on 11/26 and 11/27. John Lovoi [principal] has extensive experience in research covering the oil industry as head of Morgan Stanley's Global Oil and Gas investment banking practice. This brings their total holdings to 15,051,100 shares! JVL purchased 7,143,000 shares through a private placement and have now purchased an additional 7,908,100 shares in the market. The purchases in the market have been above the price of the warrants which is certainly an encouraging sign.
In late November, the Wolfberry Post provided range estimates for valuing LVL's assets as follows:
Here is an updated acreage/valuation analysis that shows the huge potential for Lynden!
Acreage Low Mid High
West Martin/WF 4,108 $20k/acre $27.5k/acre $35k/acre
Tubb 2,401 $30k/acre $35k/acre $40k/acre
Mitchell Ranch 34,150 $5k/acre $7.5k/acre $10k/acre
Total $325 M $453 M $581 M
By these calculations, Lynden is worth several times its current market cap and could be worth $2 to $4/share.
Disclosure: I am long OTCPK:LVLEF.