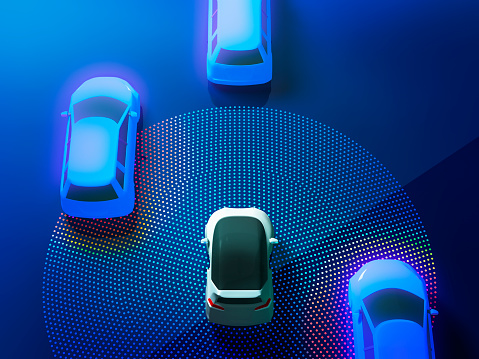 XPeng demonstrated its third production model P5 at the April Shanghai Auto Show. In 53 hours, it pre-sold 10,000 units, almost equal to the total units XPeng sold in the months of March and April this year. To understand this success, let us look at some of its notable features.
It is the first mass production vehicle in the world to include lidar sensors. Prices of lidar have fallen dramatically. Those units likely cost XPeng in the range of $500-$1k each, according XPeng Executive interviews, and would continue to fall in the future.
P5 comes with a full AI voice assistant. The company claims it can differentiate voices of driver and passengers. This is not a unique feature, but it is more advanced than competitors such as Tesla and Ford. We should also shout out to NIO here. The NIO NOMI is a robot widget on the dashboard. NIO may hold the design advantage here. The XPeng voice assistant vendor is Credence, which is also partnering with Audi, a solid resume.
P5 comes with a movie projector, built-in blinds, a bed mode, and an optional cooler. It is a private, lifestyle space, an entertainment device, as well as a vehicle. With this design vision and its industry-leading AV technology, P5 is poised to revolutionize the EV industry and turbo-charge XPeng valuation by accelerating delivery number beyond analyst expectations and by generating high-margin software revenue stream through Mobility-as-a-Service (MaaS) and OS app store revenue.
XPeng AV Technology
XPeng claims its AV technology, XPilot, is industry leading. It backs up the claims by reporting subscription revenue of its AV software in Q1 2021. It is the first mass production vehicle in the world to record AV software revenue. The Tesla FSD is a pay upfront package. I would argue a subscription model shows more maturity and confidence in its technology.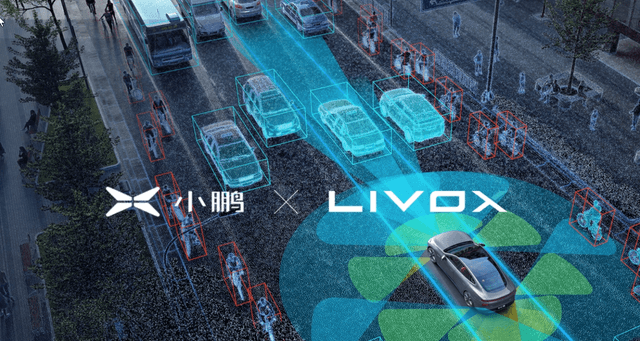 In March, XPeng recorded the longest autonomous drive in history, 2,930km of highway driving, with a large number of journalist. The result showed 0.71 human interventions per 100km. XPilot is capable of negotiating weather, fog, and tunnel conditions, a capability that many competitors currently lack. The AV competitors in China, DiDi, Baidu, and other startups have not to-date shown an AV-capable EV in production or pre-production stage. (NIO having developed its battery swapping technology is understandably behind on AV R&D. Western AV technologies do not translate well to China, a different and more chaotic driving environment.)
XPeng enjoys a significant time advantage in bringing its AV technology to the market. As it collects troves of AV driving data, this advantage widens daily. It may be till second half of 2022 or later before an EV with similar sensor package and AI capabilities enters the market. At that point, XPeng will be well positioned to lead greenfield markets such as robo-taxi and robo-delivery.
Wait, how can XPeng be the industry leader? Recently articles like How Electric, Self-Driving Cars and Ride-Hailing Will Transform the Car Industry on Wall Street Journal, or Guidehouse Leaderboard on Autonomous Driving do not even mention XPeng. The answer is simple. They missed it. The current valuation does not account for the value of XPilot. The implication for the investors should be sizable.
It is important to note that XPeng has not publicized any city driving data with lidar-equipped P5. Previous models without lidar are limited to highway AV only. Since deliveries of P5 is scheduled in Q4, the company is showing confidence in its capabilities on local ways as well.
A Night Out with P5
Let us follow a hypothetical date in China, imagine the potential revenues sources. Our hypothetical P5 owner Li picks up his date. He surprises his date with a novel kind of date. He parks just around the corner, opens a bottle of wine from the cooler, and offers to order a meal on the onboard touch screen. The meal arrives. The couple already reclined the seats and are 30 minutes into a movie. They spend the date in private just around the corner. Let's stop our imagination before it goes any further.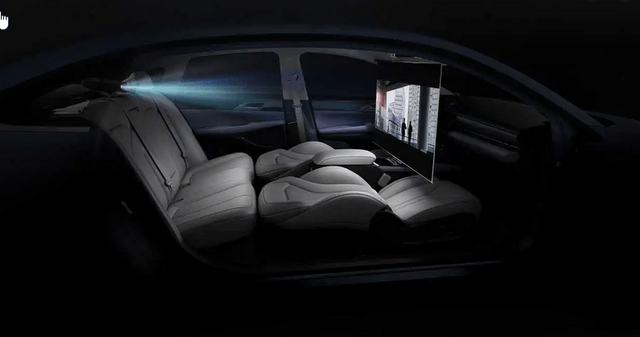 There is incredible value in privacy in China. Its cities and towns are densely packed with people. So are the office, the restaurant, the theatre, and everywhere else. The home is often a multi-generational dwelling. P5 offers a private entertainment and lifestyle space that is not readily available to the Chinese before. I would argue that it is not actually its AV potentials but this design vision that sold the P5 to the audience at Shanghai Auto Show.
This revolutionary design vision is strikingly similar to that of Apple. Just like how iPhone revolutionize the mobile phone, P5 is poised to revolutionize the automobile. The primary function of the vehicle will be secondary to its value. The design will be focused on user experience instead of performance. It will become more of a software product than a hardware one.
Just like the Applie iOS, the XPeng OS (they need a good name here) can generate attractive revenue sources. During that hypothetical date, XPeng would receive a portion of revenue from the meal delivery charge, music subscription, and movie rental. We can expect similar profit margins as the Apple App Store, around 80%.
Evaluating XPeng
Deutsche Bank analyst Edison Yu recently valued XPeng at $43/share and predicted the sales at 70,000 in 2021, 125,000 in 2022, and 195,000 in 2023. These may be significant underestimations. We have two data points, 10,000 pre-orders in 53 hours and a third manufactory facility contracted in April 2021. Considering the previous arguments for the merits of P5 AV technology and user-centric design, it is highly likely that a significant portion of the pre-orders will convert to real ones, and the company is continuing to receive pre-orders at a high pace. XPeng is reported to have a well establish social media presence and fan reward system. We can expect the excitement momentum to continue to build.
XPeng inked a third factory to be completed in 2023. This implies the company considers its current factory and its second one (to be completed in 2022) are insufficient to meet the demand in 2023. It may have concrete order numbers to back up that expectation. Therefore, the orders for P5 and P7 in 2023 are expected to exceed 240,000. The G3 is currently manufactured externally, so total capacity exceeds 240,000. If the third factory is brought online in the middle of 2023, and only 20% of its factory capacity is used, we can expect XPeng to deliver 252,000 units in 2023. Keeping Price per 2023 delivery the same, we arrive $55.6/share price target today.
To estimate the value the XPeng AV tech, we can compare it to Waymo. XPilot is a level 3 system, one level lower than Waymo's. It does hold some advantages though. XPilot performs in most real-world conditions including weather and tunnel. Waymo's presence is mostly in the Southwest US, because it has difficulty handling weather conditions. The data XPeng collects is from production vehicles. Waymo Lidar is currently too costly for production vehicle. Updating the sensor package to an affordable level may change the data input enough that Waymo software will need to retrain its neuro-network. XPeng enjoys government support. Its executives stated in an interview that regulations are the easiest hurdle to overcome for them. Clearing regulations in US may be more difficult for US firms.
If we simply use the same valuation for XPeng AV as Waymo, $30B, it is worth $37.38/share.
XPeng has not disclosed much data on its software revenue. The current usage rate of NGP (Navigation Guided Pilot) is 20%. They expect to improve to 25% by end of the year. If we use an estimate of 500,000 vehicles delivered and in use by end of 2023, and NGP adoption rate of 30% then, we arrive at 150,000 subscribers. Lacking data, let us estimate XPeng charges 25% of Tesla FSD fee spread out over 5 years. That is $500 annual revenue per user and $75M total.
The average iPhone user spends $136 on app store per year. Let's estimate XPeng drivers spend 50% of that, $68 per year, and XPeng charges 25% app transaction fee. From 500,000 user, we arrive at $8.5M annual revenue.
We can expect a high P/E ratio, similar to a promising software company like Palantir. Because we can expect 80% contribution margin versus Palantir's 55% CM, we use 45% higher than the Palantir current multiple of 38. The estimated value of software revenue is $4.6B at the end of 2023. Assuming 10% discount rate, the current valuation is $3.6B, $5.74 per share.
Little of the software and AV valuations are priced in. XPeng is often absent in analysis and news articles on AV technology. Its software potential also receives little coverage. Most of the market knows XPeng as the other EV company behind NIO that is challenging Tesla. Assuming 20% of the value is recognized by the market and priced into Yu's valuation, XPeng is worth $34.5/share in addition to $55.6/share vehicle sale value. I arrive at final price target of $90.1. I estimate it holds 200% near-term upside. I believe this valuation is on the conservative side.
Conclusion
Possible headwinds can negatively affect XPEV value in the short term. Semi-conductor shortage can persist. Taiwan can experience a severe CoVid-19 outbreak affecting worldwide chip supply. AV-related accident can cause recall or sour consumer sentiment. These events are unlikely enough that the valuation is not affected. Geo-political situation between US and China may deteriorate. While this chance is non-trivial, the EV and green energy section should be well protected under Biden administration.
As of this writing, XPeng stock appreciated 34% since May 13th. In the same time period, NIO and Tesla stock rose 20% and 8,8% respectively. Since there has not been any significant news from XPeng, it is highly likely that the market is starting to recognize the XPeng software and AV values. This thesis is not rejecting the potentials of NIO or Tesla. It is asserting that there's significant upside to XPeng that is not currently priced in. The time to capture these values is now.