FMX | Connect (Reported 1/18/2010)
The following is an end of week recap of Natural Gas Option's activity in the Over-The- Counter and Exchange traded venues. Information is compiled and summarized below.

In the second full week of trading after the holidays volatility was softer.  February options are now underperforming versus their regular month counterparts.  This is understandable in light of call skews seeing their first pull back in approximately a month and neutral EIA numbers being perceived as bearish by the market.  Additionally, there may have been a hopeful froth on the buyside of options last month.

Particulars: Bearish hedge funds unwind positions, cal 10 on back; bullish hedge funds bid Calls and Call Spreads but not as aggressively as previous levels.

Sectors: Banks and dealing funds support  call-side of the market as they try to hedge smaller delta calls sold to funds earlier in the week.

Market Makers/Position Traders: Appropriately neutral although they may have overloaded on short dated options going into Thursday's number.

Overall, the week started hopeful with an upside surprise in Thursday's EIA number and ended disappointed.  In volatility terms Feb dropped 5% while its seasonal partner march dropped less than 2.5% on the week.  Vol bulls rolled their positions further back.


Natural Gas ATM Volatility Curve: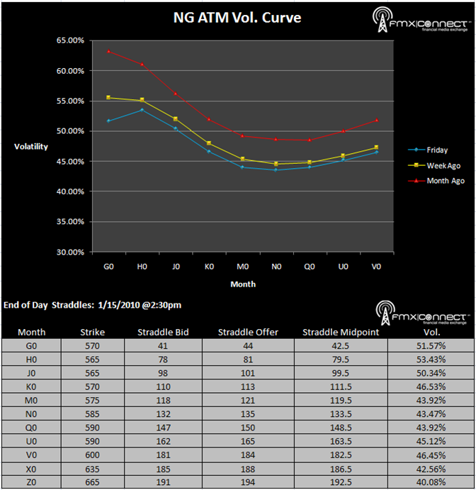 Natural Gas Smile: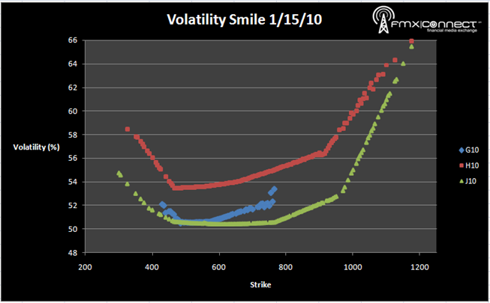 ***From NYMEX Settlements

Natural Gas Euro Options Top Open Interest By Month: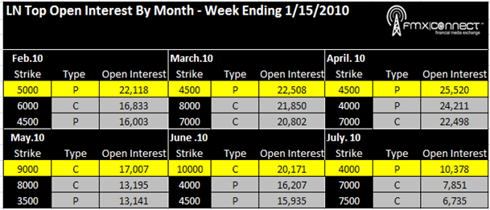 Natural Gas Euro Options Top Volumes By Day:





NYMEX Henry Hub Natural Gas COT Report:



--------
Natural Gas Daily Activity Recap: 
FMX | Connect (Reported 1/15/2010)
Activity was focused primarily on the front 6 months of the curve today as locals and funds adjusted short term positions heading into a long weekend. Volatility in the balance of cal 10 started off the day noticeably softer and that selling pressure was prevalent through the day. One utility trader noted that vols have been softening in the front summer for the past week or so and that the market remaining range bound is not helping the volatility bulls. Banks seemed to notice the same thing as they were observed adjusting their skews on the upside calls, favoring call sprd selling. Longer dated upside was active,  although trading was thin.
FMX | Connect (Reported 1/14/2010)
Volatility was slightly lower when the mkt opened this morning as small funds and floor locals began offering downside in the front part of the curve. As the morning approached the release of the weekly EIA storage reports, banks and funds were seen bidding up close to the money calls, especially in the first 6 months of the curve. Traders responded immediately to the report by pushing the market down and volatility with it.  Vol was in a point or two during that period. After the sell off stalled,  funds were anxious, searching for bargains in the form of single strike calls and call sprds, particularly through the balance of cal 10.  Utilities and producers were cautious sellers, offering, but not very aggressively.  Banks again were seen sparsely in the back part of the curve today bidding calls through cal 12.
FMX | Connect (Reported 1/13/2010)
Futures turned around and rallied towards the end of the morning, and funds took notice as it continued through the early afternoon.  Close to the money calls and tight call spreads in the front of the curve were bid aggressively. Banks joined in but seemed to favor lower, close to the money puts; that trend continued through the trading session well into the afternoon.  There is interest further out the curve through cal 12.  Banks are still bidding for upside call markets, but not aggressively at all. Funds and market makers are on offer side, they are not aggressive either; trading is limited.
FMX | Connect (Reported 1/12/2010)
The market made a nice comeback later in the day after opening lower again.  Vol. started off soft then firmed a bit during afternoon trading.  Banks and producers were seen leading that charge bidding up calls in the front part of the curve through the balance of cal 10. conversely, funds were observed in the same part of the curve offering puts fairly aggressively. The activity seen in the first days of the new year in the back parts of the curve has dissipated to a large degree as banks are not as present as they had been.  Vol. levels have remained firm, despite their absence. Fences were seen bid on legs in cal 13, though not much traded.
FMX | Connect (Reported 1/11/2010)
Volatility again took a hit in today's option trading.  The barrage began early and continued through the day.  Players didn't begin to buoy it until later in the day when funds and floor were seen buying and bidding on closer to the money calls and straddles in the front part of the curve.  Banks were a bit more reserved than they had been in the past few sessions with the futures reverting to the lower part of a very range bound trading pattern.  Their absence was particularly glaring further out to the back part of the curve where they had been seen in recent sessions bidding calls and vols.
 
----
About FMX: FMX Connect is an information, data, and analytics portal for Commodities. The portal provides an all-in-one package including essential market data, independent third party research, industry news, and commodity trading tools. FMX Connect provides efficient, effective, and thorough data that bridges all aspects of commodities onto one screen. The Result; A user friendly application for hedge fund traders, OTC brokers, individual investors, and industry participants
-----
Note: The information presented, while from sources generally believed to be reliable, is not guaranteed and may not be complete. FMX | Connect makes no representations or warranties regarding the correctness of any opinions or information. Past results are not necessarily indicative of future results. Nothing in this report should be construed as a representation to buy or sell shares, futures or options, which contain considerable risks. For internal client distribution only. Any reproduction, re-transmission, or distribution of this report without permission is prohibited. Media correspondents or reporters may not quote any one page or section in its entirety and must attribute all quotes, ideas or concepts herein. Copyright FMX | Connect, ©2008-2009. All rights reserved.


Disclosure:
None