Very few companies can boast that they have outperformed the largest firm by market cap within the last 5 years, and many of them have been small enough for the lemonade stand operators to buy a few hundred shares. The stock I am referring to is Discover (NYSE:DFS). I will have to explain in brief why this has such a bull case.
Discover is a mid-sized multi service financial institution that is a cross between a bank and payment processor since it has a banking and a payment service segment. Its main revenue source comes from the outstanding balance interest charges on the credit cards that they issue. This shelters them from decreased swipe fee costs. In the last year, the outstanding credit balance on customer credit cards increased 3.3%. Discover had came from an average net charge off of 7.44% in 2010 to 3.99% in 2011 and a continuing decreasing trend towards 2.4% for 2012. Meaning, less unpaid credit card balances are having to be written off as potentially never being paid, and more people are paying off their debt, increasing capital inflows, possibly from the improvements in the labor markets. This is a cost savings for Discover as they need to have less money depreciated from their accounts, saving Discover money on their loan provisions.
Discover's Management has also made good decision, acquiring select companies, that could easily be absorbed by the company and create profit inflows. Included in these acquisitions was the purchase of a Student loan originator for $600 million, with a portfolio with an aggregate principal of $7 billion. This acquisition has been a boon for the company given the segment has recently grown to over $10 billion since 2010. The risk pertaining to the student loan segment, consists with the fact that with the current administrations re-election, it is more likely that possible student loan legislature could be added or amended, similar to how they did so earlier this year, making the federal government the sole servicer of Federal student loans. Discover's most recent acquisition is that of a Mortgage servicer for $56 million, allowing them to become loan originators at a time when the housing market is in a recovery. We will have to see how this pans out.
Discover's other portion of the Banking segment includes deposits which consist of online savings accounts and certificates of deposit, which have grown substantially, from $39 billion in Q4 2011 to $41 billion in the 3rd Quarter of 2012. The positive sign of continual capital inflows and reinvestment rates staying high, are juxstaposed to the fact that the re-investments are going from longer term CD's to shorter term, 1 to 3 year CD's.
Discover also owns three proprietary networks, Discover Network, Pulse, and Diners Club international. Discover Network operates mainly in North America processing, Discover branded credit card transactions. Pulse operates 800,000 ATM's and other Point of Sales terminals, where debit cards may be used, again in North America. Diners Club International operates in 185 countries, it also gives perks for corporate and professionals. These networks gain their revenues from transaction fees, discounting the transactions by a certain percentage per transaction. This is a nominal part of the revenues so a minor reduction in transaction numbers would not greatly affect Discover's revenues. Their recent partnership with PayPal should boost their transaction numbers, as PayPal begins to issue Discover branded credit cards to potentially 115 million person user base. Keep in mind that this could also increase their credit card balances that they get interest income.
After trading down from fresh 52 week highs, the technical's show that we can expect a pull back, given this stock has climbed from $5 to $41 in 3 and a half years. The MACD indicator has been creating a small negative divergence on the daily's, as seen by the chart below. I had expected a short, but strong pull back, which came the last two trading sessions and as I type this, the stock has fallenfrom $41.49 to $38.30.
click to enlarge)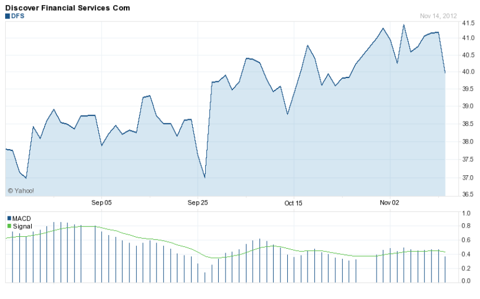 Its last close puts it below the lower Bollinger band, and far below its 20 day MA, showing that perhaps now may be a good spot for an entry, as it could be oversold. A recommendation would be buying it as it retraces back below $37.60 and probably settles near $36.89.
click to enlarge)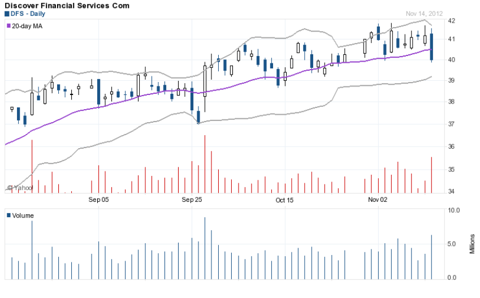 As the macro issues in the Unites States become resolved, mainly the Fiscal Cliff, I believe we will see a rush back into this growth stock, seeing gains once again. I expect a strong earnings release and market share growth as PayPal moves them into the potential hands of 115 million users.
There are foreseeable risks involved with this trade, the potential for further regulations on student loans and mortgage originations. Taxes are a large part of the fiscal discussion and increases in these may have an adverse affect on Discover's CD investment. Lastly, if the fiscal cliff is not resolved, or enough of the main points aren't corrected, we could see unemployment rise again, causing the net charge off rates to increase and a losses due to loan provisions.
Disclosure: I have no positions in any stocks mentioned, but may initiate a long position in DFS over the next 72 hours.