We're near all-time highs in the market again, but anybody paying close attention to the market since mid July wouldn't say it's been a smooth ride. Here's how things look since July 1st, and then since August 12th, when my Marketplace service Cash Flow Compounders launched.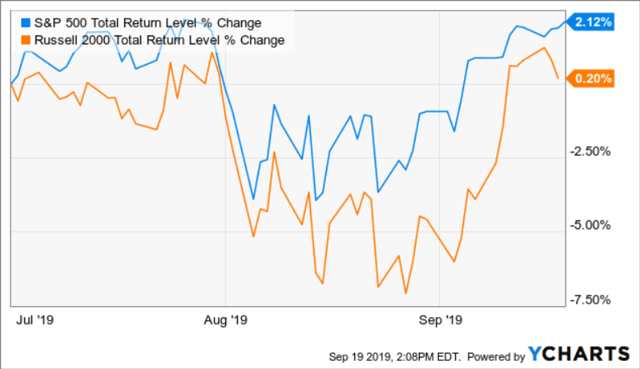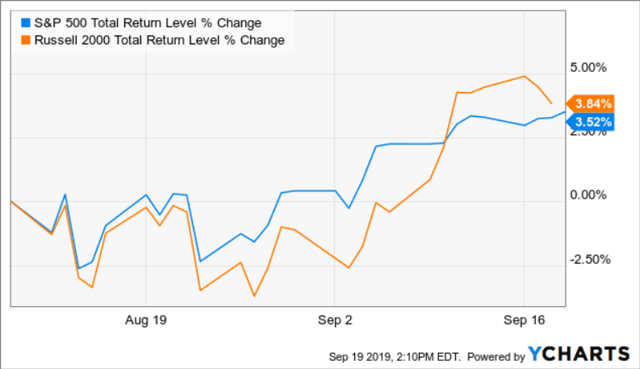 I mentioned this already when I launched the service, but I've been preparing for the potential end of a bull market. My strategy has been to crunch the numbers on the best companies in the world – companies with sustainable advantages, great balance sheets, strong quantifiable returns, and resistance to recession environments – and buy them when they get to an attractive price. The idea is to have exposure to the market but have protection when things go bad.
How's that going? Well, so far we've seen a 5.1% return as compared to 2.45% for the S&P 500. And I think we're just getting started. We're seeing signs that value is coming back. We still don't know what direction the economy is headed, but I feel more comfortable with a value-oriented portfolio, and I think we're poised to do well whatever the environment. Almost half of our compounder names are recession resistant type stocks, including some healthcare and consumer staples type companies.
You might say that I'm trying to have it both ways – focused on long-term performance, but sharing news about 8-week returns. That's fair. What gives me more confidence about our portfolio is that the average 2020 P/E for our holdings – 17 so far – is under 12x. So even though we're off to the right foot, we still have room for returns to go higher.
The portfolio is split into three:
core compounders, companies that fall among the top 100 in the world, based on the quantitative research I've done;
special situations, or companies in the next tier of quality that are trading at interesting prices; and
fixed income, a batch of closed end funds to complement the portfolio.
Each idea is backed my own due diligence and research, including fundamental analysis and estimates. You can get an idea for how I approach things here as you can read some of my top ideas from this year and over the years. And this is a portfolio that's going to grow and change as we continue to find and add great companies that sell off or otherwise become attractive. I publish an average of 2-4 ideas a month, depending on what prices the market is offering us. 
Take a listen to my latest podcast here too, where I talk about our portfolio and a few of our favorite ideas.
Our average portfolio yield by the way is 4.9%, not too hot, not too cold!
Why does this matter? If you're interested in a value approach and in finding the best companies in the world and attractively priced, you should try Cash Flow Compounders. And there are two reasons to start today:
You get a two-week free trial, so there's no risk if you don't think it's a good fit.
You can still lock in the legacy founding member rate of $639 a year (or $79 a month if you don't want to commit for a longer period). That's going to change on October 7th, so make sure to get signed up soon.
I'm sharing a few reviews from our initial subscribers so you don't have to just take my word: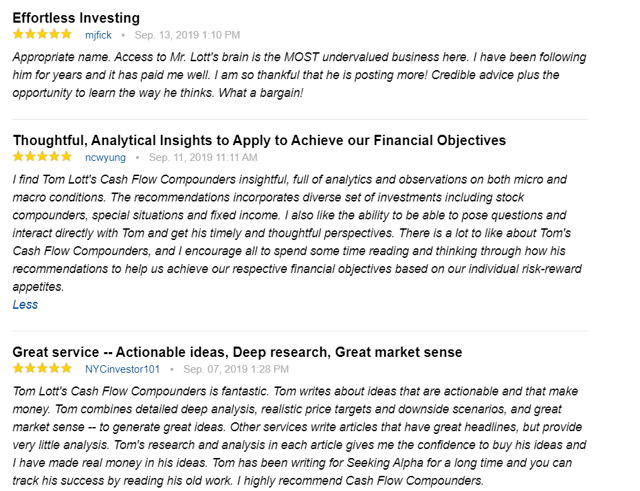 The market feels like it's poised for a change. I'm going with what will work in any market – great companies at a great value. Interested? Try Cash Flow Compounders and see what ideas are coming down the pike.