Since our launch August 8th, our recommended Compounders have generated 17% returns, vs the S&P up 10%. That is 7% of Alpha, a nice comparative margin. With 2 names recommended in just the past month or so too, it's a bit early to really judge them.
Curious about our earlier Compounder names, I pulled up a version of the top 10 Compounders from August. Every day, we rank our Compounders on a myriad of factors, with the cheapest names showing up at the top of the list. Most here know that our rankings are built via a combination of P/E, EV/EBITDA multiples, leverage, and ROE's. I use Z-scores to measure relative cheapness and also focus on earnings revisions and free cash flow.
We of course spend a lot of time forecasting earnings, digging into financials and talking to management teams in order to round out our due diligence.
On August 27th, our Compounders top 10 list was comprised of the following names:

Had we bought all of these names on August 27th, we would have more than doubled the market's returns, up 26% vs the S&P up 10% from that date. Most we did recommend (Dell as a means of owning VMW), but a few slipped through the cracks, namely SNA and GWW. With both suffering from negative earnings revisions, I chose WAB as the best industrial name to recommend.
Our entry point system seems to have shown quite a bit of success in finding beaten up names. I wonder if our computer system is better at picking stocks than I am.
Looking a bit more carefully at this list, I note that it is pretty diversified. We see a couple of industrials, a few financials, a couple of tech names, a healthcare name, and a media name.
My mistake seems to be in often NOT always recommending stocks on the top 10 list, due to my own personal biases or conservatism, or ignorance.
Schwab is a great example. When it dropped from $44 to $33 this Fall, SCHW overnight became a top 10 Compounder. Our work suggested that only 8% of EBITDA was related to trading commissions (which they announced they would do away with), and the stock had fallen over 20%. That should have been a signal, but I got nervous about the still somewhat elevated multiple and the potential impact of falling interest rates.
Today of course, Schwab has bounced back from $34 to over $51 in just a few months. That is a missed opportunity, and one in which I take full blame.
And don't get me started on Netapp (NTAB), which a storage comp to EMC (and Dell), that an insider warned me to avoid. I took it out of the Compounder's portfolio. I do find Dell much cheaper, so am happy with our exposure there, but it also has bounced back dramatically.
I perhaps need steelier nerves, and/or to trust more in our model. As an aside, I wonder if I have tapped into a quant model to some extent. I am hoping not, but it's a possibility.
I am 100% sure that conviction is only gained via full knowledge of a company however. I am less inclined to panic sell a name if I know it and am smart on it. I appreciate any stock ideas, but am careful not to buy them until I have vetted them myself.
We have built up our Compounder's list to 125 names today.
Our Second Best Idea for 2020
In the list above, there is only one name that is down. Comcast (CMCSA), a blue chip Compounder with a remarkable management team, seems quite cheap.
Indeed, we wrote it up for subscribers on September 3rd, when the stock was $43.88 per share. It is a hair higher today.
Since that article, the company beat Q3 earnings handily, reporting $0.79 in EPS (up an impressive 16% year over year), with EBITDA up 17%.
With leverage at 2.9x on a debt/EBITDA basis, some view this as too high. Management at a conference last week indicated that they would reduce leverage in 2020, and wouldn't begin to buy back shares of stock until 2021.  I noted that the stock fell a bit after management said that.  Media investors and stocks tend to carry a ton of debt.
Even with a bit higher leverage than what is typical for the company however, Comcast has an A- rated balance sheet.
While many view Comcast as just a big cable company, it is eerily similar to Disney (DIS).
Disney owns:
-Theme parks (Disneyworld, etc.)
-Movie studios (Lucasfilm, Marvel, Pixar)
-Cable Networks (ESPN, Disney Channel)
-Broadcasting (ABC)
-Local TV Stations (8 local ABC affiliates)
-Streaming services (HULU, Disney+).
Comcast owns:
-Theme parks (Universal Studios)
-Movie studios (Universal, Dreamworks)
-Cable Networks (CNBC, USA, E!)
-Broadcasting (NBC, 6 years in a row the #1 most watched channel)
-Local TV Stations (11 NBC local affiliates)
-Streaming services (NBC, HULU part owned and selling, Peacock), and
-Cable/Video/Internet in the US, Sky in Europe
Really the ONLY difference is the cable business at Comcast, which is admittedly quite big, about 2/3s of the company's EBITDA. There, the best comp is probably Charter (CHTR), the number two US cable company, which trades at 10.4x 2020 EBITDA.
Comcast trades at 8.1x.
Comcast has equal or better subscribers than Charter. Legacy Charter subs are quite poor, although they purchased Time Warner Cable, with many high quality subscribers (in NY and LA). But still, Comcast's EBITDA growth in 2020 will be better than Charter (7.1% vs 5.8%). And, CMCSA has a much better balance sheet too. Charter is 4.2x levered on a debt/EBITDA basis.
Cable stocks across the board have been solid performers over the past year (CHTR up 48%, CABO up 71%, ATUS up 46%, CMCSA up 19%).
Perhaps it is their other businesses weighing it down? Honestly, it's impossible to say. DIS is up 33% year to date. Since the Disney+ streaming channel was launched this quarter, Comcast stock has been heavy.
Perhaps the market feels that CMCSA is late to the streaming party, with their Peacock service not set to launch until March of 2020. Disney+ reportedly was adding 1mm subs a day early on, and I wouldn't be surprised to see it stabilize at 20-25mm. Baby Yoda is all the rage.
The profitability impact of this is miniscule today I should point out. Even at 25mm paying subs (many are free Verizon users today who get the service for a year for no cost), revenue would only be $2BB (3% of total, and not likely that profitable either).
Leverage concerns and a lack of a buyback plan perhaps are a factor. Although, with an A- balance sheet already, and only at 2.9x debt/EBITDA, I am not sure how anyone can really get too worried about this. They are less levered than EVERY SINGLE other cable name.
Most impressively to me, is the fact that Comcast will generate a ton of free cash flow in 2020. D&A will be roughly $13BB in 2020, and capex should be about $10.5BB. That means, reported earnings are understating real cash earnings by about $0.55 per share on an annual basis.
My math suggests CMCSA will throw off well over $15BB of free cash flow in 2020, and perhaps as high as $17BB. Excluding growth capex of $2.2BB, I estimate Comcast will throw off over $4 in FCF/share, meaning the stock is trading at a 9.4% FCF yield, or about 11x cash earnings.
Comcast will likely grow EPS at double digit rate for years to come.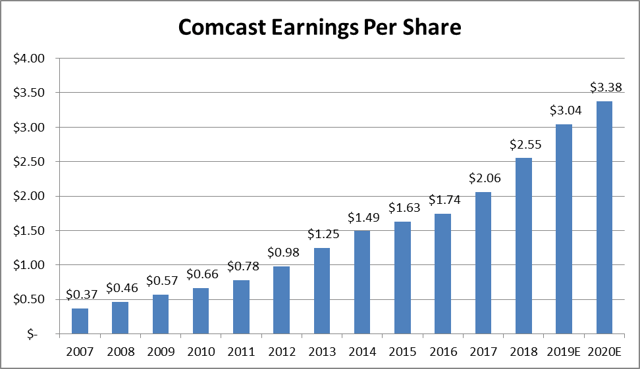 Source: Author Spreadsheet
A 9.4% FCF yield, or 11x cash earnings multiple is a crazy low valuation for a blue chip name like CMCSA. Note above too that EPS grew right through 2009. Anyone worried about a recession probably should own some of this. Dozens of REIT's, staples and non-cyclicals are trading at all time high valuations. A talking head on CNBC last week stated that REITs and utilities are trading 20% higher than their average P/E ratio.
On a sum of the parts basis, assuming the cable businesses are worth just 10x EBITDA, still a slight discount to CHTR, and the other media assets are worth 10x on average (12x for theme parks, 16x for studios, 8x for channels, 10x for NBC), then I see 30% upside to Comcast on a sum of the parts basis.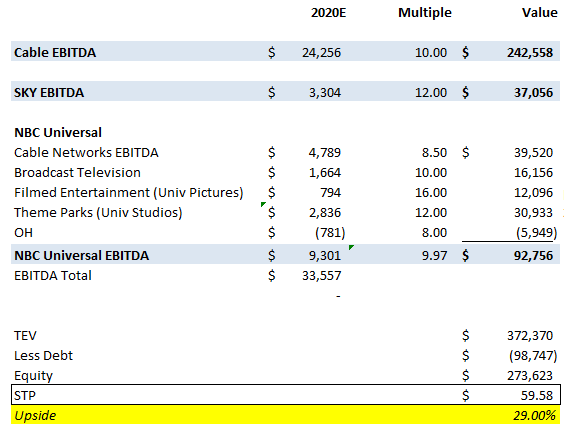 This could easily be a one year target for Comcast. It reminds me of FOX when we wrote that up at $24 per share, and the sum of the parts was about 40% higher.  Fox worked out extremely well.
By the way, if Comcast traded at just a Charter EBITDA multiple, it would be a $61 stock, up over 40%.
A Disney multiple for the non-cable assets and a Charter multiple for the cable business would imply a $73 stock, up almost 70%.
Comcast trades typically at 17x earnings, Disney at 18x (over a 7 year look back period). Today, DIS is at 27x, and CMCSA is at 14x. Both are forecast to grow EPS by 9% next year.
At just 17x, Comcast would trade to $57. At 20x, Comcast would trade to $68.
I continue to buy shares, and soon expect Comcast to be one of my biggest positions.
By the way, Charter trades at a 6.0% 2020 FCF yield, vs a 9.4% FCF yield at Comcast. Disney trades at a 5.4% FCF yield on 2020 numbers.
The risk of course is that high speed data subscriber growth dies, and video subscriber declines. This doesn't appear to be the latest trend however, according to the CFO a couple of weeks ago:
Broadband clearly is a business that's having a really strong year. So we'll this year, we'll finish again a year in cable where we will add, I think a record number of new adds in customer relationships, driven by broadband. Broadband will again add call it more than 1.3mm net adds for the year, which will be the 14th consecutive year of more than 1mm, and were going to end the year with a very strong fourth quarter. So I think it's safe to say that we will have a fourth quarter net adds in broadband that are easily going to exceed where we were last year.

And so, that together with the fact that for the full year, we're going to come in the fourth quarter with meeting all of the guidance that we set in the beginning of the year and through the course of the year, which was that we are going to expand our margins by slightly ahead of 100 basis points together with improving capital intensity by at least 150 basis points, all of those continue to be on track.

So when you look to 2020 for the business, those trends continue, and it's safe to say that looking at our connectivity businesses, which this year will have around $26BB of revenues, I'd expect to add next year, call it a couple of billion, $2 billion of incremental revenues in that space, which obviously at the high-margin, incremental margin that that business has will lead to strong EBITDA in the cable business and we'll continue to see improvement in capital intensity as well."
So, cable revenue looks to be $2BB higher next year, up 8%. And just as important, margins will be 100 basis points higher, and capex 150 basis points lower. That much incremental revenue plus 2.5% of FCF margin improvement implies 9.6% of cash flow growth in cable in 2020 vs 2019. Video subs will decline I'm sure but broadband subs are 2x the margin and growing even faster. Recall that EPS is expected to grow 9% in 2020.
In my downside case I have to look back to 2008 multiples, before Comcast owned NBCUniversal assets (which are worth at least 12x today). At that time at the bottom, when broadband didn't get any respect, CMCSA traded at 6x EBITDA. Assuming a 7x EBITDA multiple today implies downside to $35.
So, I expect $8-9 down, and perhaps $30 up. With $4 in FCF/share generated every year, and the company paying down debt, in 2 years, Comcast already trades at 5.6x EBITDA.
That means if in 2021, EBITDA grows by 6% each year (a conservative estimate), and it garners a 10x EBITDA multiple, then it would offer almost zero downside, and be worth upwards to $75 per share. That is upside of 75% from today's levels.
Conclusion
Investors with 2 to 3 years of patience, likely will see limited downside, with substantial potential upside. I'm hard pressed to find better management in the space, even against the likes of Bob Iger (at Disney, who is indeed amazing but could retire soon), and John Malone (25% owner of Charter, also a fantastic allocator and visionary in the media space).
Anyone who scoffs at this, the numbers do support it. Comcast has compounded EPS at a 26% rate since 2005, almost DOUBLE the growth rate of DIS at 14%. Charter, having gone through bankruptcy, and also recently rolling up others in the space, is harder to judge. Until 2017, Charter operated at a loss, and FCF isn't particularly exciting either. I do have Disney in my Compounder's portfolio, and Charter in my 2nd tier bucket, but the math is telling me where the value is today.
Disclosure: I am/we are long CMCSA.
Additional disclosure: I am long all Compounders mentioned except SNA and GWW