Last night, Tootsie reported sales of $182.2m. Looking back at historical Q3 results (an important quarter given halloween sales) we find that Tootsie had its lowest sales result in a decade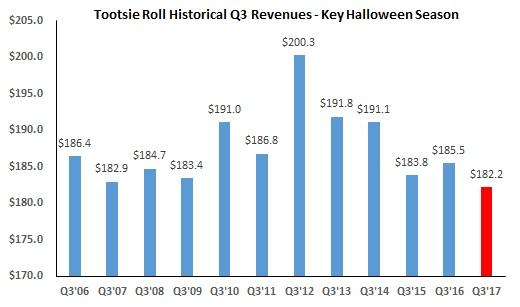 Even worse, the sales decline translated into earnings de-leveraging. Management gave a cryptic explanation: 
"Third quarter and nine months 2017 net sales were adversely affected by the timing of certain customer pre-Halloween sales during the third and fourth quarters in the comparative 2017 and 2016 periods. Although higher ingredient costs and increased freight and delivery expenses adversely impacted third quarter and nine months 2017 results, continuing improvements in manufacturing plant efficiencies driven by capital investments and ongoing cost containment programs mitigated some of these higher costs and expenses"

The bulls continue to think Tootsie is a takeover target, yet it is not clear who would want to buy a company with declining sales and losing market share. The Company continues its policy of declining to comment to investors or provide a roadmap or succession plan.
At the moment, the only buyer of Tootsie is the Company which needs to stem its net income decline to bolster EPS. At nearly 4x sales and 19x EBITDA Tootsie continues to be richly valued by investors for no apparent reason. We believe a near term catalyst is the outcome of Nestle's intended sale of its North American Confectionery business, which has yet to be sold since announcing intentions to sell in June. The rumor was the asset could fetch $3bn (implying 3.3x sales), but with no buyers emerging yet, there remains a big risk of a large valuation reset for industry valuations. Strategic buyers need top-line or international growth, but Tootsie offers them neither one. 
Disclaimer
This research expresses our investment opinions, which we have based upon interpretation of certain facts and observations, all of which are based upon publicly available information, and all of which are set out in our complete research presentation report on our website. Any investment involves substantial risks, including complete loss of capital. Any forecasts or estimates are for illustrative purpose only and should not be taken as limitations of the maximum possible loss or gain. Any information contained herein may include forward looking statements, expectations, pro forma analyses, estimates, and projections. You should assume these types of statements, expectations, pro forma analyses, estimates, and projections may turn out to be incorrect for reasons beyond Spruce Point Capital Management LLC's control. This is not investment or accounting advice nor should it be construed as such. Use of Spruce Point Capital Management LLC's research is at your own risk. Any historical performance achieved from any idea or opinion from Spruce Point Capital Management should not be considered an indicator of future performance. You should do your own research and due diligence before making any investment decision with respect to any of the securities covered herein. Spruce Point Capital Management, subscribers and/or consultants shall have no obligation to inform any investor or viewer of this report about their historical, current, and future trading activities
You should assume that as of the publication date of any presentation, report or letter, Spruce Point Capital Management LLC (possibly along with or through our members, partners, affiliates, employees, and/or consultants) along with our subscribers and clients has a short position in all stocks (and are long/short combinations of puts and call options of the stock) covered herein, including without limitation Tootsie Roll Industries Inc ("TR" or "Tootsie" or "the Company"), and therefore stand to realize significant gains in the event that the price of its stock declines. Following publication of any presentation, report or letter, we intend to continue transacting in the securities covered therein, and we may be long, short, or neutral at any time hereafter regardless of our initial recommendation.
This is not an offer to sell or a solicitation of an offer to buy any security, nor shall any security be offered or sold to any person, in any jurisdiction in which such offer would be unlawful under the securities laws of such jurisdiction. Spruce Point Capital Management LLC is not registered as an investment advisor, broker/dealer, or accounting firm.
To the best of our ability and belief, as of the date hereof, all information contained herein is accurate and reliable and does not omit to state material facts necessary to make the statements herein not misleading, and all information has been obtained from public sources we believe to be accurate and reliable, and who are not insiders or connected persons of the stock covered herein or who may otherwise owe any fiduciary duty or duty of confidentiality to the issuer, or to any other person or entity that was breached by the transmission of information to Spruce Point Capital Management LLC. However, Spruce Point Capital Management LLC recognizes that there may be non-public information in the possession of Tootsie or other insiders of Tootsie that has not been publicly disclosed by Tootsie. Therefore, such information contained herein is presented "as is," without warranty of any kind – whether express or implied. Spruce Point Capital Management LLC makes no other representations, express or implied, as to the accuracy, timeliness, or completeness of any such information or with regard to the results to be obtained from its use. All rights reserved. This document may not be reproduced or disseminated in whole or in part without the prior written consent of Spruce Point Capital Management LLC.
Disclosure: I am/we are short TR.