(I am writing this article for investors in general, my investing horizon for this stock is long (1 year or more) and the risk is those that usually accompany equities. Before investing in any of the stocks mentioned, consult a financial professional. I have no ties to Wells Fargo and am writing this piece for no compensation.)
Wells Fargo (NYSE:WFC) was started in San Francisco more than 150 years ago. The bank catered to the settling mining industry and the businessman who accompanied them on their way West. It has since grown, like most current banks, from mergers and acquisitions throughout the years and is now worth 175 billion in current market cap and servicing just about anything to do with money.
Wells Fargo has a corporate culture of conservative loans, avoiding bubbles and buying low for its M&A activity. The company was the only one of the large banks to have a AAA rating in 2007. It picked up Wachovia for about 20% of its original value pre-mortgage meltdown in 2nd-3rd quarter 2007.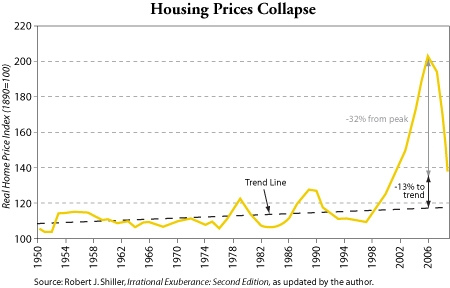 According to the chart above any bank owning home price related assets should have seen massive trouble from this bubble bursting. Not Wells Fargo though. According to their 2007 annual statement Tier one capital only fell 1.5% points from 2006 to the end of 2007, from roughly 9% to roughly 7.5%. Net income fell slightly, about 5%, from 8.42 billion to 8.05 billion.
That's pretty exceptional compared to the drops in its rival earning. Wells took advantage of its position and hurt competition and rapidly gained market share in deposit base. They also originated loans other banks were not capitalized or willing to make. Wells found a large consumer base of middle and lower class citizens, who banked at Wachovia (retail banking is what Wall Street calls these customers) and was trying to fit them into their model also. So how did the banking sector do in this time period with mortgages, the cornerstone of their earnings, falling apart?
Not to well, pretty much any bank that got caught holding mortgage related securities in a game like hot potato suffered huge losses. Wells was different. Their earnings from the year 2008 was positive, they earned 2.8 billion, even after finalizing the acquisition of Wachovia. Local, state, regional, national and especially international players did not fare as well as Wells and Wells managers went to work and could focus on the future, others were trying to make it to years end.
Wells dodged this initial meltdown but still faced some affects from the slowed economy and mortgage lawsuits that accompanied their acquisition of Wachovia. When you buy a bank you take on all of their liabilities, both financial and legal. Many banks were very secretive of how bad their balance sheets really were and I imagine Wells Fargo overpaid for Wachovia, although they did not overpay as much as others did, such as Bank of America (NYSE:BAC) with Merrill Lynch and J.P Morgans (NYSE:JPM) purchase of WAMU. They took (and are taking) all the lawsuits in stride and fight along with their competitors to get off the hook.
Wells has been shoring up its balance sheets the past couple of years after the merger was completed. This has really kept earnings low. Wells has had to rely on simple and safe income streams. No longer was the small amount of leverage Wells used before even there.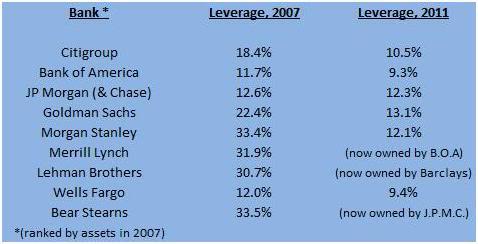 Add to that Wells getting ready for BASEL 3 and you will see that Wells has had some bad macro years and has dealt with each of them in stride. It is very hard to tell if its management luck or just something else. I think Wells Fargo has shown evidence that the right guys are up top and they echo the right values down the ranks accordingly. I would imagine a loan officer who has a high default rate on loans He/She issues would stand out like a sore thumb. The main reason why Wells Fargo attracts good talent is their corporate culture according to a company official, hopefully their conservative nature will also expel corrupt and heavy risk taking talent.
Beyond attracting good talent, these employees find a bank that has more ammunition than others to work with. If the economy improves Wells will be the first into the pool dominating the medium risk, medium return loans. Their reputation is strong amongst consumers and many shun the other TBTF banks due to their involvement with being risk takers.
I am a young man looking to go into accounting and would love to work at Wells Fargo, their conservative style seems safe for a career. they have cut about 2,000 jobs while Bank of America cuts 16,000. Wells Employs about 267k people and Bank Of America (BAC) 272k. I would feel more comftorable at Wells Fargo.
Wells Fargo has a solid history but what about its recent financial status? Just as solid as before. Wells Fargo consistently does well, they can survive more financial environments than our other large banks and have proven that through the last 5 years as I have already explained.
Wells Fargo's last quarter reported shows a very healthy company. Some points from their 3rd quarter 2012 earnings release supplement's
Record earnings of $4.9 billion, up 7% linked quarter (NYSE:LQ) and 22% year-over-year (YoY)
Record diluted earnings per common share of $0.88, up 7% LQ and 22% YoY
Total revenue of $21.2 billion relatively stable as lower net interest income was largely offset by noninterest income
Positive operating leverage; efficiency ratio improvement to 57.1%
Pre-tax pre-provision profit (2) of $9.1 billion, up $209 million Lq.
ROA = 1.45%, up 4 bps LQ and up 19 bps YoY
ROE = 13.38%, up 52 bps LQ and up 152 bps Y
Capital levels remained strong. 10.06% Tier 1 common equity ratio under Basel I and estimated Tier 1 common equity ratio under Basel III of 8.02%
The last one is the greatest to me. BASEL 3 will be a huge event and Wells is the best able to cope with it. I think even if you do not know all about BASEL 3, you can obviously see that Wells is the one to trust for a requirement of more liquid and less risky balance sheets.
The balance sheet is solid also with these key points, again outlined in their Q3 2012 earnings supplement.
Loans- Total period-end loans up $7.4 billion
Core loans- Core loans increased $11.9 billion primarily driven by the decision to retain$9.8 billion of 1-4 family conforming first mortgage production- Non-strategic/liquidating portfolio decreased $4.5 billion
Short term Investments/Feds funds sold- Balances up $25.8 billion driven by strong deposit growth
Securities available for sale (AFS)- Balances up $2.5 billion driven by an increase in fair value as new investments were largely offset by the continued run-off of higher-yielding securities
Deposits- Balances up $23.3 billion
Long-term debt- Balances up $5.8 billion as $7.4 billion in issuance's were partially offset by $2.2 billion in maturities
Common stock repurchases- Purchased 16.5 million common shares in the quarter and an additional estimated 9 million shares through a forward repurchase transaction that is expected to settle in 4Q12
Credit- Strong core credit performance; $200 million reserve release on strong underlying credit.
Effect of regulatory guidance implementation on credit-$1.4 billion reclassification of performing consumer loans to nonaccrual status. $567 million in net charge-offs fully covered by loan loss reserves
I think Wells is poised to do well in the upcoming macro of 2013 with its consistent earnings, conservative culture and fortress balance sheet. I would recommend buying it for a domestic play, financial sector play, mortgage play (Wells Fargo is the largest originator of mortgages), Dividend play, large cap play and value plays. This stock can meet each of those purposes for your portfolio.
Thanks for reading my article and have a good day.
-Mike.
Disclosure: I have no positions in any stocks mentioned, and no plans to initiate any positions within the next 72 hours. I wrote this article myself, and it expresses my own opinions. I am not receiving compensation for it. I have no business relationship with any company whose stock is mentioned in this article.