When Andrea Bernasconi posted his DCF model for Pioneer Natural Resources (NYSE:PXD) with a variety of realistic assumptions, I found it reasonable to attach a bullish scenario to give investors a range of outcomes based on pricing scenarios. The outcome is important as it shows how sensitive many company's assets are relative to realized prices.
As a reminder, here are the assumptions from Bernasconi's spreadsheet- all remain the same besides the sixth. This is for PXD's Permian and Eagle Ford investments; assuming well EUR's, etc. are the same in both plays. The Mid-Stream investments and other assets are not considered for any of these calculations.
Case #1 is the Base Case
Case #2 is the Rising Price Case
The outcome from these different inputs shows how sensitive the DCF model can be when prices are slightly adjusted (<2%) growth for 2015 +. The Realization price for Case #1 remains around $40/boe throughout the model and Case #2 varies from $35/boe to $54.6/boe. The price realization for Case #2 includes 2% growth from 2015+ on oil and gas, and a 1.5% growth for NGL's for 2015 +.
(Source: Andrea Bernasconi, edited by me)
What we see here is almost a doubling of the NPV (10% discount) from $13,316 $MM in Case #1 to $25,468 $MM in Case #2 for PXD's undeveloped acreage with less than 2% growth in realized prices from 2015 on. The Net Income/Share value is derived from the Discounted Income value- 'Discounted ($MM).'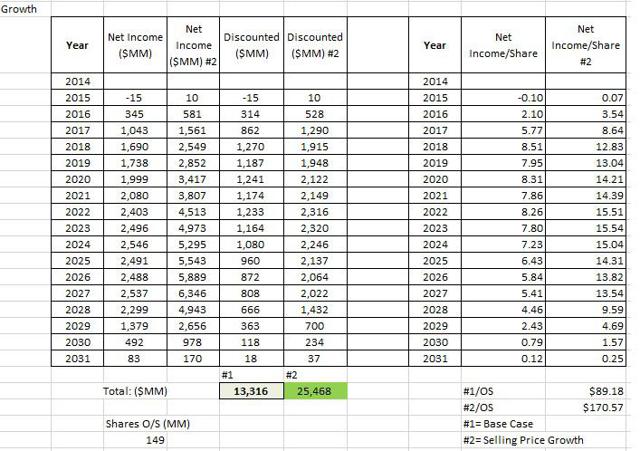 Disclosure: I/we have no positions in any stocks mentioned, but may initiate a long position in 6 MONTHS over the next 72 hours.