Palladium is an often overlooked precious metal, but I don't think that will be the case much longer.
While Gold, Silver and Platinum came down substantially from their highs in 2011, Palladium is actually the only Precious Metal that is near its 2011 high. Palladium is currently trading at $845 per ounce, slightly below its 2011 peak of $862, and looks ready to break out to the upside.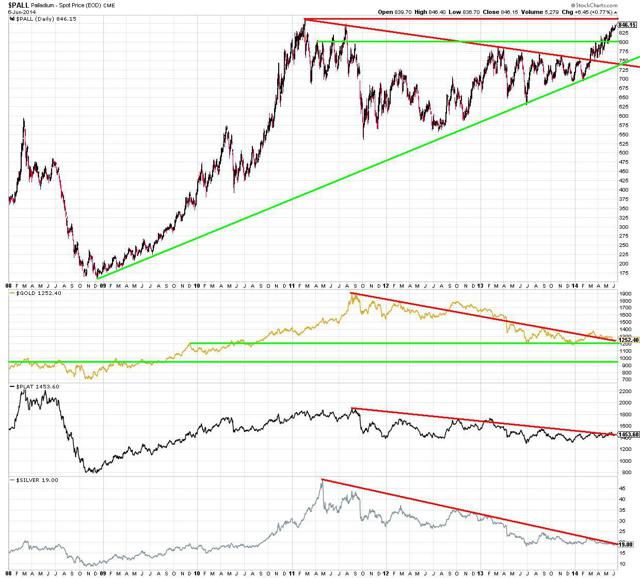 Palladium has been trading sideways since 2011 and had created what is called a "flag pattern". The height of the flag pole is about $700 (from the 2009 bottom to the 2011 top). Earlier this year, Palladium broke out of this flag pattern at $750.
You get a price target of a flag pattern by adding the height of the pole to the breakout level, meaning $700+$750 = $1450 per ounce.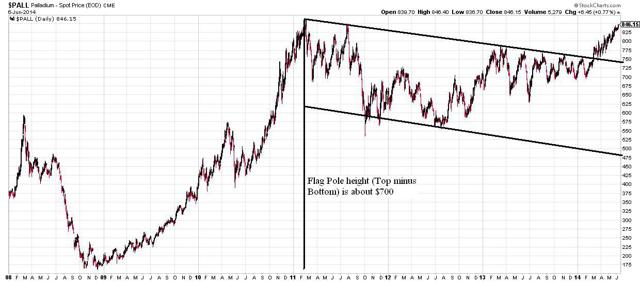 With Gold at $1250 right now, could it happen that Palladium becomes more expensive than gold?
Sure it can!
Back in 2001, Palladium was 4 times more expensive than gold!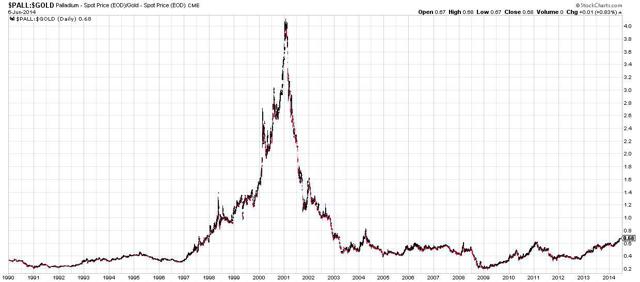 I'm not saying this will happen again, but a 1:1 ratio is not impossible to achieve.
Exactly one year ago, Martin Armstrong - famous for his cycle theories - posted an article called "Palladium - Not Gold?":
armstrongeconomics.com/2013/06/12/palladium-not-gold/
In this article, he stated:
Palladium has been the one precious metal that everyone overlooks. There is a serious shortage and the production is about 2.2 million ounces compared to 1.8 million for platinum. This is one commodity that has a completely different chart pattern and may be the best of the lot in the years ahead.
Palladium is expected to reach a deficit of 1.61 Million ounces this year - the highest ever (!) - according to Johnson Matthey.
When Palladium breaks $850-$860 (the 2011 high), I expect the REAL fireworks to begin here. Investment demand is already at an all-time high, but once the market realizes that the supply crunch in Palladium has to lead to higher prices, I expect demand to jump even higher, thereby creating an even larger deficit.
This could easily become a vicious circle.
More than 80% of world palladium production is concentrated in just two countries: Russia and South Africa. Russia alone accounts for nearly half the total palladium supply, and with the ongoing strikes in South Africa and the sanctions against Russia related to the Ukraine, the situation could only get worse.
Palladium is used in catalytic converters in the automobile industry. If the western nations continue to sanction Russia, this could backfire like a boomerang. If Russia decides not to deliver any more Palladium, the western car producers could get problems finding enough Palladium. Prices would then rise and Russia would actually gain from the sanctions, while the Western car-industry suffers...
One way to play higher Palladium prices is the physically backed ETF (Ticker: PALL). This tracks the price of Palladium 1:1 and has no leverage.
Two other primary palladium plays are Stillwater Mining and North American Palladium. In this article, I will discuss my outlook for North American Palladium.
I have reconciled North American Palladium's Q1 earnings in the table below: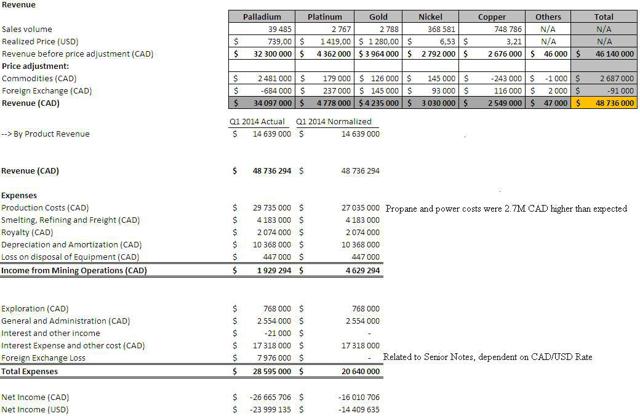 While the company lost 26.7M CAD, some items are non-recurring:
Propane and power costs were 2.7M CAD higher than expected due to a cold winter. This increased production costs and cash costs per ounce (see page 5 in the Q1 report)
The 8M CAD Foreign exchange loss was related to the USD denominated senior secured term loan and the USD denominated credit facility (see page 11 in the Q1 report). I remove this item, as this is depending on the USD/CAD exchange rate at the time of reporting. If the CAD strengthens against the USD, then NAP will benefit from this and could easily report a foreign exchange gain.
When adjusting for these 2 items, Net Income would have been -16.01M CAD compared to the reported -26.7M CAD.
In addition, NAP produced 42,641 Ounces of palladium, while it sold only 39,485 ounces (at an average price of $739 per ounce). The 3,156 ounce difference was primarily due to a build‐up of concentrate inventory in the first quarter of 2014.
So at what price of Palladium would NAP be profitable?
In a normalized quarter, Net Income would have been -16.01M CAD or -14.41M USD.
When adding the 3,156 ounces that were unsold, Net Income would have been -13.42M CAD or -12.08M USD, and it would take an additional $283 per ounce to make up for the 12.08M USD loss (12.08M USD/42,641 ounces = $283/ounce).
When we add this $283 to the average realized sales price of $739, we get to a break even Palladium price of $1,022 per ounce.
This means that - all else being equal - NAP would be break even at a palladium price of $1,022 per ounce.
However, as production will likely increase by year end, this break-even level will come down.
If Palladium does not break out to the upside, I don't think NAP will survive as a going concern. However, if palladium breaks out to the upside, PAL could soon become profitable. There is a very good risk/reward situation for people who would like to capitalize on higher palladium prices.
Disclosure: I am long PAL.