Vertical Interest Advertising Network Highlights Potential
Recent Pullback Represents Excellent Opportunity.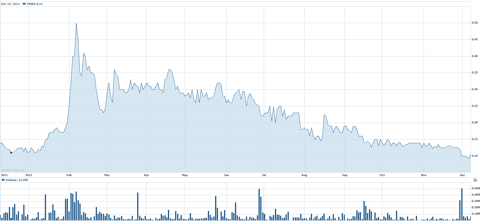 Recently Launched Vertical Advertising Marketplace, Provides Potential for Shareholders.

OTCPK:CRWG
In October, CrowdGather, Inc. announced the launch of a long awaited and highly anticipated "self-service" advertising platform called Adisn®. This highly sophisticated and powerful ad-server technology gives advertisers the ability to easily pay for and place geographically targeted ads throughout CrowdGather's network of niche communities. When combined, the current CrowdGather network reaches 15 million unique visitors who view 180 million pages every month. The visitors (or advertiser targets as we prefer to call them) go to CrowdGather site forums and rather than just "view" information like with most sites, instead "create" information by writing (and reading) posts discussing almost every topic under the sun. On the CrowdGather forum advertising network, people don't just know a topic (which could be, how to repair a leaky faucet? Or what is the best smartphone on the market?), they live breath­­e and obsess, about their passion.
However until the launch of the Adisn® (which again was first released this October), CrowdGather didn't have the capability to offer demographically and/or geographically targeted ads to truly and fully harness the buying power of the 15 million unique monthly visitors in their network. But now they do.
Founded in 2008, CrowdGather is a public social media company with a focus on growing strong, vibrant forum communities that truly connect people in meaningful conversation. With over 180 million page views and 15 million unique visitorsCrowdgather's mission is to improve the world of online communities for end-users, forum owners, and advertisers.
Active as a forum member since 1998, founder and CEO Sanjay Sabnani recognized a unique opportunity to enrich the forum member's experience as well as effectively monetize a network of sites. Beginning in 2002, he began steadily acquiring some of the world's busiest online communities and aggregating them into key verticals.
CrowdGather is now a thriving forum advertising network offering product reviews, unique conversations and communities. Their social media network is made up of thousands of online communities for technology professionals, gamers, and lifestyle enthusiasts.
Sanjay Sabnani is a serial entrepreneur and business strategist with a long-standing passion for the Internet and Technology industry and online network community building. Sabnani has been an active proponent of message boards since 2002, when he acquired General Mayhem (genmay.com), his first message board community. He has occupied senior executive positions in several publicly held companies: as EVP Strategic Development at Hythiam, Inc. (NASDAQ:HYTM), as Director of Business Development and Strategy at OSI Systems, Inc. (NASDAQ:OSIS), and as President and Director at Venture Catalyst, Inc. (VCAT). He achieved recognition as an expert at each company and its respective industry space, assisting in raising over $200 million in public equity financing for these companies. In addition, Sabnani has served as Chairman of the Board for two distinguished non-profits, Artwallah (arts festival) and TiE SoCAl (venture capital networking) and is also the founder of a California based charity EndDependence, which grants scholarships for addiction treatment.
Financially speaking, CrowdGather is a small but rapidly growing company, which we believe could move at an even greater pace, now that the Adisn® ad server technology has been launched.
The Company reported revenues of $580,716 for the fourth quarter of fiscal 2012, an increase of 42% from the $407,741 reported for the fourth quarter of fiscal 2011. For the fiscal year ended April 30, 2012, the Company reported revenues of $1,932,798, an increase of 22% from the $1,580,957 reported for fiscal 2011. Gross profit for the fiscal year ended April 30, 2012, was $1,811,464, an increase of 125% from the $805,443 reported for fiscal 2011 and a small net loss of $0.05 per share. As of 7/31/2012 the company had$1.8 million in cash.
With 58 million shares outstanding, which equates to a market valuation of $6.3 million, trailing twelve-month revenues of $2.1 million and selling 40% of book value, (Facebook by contrast trades at 400% over book value) CrowdGather easily ranks as one of the most undervalued companies in our database of internet players.
Commenting on the fiscal year ended April 30, 2012, Mr. Sabnani stated, "During 2012, we experienced a significant increase in revenue and gross profit due in part to strategic acquisitions, but also because we exclusively focused on monetizing our own forum ad inventory," adding "We expect to carry this positive momentum into fiscal year 2013 as we are working toward completing a number of initiatives that should help add to high margin revenue growth."
Three Knights Capital has been compensated to prepare an upcoming report detailing the inner-workings and potential that the newly launched Adisn® ad server technology offers to CrowdGather's revenue potential. This initiating of coverage report is designed to alert our subscribers to the basics of the company, particularly as the share price in our opinion, appears significantly under-valued at these price levels ($0.10).
We believe the recent price weakness was in great part related to the lackluster performance of the Facebook IPO, which has brought down the valuations of many public Internet companies.
The shares are down 23% for the trailing twelve months, after an impressive near five-fold run up last January. With the recent resurgence of interest in Facebook's stock and any type of indication that the new ad server technology is enabling them to fully monetize the amount of users, which routinely visit their network of sites, the share price could rebound.
Historically, CrowdGather's shares have traded as low as $0.09 and the shares had an intraday high of $2.33 in February of 2010.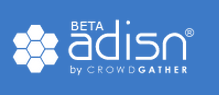 The Adisn platform accommodates all advertisers, from small businesses seeking geographically targeted campaigns through the self-service portal, to large agencies or brands who wish to launch broad campaigns and may need concierge service from the Company's sales staff. Similar to other self-service platforms, advertisers can begin signing up to create and launch new campaigns.However, Adisn is unique as it enables advertisers to target vertically defined categories comprised of special interest and niche forums of all sizes. Thus, advertisers who join the platform will gain immediate access to influencers' and enthusiasts in a variety of subjects. In addition to display advertising, CrowdGather will also offer the opportunity to engage communities through sponsored posts and content marketing. Publishers, or forum owners who previously relied on general adnetworks to fill ad inventory, can now sign up and make available some of or their entire inventory for improved earnings and visibility to a variety of advertisers. By joining the Adisn platform, publishers will have access to scale through vertical aggregation that they would have difficulty achieving as a stand-alone site.
Sanjay Sabnani, recently stated, "Adisn delivers an easy-to-use, flexible, and scalable platform for forum owners to make available their ad inventory and for advertisers seeking to reach highly targeted audiences found on forums and message boards," said. "We are thrilled to provide this platform to both forum owners and advertisers trying to reach them. By connecting thousands of sites to advertisers through our ad server technology, CrowdGather anticipates turning forums into highly effective advertising channels without diminishing the unique attributes that make forums so compelling for millions of users."
The Adisn platform will organize and aggregate the inventory of thousands of online communities into key verticals which are easily searchable by and accessible to advertisers ranging from small business to large agencies and brands. Combined with the Company's own inventory, advertisers and publishers can join the platform to participate in an ad-serving marketplace. Although the platform is launching at the end of the Company's second quarter of fiscal 2013,the Company expects to benefit from the ad platform through higher advertising rates in the third and fourth quarters of fiscal 2013.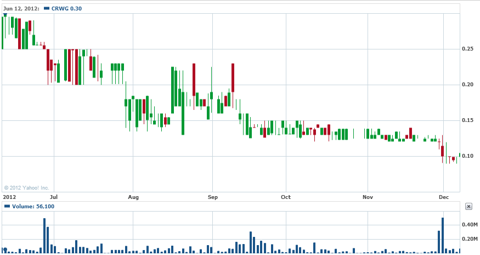 DISCLAIMER
This publication is a Corporate Profile on behalf of CrowdGather, Inc. (OTCPK:CRWG) and may not be construed as investment advice. This profile does not provide an analysis of the Company's financial position and is not a solicitation to purchase or sell securities of the Company. Readers should consult their own financial advisors with respect to investment in this or any company covered by the Reviews. An independent financial analyst should verify all of the information contained in this profile with the profiled company. Three Knights Capital, Inc. is an investment research and public relations firm, which has been compensated by CRWG for investor and public relations services. Three Knights Capital, Inc., or principals of have entered into an Agreement pursuant to which the Company has agreed to provide Investor Relations services to CRWG. In consideration for providing such services, the Company is to receive one hundred thousand shares of restricted stock and eighteen thousand dollars. The company is also expected to receive an additional eighteen thousand dollars and up to an additional one hundred thousand restricted shares upon certain milestones based upon appreciation of the price of CRWG's common stock. This is an inherent conflict of interest as the Company has an interest in the value of CRWG's common stock. In particular, given the structure of the agreement, the Company has an interest in the appreciation of the price of CRWG's common stock. This conflict of interest could affect the Company's objectivity in how the Company provides Investor Relations services or chooses to feature CRWG on Three Knights Capital owned websites. In preparing this profile, the Publisher has relied upon information received from the company, which although believed to be reliable, cannot be guaranteed. This profile is not an endorsement of the shares of the company by the publisher. The publisher is not responsible for any claims made by the company. You should independently investigate and fully understand all risks before investing in this and any company profiled or covered by the publisher. The majority of companies listed on the OTC Bulletin Board have factors, which create an uncertainty about their ability to continue as a going concern. These concerns are typically related to financing (or lack of), competitive environments, lack of operating history and operating at loss levels which is typical of most start‐ups. These statements can be found in their most recent 10Q filings and should most definitely be read. Safe Harbor Statement under the Private Securities Litigation Reform Act of 1995: The statements which are not historical facts contained in this profile are forward looking statements that involve certain risks and uncertainties including but not limited to risks associated with the uncertainty of future financial results, additional financing requirements, development of new products or services, government approval processes, the impact of competitive products or pricing, technological changes, the effect of economic conditions and other uncertainties detailed in the Company's filings with the securities and Exchange Commission.
Disclosure: I am long OTCPK:CRWG.