Ok, what's it going to be? The SPX is either going to continue higher; or it's going to sell off per the "sell in May" axiom. I doubt that the market just drifts sideways for the next month. Something has to happen.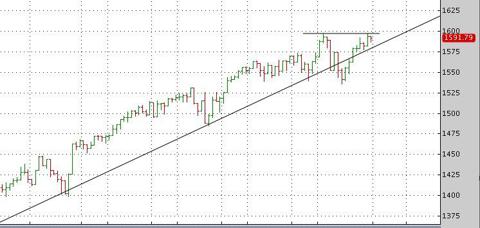 The FOMC statement comes out tomorrow May 1st. Maybe Ben fires the starter's pistol that gets the selling going. If he exits the meeting with red trading cards in his hand, look out.
Sometimes you just have to dare the market to do something. Sometimes you need to make an offering to market gods. So here's an idea we're tracking in our model portfolio:
Buying the SPX May2 (May 10th expiry) 1550-1545-1535 put broken wing butterfly for a $0.30 credit. This hasn't filled yet as of this writing, but it's worth watching. The idea is that this trade makes money if the market continues to new highs. And it can make money with the market moving nowhere or lower. But it can lose with the market lower too quickly or too far. Therein lies the risk and hence the trade that might get the market to turn.
Of course, if you're not superstitious, then this is just another weekly income trade that week look at from time to time in our Live Trading Sessions. These trades can form a substantial part of the portfolio, so it's worth checking out how we do this in the live class. Or for the four-video series on how to trade broken wings, see the banner below.
Trade safe!
Greg Loehr

Disclaimer: Loehr Consulting, LLC ("Company"), doing business as Options Buzz, is not an investment advisory service, nor a registered investment advisor or broker-dealer and does not purport to tell or suggest which securities customers should buy or sell for themselves. Before placing any trade you should consult with a licensed broker or registered investment advisor as well as read The Characteristics and Risks of Standardized Options. Please visit www.OptionsBuzz.com for the complete disclaimer and terms of use.
Disclosure: I have no positions in any stocks mentioned, and no plans to initiate any positions within the next 72 hours.