In addition to the Options Buzz website makeover, we also recently opened our new, free, live daily chat room call The Daily Buzz. In less than two weeks we've found winning trades on IBM, GLD, AAPL, ALK and NFLX, and one losing trade on GMCR, with a net profit of nearly $8,000.
Here are the trades so far.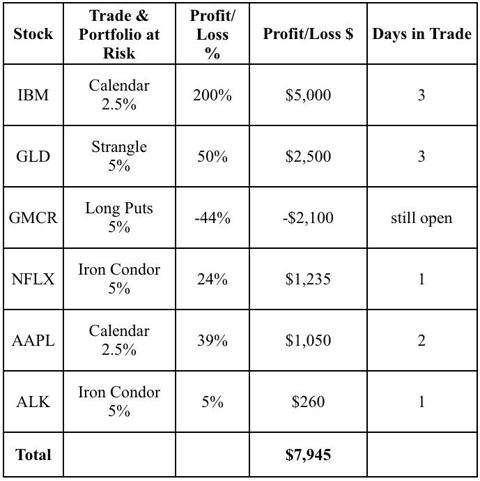 The "Portfolio at Risk" and "Profit/Loss $" are based on a $100k account, and therefore are trades that risk between $2,500-$5,000. Everyone is invited to this free chat room to discuss trading ideas, and I'll see what opportunities might be out there right now.
Click here if you'd like to join in The Daily Buzz.
Disclosure: I have no positions in any stocks mentioned, and no plans to initiate any positions within the next 72 hours.