The Best Online Tools For Stock Selection And Analysis, By Bob Johnson
Please Note: Blog posts are not selected, edited or screened by Seeking Alpha editors.
Portfolio Strategy, Dividend Growth Investing, Mining
Seeking Alpha Analyst Since 2010
Welcome to my author's site. I hope you find my articles interesting and informative. A man-with-a-plan, I am utilizing knowledge gained from my business degree 25+ years in the business world and a similar number of years of investing experience, to manage my investments. I have created and maintain a stable and growing portfolio of individual US listed dividend growth stocks, over 30% of which are non-US based but headquartered in Canada, Great Briton, the Netherlands and Australia. I believe that asset allocation is the primary decision an investor must make considering his objectives, time frame and risk tolerance. I am fully invested and 90% of that is in stock. I believe that the small individual investor is often best served by low cost index funds. Stock picking, attempted market timing and frequent trading usually work to the disadvantage of the average small investor. However, you may define small as you like and nothing prevents any investor from emulating the market greats of our time such as Warren Buffett or Peter Lynch. Greater rewards can be obtained by buying and holding individual securities if one has background, the interest, the time and the disciplne to do so in an effective way. There are many ways to make money in the stock and bond markets. My approach to is to take ownership positions in successful large cap companies and hold them a number of years. Dividend Growth Investing is a conservative approach which involves lower than average risks and higher than average rewards. My writing experience began when I was a senior in high school. I was a local stringer for Maine's largest newspaper and covered school and amatuer sports. Concurrent with a successful career in the business world I wrote magazine articles, journal articles, short fiction, poetry and a devotional book. A long time student of security markets I immensely enjoy the opportunity to write for Seeking Alpha, which is a very high quality well run organization with excellent editorial support. It is also possibly the best business forum on the internet and I am proud to be a part of it. Most of my articles focus on several topics: Income Portfolio Strategy Mining Canadian Banks and Telecoms Best regards and good luck! -- Bob J
This article provides guidance in the selection and use of tools and resources that enable an individual investor to discover, analyze, select and monitor stocks suitable to meet their investment goals. It focuses on those sites and tools, which many others and I find most useful. I note with "tb" those that I have on my toolbar. This article lists introductory and basic information sources, suitable for beginners and seasoned investors. After reading this article, you should come away better equipped to more efficiently select and analyze stocks, saving you time and enhancing your investing success.
Where to Start
Books
For the beginning investor a great place to start is with a book that gives an overview of individual investing including the definitions of stocks, bonds and other investments. In addition, these books highlight the important criteria, the measuring sticks, which one uses to determine the quality and value of stocks. Are books an online resource? That's a bit of a stretch but you can buy them online from Amazon.com, read them on your Kindle, as well as seek them out in a local bookstore or use them free in your public library. Basic investing books give you an overview and a vocabulary, a framework upon which to build.
Investing for Dummies is part of a series, which introduces many different fields with definitions of terminology and an easy to read overview. Many kinds of investments are available and besides stocks and bonds. They include bank deposits and bank CDs, insurance products and annuities, precious metals, collectibles and direct investment in real estate. Stock Investing for Dummies, focuses on this aspect of investing as does this article and do a large percentage of the articles on Seeking Alpha. Our emphasis is on the independent individual investor who is selecting and buying stocks. For more detail and depth than the "Dummies", there are many books written for the general investing public which give overviews of the financial principles and "how to" basics.
The last title stands alone as the seminal work on value investing is by Warren Buffett's professor at Columbia. In addition to these, there are a number of useful books by great investors including Peter Lynch, Warren Buffett and John Bogle.
Online
There are also many resources available online for the beginning investor. As you might expect, a number of them come from providers of financial products and services. Two of the best in this category are Vanguard tb and Fidelity, which both create and manage mutual funds as well as provide brokerage services and other services for investors. Investopedia.com tb offers a vast collection of resources covering many aspects of investing, and includes tutorials and focus articles. Their Stock Picking Strategies consists of 10 sections examining popular and useful methods of selecting and analyzing stocks. I use Investopedia's Dictionary when I want to know the definition of an investing term. For example, if I search for P/E Ratio I first get a page that gives me a one-line definition. Below this is an example of how it is calculated. Next comes an in depth definition which includes its usage and the usual meaning of terms such as high P/E and low P/E. Finally, there is a video, which illustrates how the P/E ratio might be useful in selecting between buying stock in 'Al's Ice Cream' or 'Bob's Frozen Snacks'. In addition, Investopedia offers many instructional videos from "What are Stocks?" to "The Time Value of Money" to "Annuities".
Sources of Information
Qualitative Information
There are two kinds of information available about companies and one is qualitative, information which might be included company web sites and in annual reports along with the quantitative data, the numbers. The qualitative is informative dialog and may include things like the company's plans and background on its people. It sets out the firm's purpose, relates to shareholders the goals of management and does this reporting is with words and sometimes pictures. Other sources of information about the company may come from articles like this online at Seeking Alpha tb, and from primary news sources like Bloomberg and Thompson Reuters. There are financial newspapers which specialize in reporting the news of business and finance, the most widely read of these is the Wall Street Journal. Other daily papers of this type include the Financial Times and Investor's Business Daily. Respected periodicals include Forbes, Barron's, The Economist and Business Week. These newspapers and magazines are available online or in paper form. There is also an endless supply of online newsletters; most give you news and information free; some are on general investing while other focus on specific industries. For example, I subscribe to 7 newsletters on mining, which include Mining Digest, MineWeb and MetalMiner.
The best source of information about companies is often the companies themselves. You can access their web site, read their annual reports and subscribe to their press releases online. One of the keys of Warren Buffett's success has been the reading of several years of a firm's annual reports before making a purchase. Always read the letters to shareholders near the front of the annual reports.
Quantitative Data
While all of the sources above contain financial data, the Wall Street Journal was the primary source of data before the inception of the internet. Their online Market Data Center tb is an excellent resource. Other well-known and popular web sites which provide extensive financial data on companies are Yahoo Finance tb, a primary source for me, which includes historical price and dividend data; MSN Money, provides quotes, details about companies and news. FinViz tb Financial Visualizations, which includes charts with technical features, Morningstar tb, 5 years of financials, 10 years available for premium subscribers. It also contains expert commentary on many companies (premium subscribers) and a rating system on stocks. Google Finance, is a provider of quotes, data and news services. YCharts tbcalls itself The Financial Terminal of the Web is a source of a great chart creator, lists of rankings, economic data and a passable screener. It has a lot of good free information and very expensive premium information for pro users. Merrill Edge and Charles Schwab provide many good investing tools for their clients. EDGAR is the name of the Security and Exchange Commission's (SEC) official filing site. All companies, foreign and domestic, are required to file registration statements, periodic reports, and other forms electronically through EDGAR. Anyone can access and download this information free. Individual investors probably under-utilize this primary source of official information. Dividends4Life, aka D4L, is a low cost subscription Dividend Growth investing site, which takes a quantitative approach to selection of superior stocks and provides data in three formats. A color-coded spreadsheet provides an intuitive user Dashboard. Most useful to me is D4L Data. This runs on the free and downloadable Open Office spreadsheet. The information covers 210 popular Dividend Growth Stocks. In depth Reports on companies are their third valuable resource.
Screens A screen is a user definable utility, which enables a person to seek stocks with certain characteristics. Yahoo Finance, Google Finance, CNBC, FinViz, F.A.S.T. Graphs and Morningstar provide screens. An investor might want to search for stocks with a market capitalization of over $10 Bil., yield of at least 3%, a return on equity of at least 10, a P/E ratio of less than 15, a debt/equity ratio of less than 50% and a payout ratio of less than 60%. After entering these values into the screen, the database would then return a list of stocks, which met or exceeded these requirements. This search on FinViz discovered the below 19 companies.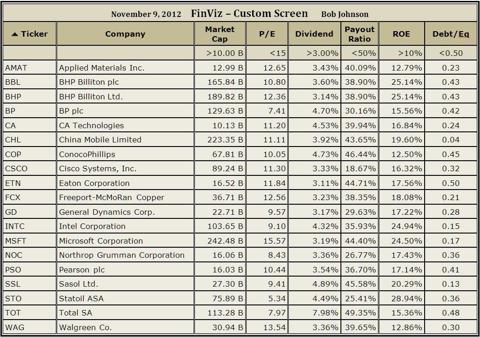 David Fish's US Dividend Championsis much more than a screen. This resource, lists in Excel spreadsheet format, stocks that have had consecutive annual dividend increases for 25 years. Challengers have 10 to 19 year records of growing dividends, and Contenders of 5 to 9 years. Collectively, known as the CCC lists, these are exactly the stocks the Dividend Growth investor is looking for. This is a free service and is best utilized with Excel, though a downloadable PDF format is available. Using Excel, your only limitation in the manner in which you can sort and display the data is your expertise with Excel. The database includes 470 stocks and 78 data columns. Awesome.
Valuation The old maxim is, "buy low sell high". The problem then, lies in finding out the true worth of a stock. One theory proposes that only the market knows the worth of something, and when the stock is sold, the sale price describes its worth. While that argument has appeal on the surface, it treats a share of stock as something that has value in of itself. It is more accurate to understand that a share of stock is valuable only for what it represents, that is, the partial ownership of a company. So, the better question to ask is what is the value of 1/1,000,000th of XYZ company which issued 1,000,000 shares of stock. One way of calculating this would be to examine the value of the company as shown on its books and dividing it by 1,000,000 to determine the book value per share. Another measure is to look at its price in relation to its earnings. Here we come up with the P/E ratio mentioned above in this article. Is it dear or cheap in relation to the market norm (15) and the current market average P/E? Is the market possibly selling at a very high valuation, i.e., a P/E average of 19 indicating the entire market is overpriced? Those are some of the questions we want to be able to answer.
F.A.S.T. Graphs tb is based on a foundational truth, "Earnings determine the market price of a publicly traded company in the long run". It is a valuation tool without peer, and provides a visual presentation of stock prices, earnings adjusted stock value and P/E. It also includes a stock screener and has links to other data sources. This is a F.A.S.T. Graph of Norfolk and Southern Rail Road (NSC). The green borders around the below graphs were added with MS Word. The current price, indicated by the black line, is considerably below the actual value of the stock (orange line) and also below the amount which would be indicated by the normal P/E (blue line).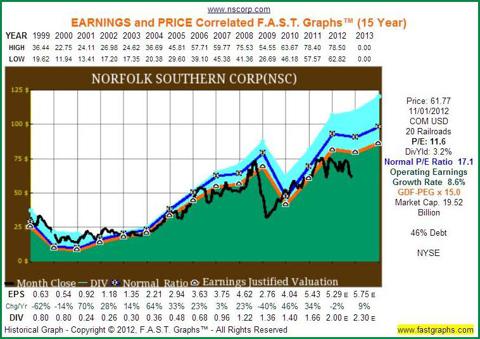 The Discounted Cash Flow Calculator is based on the theory that the value of a company is equal to the value of its future earnings, discounted to their net present value. The DCF calculator is linked here. Several sites publish 5 year expected future EPS, and two of these are FinViz and Wall Street Journal Marketplace.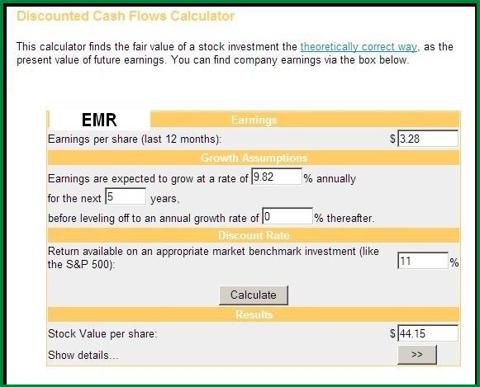 Morningstar Premium provides a fair market value and a suggested buy price. It also rates stocks by their value with its star system. Four or five stars indicates a good buy.
Forecast Tools
These are important to investors because we buy stocks for their future benefits to us, not their histories. Will Rogers said, "Buy stocks that are going to go up. If they don't go up, don't buy them." Analysts discern target prices for stocks and make earnings estimates. Yahoo Finance reports these. Analyst input may be a component of a forecasting tool; it is with the F.A.S.T. Graphs program. I like the fact that it allows user input to increase or decrease the expected growth rate. Below we see the Estimated Earnings and Return calculator for Norfolk and Southern. If we feel it is high because of the problems in the coal industry, we can adjust the earnings increase rate downward. The future is always uncertain, and there is a range of outcomes. For a clearer understanding of F.A.S.T. Graph features, I suggest you get further information, available in video format, and try a demo here.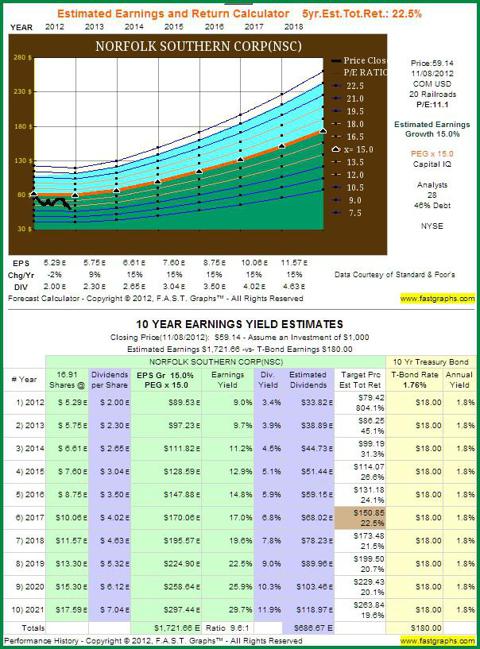 For Chart Technicians
FinViz displays graphs with technical overlays on their quote page and even allows you to screen for certain patterns. I created a screen for stocks that had gained over 10% in the past month, with a strong channel up pattern, and which are above their 50-day moving average. See the two charts below. These stocks appear to be going up.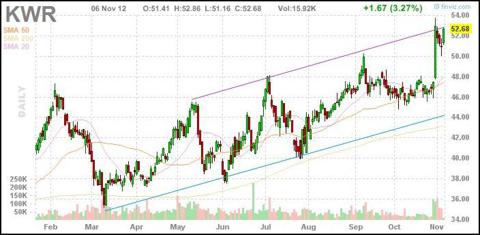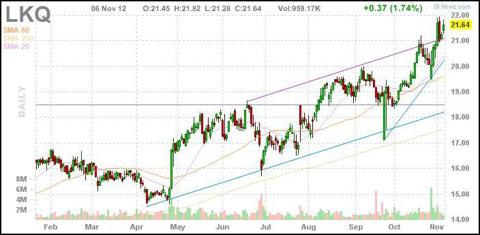 Target Prices
Yahoo Finance and others list a target price for stocks, that is, what analysts estimate the price of the stock will be one year hence. I compare the price of possible buys and current holdings to the target price. Is Westpac Bank (WBK) oversold? The analyst target was set at $121.49 and the current price is $131.53. Is there room for growth in BHP Billiton (BBL)? The target price is $71.81 and today's price is $63.72. This can be one of many inputs in a buy/sell decision.
Portfolio Tools
Portfolio tools are useful to keep track of your assets. This is especially true if you own stocks and securities with several brokerages, fund companies or multiple 401k's. You can run a reflection of what you have at each house, create a consolidated portfolio and track many aspects of performance, such as percentage above/below 200 day SMA. I keep a couple of portfolios on Yahoo Finance and have copies of two important portfolios loaded onto Morningstar's system, as well as some portfolio copies at F.A.S.T Graphs. Each of the services has uniqueness, that is, it reports values not available elsewhere.
The Seeking Alpha tb portfolio utility is feature rich in that it provides a vast array of measurements. I frequently use it to create reports on sample portfolios. I like the fact that both dividend yield and the dividend growth rate (DGR) are included and on the same page.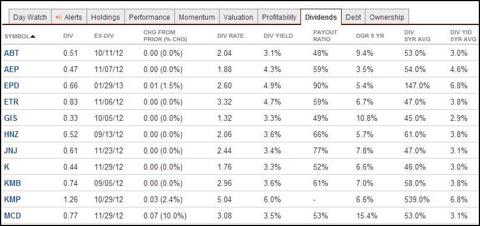 Actions
I believe that the acquisition and analysis of relevant information is essential to intelligent investing. I hope that this has increased your understanding of what is available, and provided to links for you to get it. I am confident that these tools will help make your selections the most suitable ones to meet your goals, and help you to monitor the performance of your holdings.
This is a link to my Premium Seeking Alpha Articles which go into depth on selection criteria, due diligence, portfolio construction and profile a number of industries and companies.
I believe that as your knowledge increases and as you sharpen your skills, you will prosper. All shall be well. Good luck!
Seeking Alpha's Disclosure: Past performance is no guarantee of future results. No recommendation or advice is being given as to whether any investment is suitable for a particular investor. Any views or opinions expressed above may not reflect those of Seeking Alpha as a whole. Seeking Alpha is not a licensed securities dealer, broker or US investment adviser or investment bank. Our analysts are third party authors that include both professional investors and individual investors who may not be licensed or certified by any institute or regulatory body.