A new entrant into the diabetic blood glucose monitoring industry has recently gone public and is positioning itself to potentially revolutionize the industry. LabStyle Innovations Corp, trading under the symbol of DRIO and known by its name Dario, is a new public company planning on assisting glucose monitoring individuals to register and track their levels using their own smartphone. Using a new patent-pending technology the company has developed a monitoring interface with a smartphone. The device is the size of a pack of gum, which is smaller than other comparable devices, and requires no battery to operate as it is designed to work off the power of the interface with the smart phone.
Here is a view of slides the company made that gives a presentation their product:
The company which is based in Newark, Delaware, has begun the long drawn out task of meeting regulatory approval. Under the current plan the company is seeking to have approval in Europe within the next few months of 2013 and intends to have US approval after Europe. Under the current business plan Dario will penetrate the Self-Monitoring Blood Glucose (SMBG) market once approval is achieved. The company intends to concentrate operations at first on people with Diabetes type I or insulin dependent diabetes, sometimes referred to as juvenile diabetes. Dario will be made available to those with type II diabetes, which is a larger market.
The size and scope of the target markets are quite impressive. In Europe the amount of people who suffer from any of the various forms of diabetes is estimated at 52.6 million people. The US market size is estimated at 25.8 Million people. Of these two segments the number of people who suffer from type I diabetes is 10 % of the above referenced numbers. In terms of revenue generated in serving these two markets the European market has annual sales of $3.97 billion and the US market has annual sales of $3.9 billion. Both markets' largest operators are: Roche Diagnostics a subsidiary of Hoffman-LaRoche; LifeScan of J & J; Bayer Healthcare division; and Abbott Laboratories, in sum total these four companies control 90 % of the market.
Dario's competitive advantage is in the concept of concentrating on the smaller market of type I diabetes. People who suffer from this form of the illness are required to monitor their blood glucose 4 to 10 times a day and on average use 120 to 300 test strips per month. While they are a smaller portion of the market size they represent a very significant portion of the daily user of the technology. The company plans to retail their test strips for their monitor (Dario) at $1 per test strip. If the company establishes a market of 100,000 people by the end of the first year of sales operations, it can expect to have annual revenues of about $240 Million. The secret to establish this following in the market is to seek out a younger more technological savvy customer who will see the effectiveness and simplicity of using their smartphone as a monitoring system, foregoing the more cumbersome monitoring units of the larger market holders.
The other main advantage that Dario will be able to utilize is its creative and managerial team. From the Chairman of the board down to the Chief Technology Officer, the members have a track record that speaks for itself. Oren Fuerst, Chairman and CEO, has help found three other medical innovative companies. Shilo Ben Zeev, President and COO, has served at the executive level of operations for several medical technology companies in Europe and Israel. Dr. David Weintraub, a founding director, has a sustained history building companies that are the front leaders in medical technology; in 2008 one of his companies was purchased by GE for $40 Million. Tel Givoly, Chief Technology Officer, has moved to LabStyle from Amdocs Limited where he was the chief scientist; he has over 25 patents to his credit, with more in review. The evidence is strong that Dario, through LabStyle Innovations, has a creative team and managerial skills that can vault the company to the top of the market. This complements the stunning potential for revenue and profitability.
In terms of investing LabStyle Innovations (Dario), has the prerequisites to soar its innovation to the top of the marketplace. If the company penetrates the market and receives just 100,000 clients within the first year of sales operations, the company would have revenue of about $24 per share; with revenue per market cap of $6.31. In this achievable scenario Dario's current market price, of $2.40, would have no choice but to increase by multiple folds.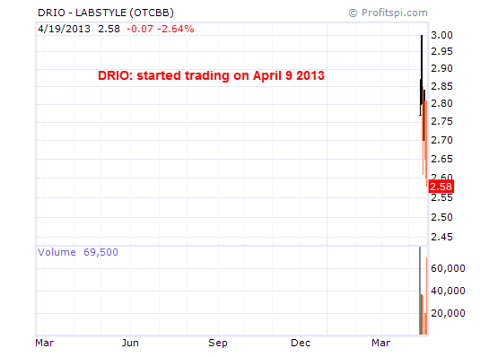 Note: for determining a revenue number, the author has taken an average number of tests strips at 200 per month per client; multiplying this number by 100,000 clients (A random number assigned by the author) the first year's revenue would be $240,000,000. This number is just a sample of what may be a potential outcome; neither the author nor the company suggests that DRIO will generate this or any revenue in the future.
Table of current financial data derived from yahoo finance
| | |
| --- | --- |
| Market Cap | 39 Million |
| Enterprise Value (NYSE:EV) | 2.69 Million |
| EV/EBITDA | -.68 |
| EBITDA (NYSE:TTM) | -3.95 Million |
| Net Income (TTM) | -5.69 Million |
| Diluted EPS | -.46 |
| Shares outstanding | 15.15 Million |
| Float | 9.44 Million |
Like any new startup company LabStyle Innovation, faces several financial obstacles to its success. The company has not received any regulatory approval for any of its devises; therefore, it has yet to earn or generate any revenue. To build and design its products the company has raised money through private placement of shares, as such its recent Initial Public Offering (NYSEARCA:IPO) has been used solely to pay back previous shareholders and none of the proceeds went to build capital for the company.
Because it is still in the startup phase and it has no revenue, the company's auditor (Ernst and Young) has questioned it continued operation as a going concern. The company estimates that it has enough money to operate until the end of 2013; however, there is no guarantee that the company will receive positive regulatory approval before then and may not be able to generate any revenue, thus forced to close its doors. Once sales are approved the market may change drastically and sales may not match expectations, thus hampering any positive revenue generation. Finally, like any investment a position in LabStyle Innovation, Dario, involves significant risk of loss; any potential investment must be thought out properly to each individual investor's situation- an investor should seek out the guidance of their own personal investment adviser for how much risk they should accept in a stock position.
All data and information was derived from the SEC fillings on LabStyle Innovations Corp website www.mydario.com and yahoo financial using the stock symbol DRIO.
Disclosure: I have no positions in any stocks mentioned, and no plans to initiate any positions within the next 72 hours.