WTI crude prices have been trading as a global growth proxy so today's fall below $95 is a reflection and confirmation that optimism is dwindling. Another growth proxy - copper - is down 1.95%
The Chinese reserve ratio cut hasn't inspired confidence but rather underlined the slowdown and the technical picture in oil is increasingly negative.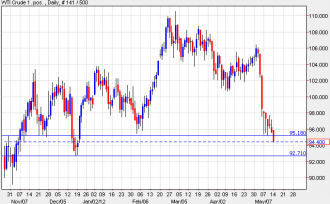 The correlation in CAD and oil has been relatively low recently but with both highly correlated to global growth, it seems inevitable that the USD/CAD (NYSEARCA:FXC) range will pop to the upside.
http://www.forexlive.com/blog/2012/05/14/oil-falls-to-lowest-of-2012-confirms-risk-off-theme/