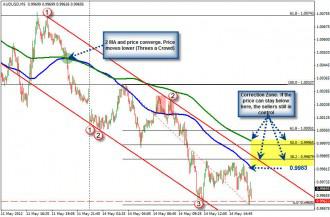 The AUDUSD (NYSEARCA:FXA) took out the London morning low at 0.9964 but just barely (low reached 0.9962). The price has bounced up a bit - trading at 0.9971 currently. The 100 bar MA on the 5 minute chart is at 0.9984 and will be eyed as the first upside target should the double bottom, indeed be the bottom for the pair for now.
Taking a look at the hourly chart (see below), the price has some cause for pause at the 0.9952 area . This is a channel support line. Below that the is a steeper channel support line at the 0.9932 level.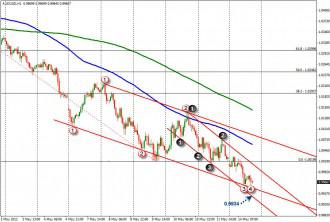 With global economic concerns increasing as a result of Greece, Spain, etc, the movement out of risk continue. Commodities, like copper, which tend to correlate with the AUDUSD is also moving lower and is at its lowest level since mid January. This is contributing to the AUDUSD woes.
http://www.forexlive.com/blog/2012/05/14/audusd-tests-london-low/