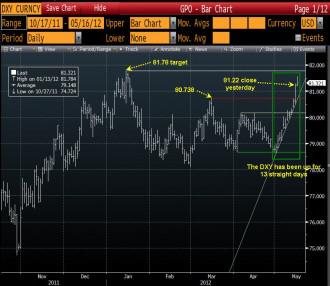 The US Dollar (DXY) Index is up today. A close above the 81.22 would be the 13th up day in a row. However, the price is rotating off the highs today and the price has dipped below the close from yesterday. So the string is in jeopardy.
If there is a close lower, the momentum could take the price down toward 80.86 and then 80.67 which is the bottom trend line support. Holding and closing above the 81.22 level would keep the door open for further upside with the 2012 high at the 81.78 the next key upside target.
Overall, I would expect dips to be bought as the dollar should benefit from safe haven flows on EU problems. However, solutions or proposed solutions are the risk that could cause a corrective type move to the downside. The dip today suggests the technical picture may be getting a little tired after the 2 1/2 week run higher. Watch the 81.22 level today.