USD/CAD (NYSEARCA:FXC) catching some upside momentum and threatening the overnight high of 1.0129 as stocks slide.
I was skeptical of the USD/CAD break to the downside because it wasn't confirmed by copper but now everything is aligned for a further USD/CAD rise.
(USD/CAD inverted)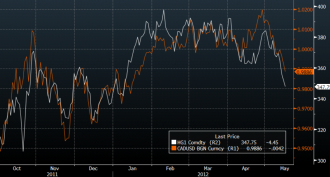 The correlation between CAD and copper has been especially high in recent months.
Update: there is some chatter that corporates are keen on selling at these levels so it may be prudent to wait for a pullback toward parity before buying.
http://www.forexlive.com/blog/2012/05/16/usdcad-rises-to-us-sesion-highs/