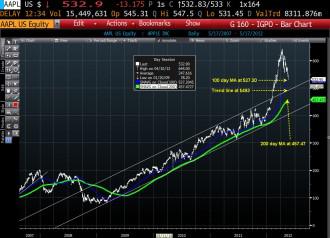 Apple who? It's all about Facebook.
As the price of AAPL sheds an additional $11 today, I am wondering if the darling of technology is being replaced by the Facebook phenom? The price of Apple is currently testing the 38.2% of the move up from the October 2011 low (354.24) to the April high of 644.00). That level comes in at the $533.31 level. The low today is $531.45. If the level gives way, the 100 day MA is currently at $527.21 (see chart above). The price last traded below the 100 day MA on December 19th , 2011 when the MA was at the $387 level.
Is it a buy? Is it a sell? The majority of the analyst on Bloomberg have the target price at $700 or above (over what time period I honestly do not know). There is one who has a sell with a target at $270 and the next at $390 and then $500. The rest have targets above the current price. It certainly must be a buy.
For me the risk is defined the same way as the EURUSD, the USDJPY or GBPUSD against key technical levels. In the hourly chart below the 100 hour MA showed the way up and has also defined the way down. Certainly, the stock traders are happy with the a discount of 38.2%?
I have always kicked myself for not owning any Apple in my personal account. Now when the risk is defined against the 38.2% and not too far behind at the 100 day MA, I am too scared. I think I will wait until the 200 day MA at $457.
It is all about Facebook though, right? That certainly will be a screaming buy, but I won't buy that one either….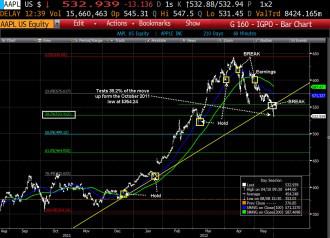 http://www.forexlive.com/blog/2012/05/17/apple-who-its-all-about-facebook/#more-237476