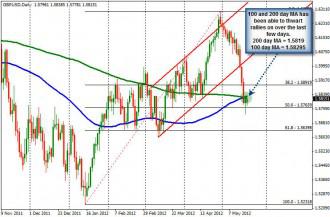 The 200 and 100 day MA for GBP/USD (FXB) are at the 1.58195 and 1.58295 levels respectively today. The price extended above the levels in the Asian and morning London sessions (high reached 1.5837) but was quickly rejected. The price has rotated up to a high of 1.58172 over the last 30 minutes but sellers have come in against the levels on the 1st test. This keeps the bears in charge in the consolidating market.
Overall, since the bounce off the low on Friday, the price has been consolidating between the 1.5778 level and the 1.5838 level (see yellow area in the chart below). The 50 pip range over the last 30 hours is non-trending, but is not surprising given the trend like move that preceded this sideways market.
The consolidation has allowed the 100 hour MA (blue line in the chart below) to work it's way toward the price. That MA is currently at the 1.5872 level and moving lower. Needless, to say a move above the key daily MA levels will be needed to make a push toward the 100 hour MA. This would then test the markets resolve to continue the trend lower or move back higher. The price has not closed above the 100 hour MA since May 10th.
For the time being, the market players seem happy to use the ceiling to sell against and take a breather with the trend. The bears, however, remain in control.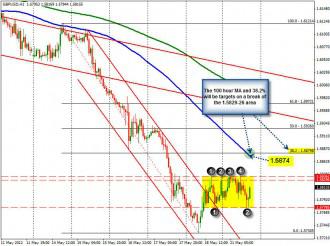 http://www.forexlive.com/blog/2012/05/21/gbpusd-consolidates-below-100-and-200-day-ma/