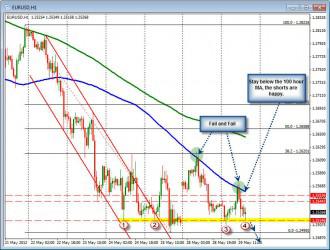 From a technical perspective, the EURUSD (NYSEARCA:FXE) has been consolidating with the 100 hour MA (blue line in the chart above) attracting the sellers.
Both yesterday and today the price tried to move above this moving average level. However, each time the price got above, the move failed. The shorts remain in control. It can be as simple as that. The 100 hour MA is currently at 1.2561.
On the downside, the 1.2514 level was the low last Thursday. This area is providing an area to buy against for intraday traders (trading has the US holiday hangover with the UK holiday approaching this coming weekend). A move below obviously looks toward the low from last week.
As Jamie points out the spreads to German debt continues to rise to record levels. The yields on Spanish bonds are breaking away to the upside (fear is increasing). The high weekly close came in at 6.699 at the end of November 2011. The train is moving and it is becoming harder and harder to stop.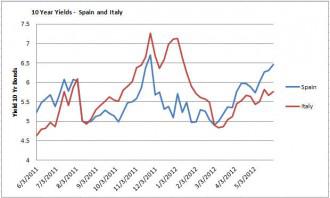 http://www.forexlive.com/blog/2012/05/29/shorts-remain-in-control-in-the-eurusd/