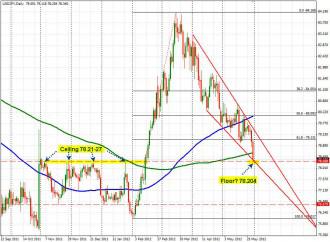 The USD/JPY (FXY) pushed below the bottom trend line and tested the ceiling area from November 2011 to January 2012 (at 78.21-27 - see chart - low was 78.204). The price has moved away from this area and is trying to push higher.
The trend move down today has been in three steps (see chart below). The first step took the price from 79.118 to 78.71. The second moved from 78.893 to 78.447. The third step took the price from 78.571 to 78.204. On each step the correction could not get above the 38.2%-50% correction zone. This kept the shorts in control and helped contribute to the selling.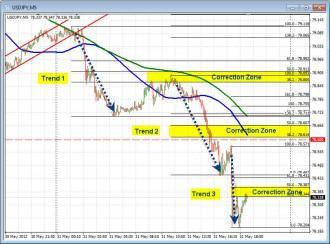 The last leg down did bottom in the area of the ceiling from the turn of the year. This level is a nice support level and could be a bottom for the pair. However, the shorts have to prove they can move the price back above the correction zone of the last leg (at 78.34-387). If they can, and keep the price above, a further move may see the price move toward the declining 100 bar MA on the 5 minute chart. If not, the shorts remain in control.
http://www.forexlive.com/blog/2012/05/31/usdjpy-tests-targets/