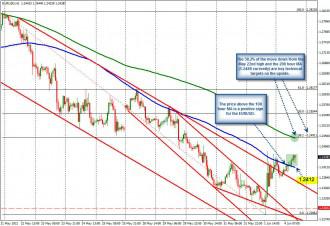 Lean on me. The NY day starts with the price above the 100 hour MA. That level comes in at the 1.2412 currently. Traders should look for support against this level on early dips (current price is at 1.2432).
The next key upside target for the pair comes against the 200 hour MA at 1.2489 (and moving lower). The price has not closed above this key MA since May 2nd.
Also near that level is the 38.2% of the move down from the May 21 high to the low reached on Friday. That level comes in at 1.2491.
These two technical levels if tested this week, will be a key battle in the war between the bulls and the bears. The bears have been in firm control of the market since the beginning of May with the price not being able to close above the 200 hour MA since that time. Therefore, I would expect initial resistance against the level(s) on the first test.
Looking at the shorter 5 minute chart, clues to a more favorable bull move would materialize if the market is able to stay above the MA and trendline support. The price in the EURUSD is currently in a upward channel (support trend line at 1.2423) and above the 100 and 200 bar MA at 1.2421 and 1.2415 respectively. With the 100 hour MA at the 1.2412 currently. A break below these collective levels support levels would not be a good technical development for the pair. This is the risk for any buyers looking for a continued correction higher today.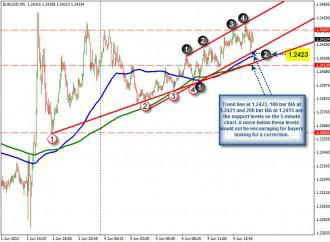 http://www.forexlive.com/blog/2012/06/04/eurusd-above-100-hour-ma-giving-the-bulls-something-to-lean-on/